Health & Beauty | March 2009
Ladies and Gentleman of Vallarta, Thanks for a Great Becas Crystal Ball

len - PVNN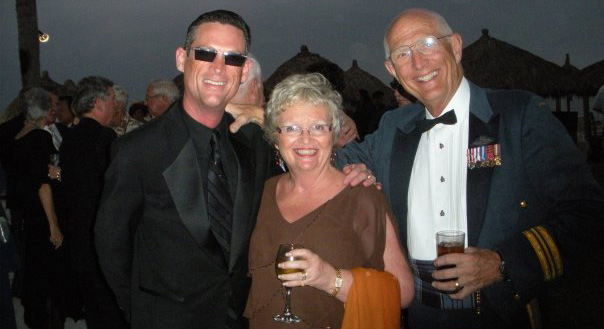 Len's Mom & Dad came all the way from Canada to watch him emcee the 2009 Becas Crystal Ball.
Picture it: Thursday, March 5, 2009, The Westin Regina, past the meandering pools and the luxurious gardens, on the vast patio along the beach. The tables shimmering with crystal-like center pieces, the lighted dance floor and stage, the full dance band and the entertainers and the final climatic fireworks all standing by. It was this year's Becas Vallarta Crystal Ball, surely one of Vallarta's most glamorous evenings ever.



Len and his wonderful translator and co-host, Ciergio Gonzales of Pinnacle Properties, kept the crowd entertained.

Every table this year contained a hand-made party favor sitting on the perfect place setting, backed by a Crystal Ball Bolsa de Regalos (Gift Bag), sponsored by Liverpool Department Store and containing gifts donated by nine of Vallarta's most generous and forward-thinking businesses - that's 350 Gift Bags with 9 gifts in each one.


Wow. Vallarta businesses are learning that the scholarships given by Becas Vallarta to intelligent, hard working, but strained-for-cash students who need to pay in order to continue on to secundaria, prepa and universidad to create the future Vallarta indeed stand as a symbol of the pathway to the future of Mexico.


Now, since this is the column about len's life, let's talk about me. Seems I placed the fear of God into more than a few of you. The days leading up to this fantastic evening felt more like a TV episode called "Project Bonita y Guapo" than running a hair salon.


Everybody stopped in, emailed or called to discuss what to wear and how to style. Some would leave the salon knowing they had to start over with a new hair style; others were very close in dress and accessories, but needed different shoes; then there where those of you who just got it from the git go. Almost all of you believed that being handsome or glamorous at all costs was what the evening called for, and you stepped up to the challenge.


I am thrilled to report that over 95% of you got it right. With 350 attendees in this resort town, that's a record to be proud of. I have never seen so many handsome gentleman in Vallarta, dressed up in tuxedos, suits and ties or slacks, sport coats and good looking open collared shirts. And 99% of you men wore dress socks and shoes. It was almost too much for this fashion-obsessed person to take.


Then there were the women of The Crystal Ball, who pulled out all the stops this year. To all of you I say, "Brava!" In 5 years of attending some of the most dressy affairs in this town, I can honestly tell you that the True Glamorous Women of Vallarta are back! And I mean big-time.


Sequins, ruffles, taffeta, shawls, bejeweled clutches, and highly styled hair and make-up. And the shoes! The shoes! Where have you been hiding those glorious creatures all this time? I cannot thank you enough for making my evening so enchanting. It was a privilege to stand on that stage with my translator and co-host, Ciergio Gonzales, and behold a sea of nothing but pretty. Mucho Gracias.


The pretty was so obvious because those few who showed up wrong kinda knew it, and they wisely stayed in the shadows as much as possible. As stated previously, over 95% of you got it right. The others can be broken down into two groups: The I Tried Really Hard (ITRH) and the I Could Not Give a Rats Patootie (ICNGARP).


To the ITRH folks, I say bravo and thanks for at least giving it a go. It's nice to know that you at least gave the evening a little bit of thought and came up with a slightly dressier look than normal. There is always next year.


To those in the ICNGARP group, well, you stuck out like sore thumbs this year. Everybody was talking about your out of place look. I hope you're happy. If you were simply doing it out of protest, find a different venue. If you really thought you looked good ... like the guy next to his gowned significant other, right on the edge of the dance floor, in shorts and sandals! Trust me when I tell you, that you could not have been more embarrassing to yourself, your partner and your community. Thanks for the laugh.


I would also like to publicly thank Becas Vallarta A.C. for allowing me the opportunity to be a part of this lovely evening. I know they discussed the risk of handing me an open mike. However, I am proud that I did not use a single one of the words on the "no list" we discussed in our meetings. Don't get me wrong, I thought them, but I uttered not a single negative or offensive word.


Which is why the aforementioned under dressed groups are getting it now. I promised not to say things to embarrass anyone, but I warned you in advance that this rule did not apply to my pen (or keyboard, as the case may be.)


And, as a sidebar, if you really want to know what I thought was ugly and/or inappropriate, just stop by blu salon and spa and ask. I mean what's the point of len's life if you can't have a laugh or two with those you admire and respect?
---

Given that Len's very first word was "more," and the second one was "pretty" it is no wonder that he now is the Stylist Manager in the #1 salon and spa in Puerto Vallarta, blu, but also writes an entertaining and informative beauty column, "len's life." Whatever you hair may or may not need, Len will know exactly what to do or where to go to find the answer - just send him an email at len(at)blusalonpv.com.
Click HERE for more articles by Len.
Tell a Friend
•
Site Map
•
Print this Page
•
Email Us
•
Top