Vallarta Living | March 2009
After The Ball is Over

Polly G. Vicars - PVNN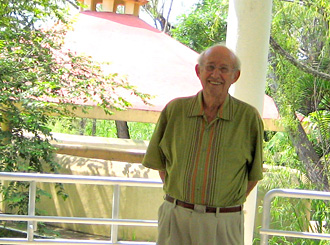 The Honoree, Peter Gray, at the Museum Peter Gray at CUC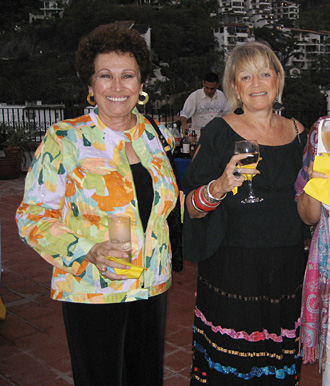 Becas Member Buri Gray and Co-Chair of the Ball Elinor Prawer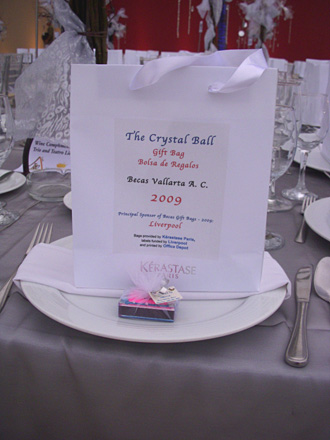 The innovative gift bags and table favors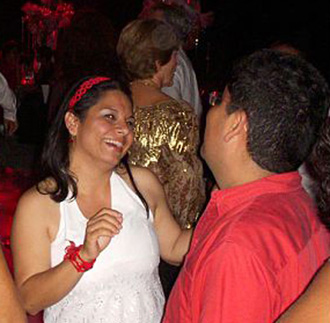 Former Becada Rosario Torres Ruiz and her husband dancing the night way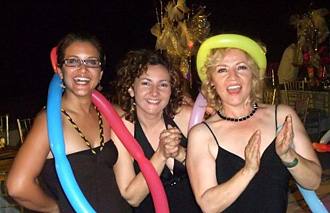 Coco, Vanesa and friend beautify the dance floor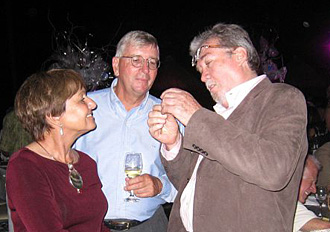 Gold and diamond earrings donor Nino Filoppi talking with members Ann and Jerry Lafferty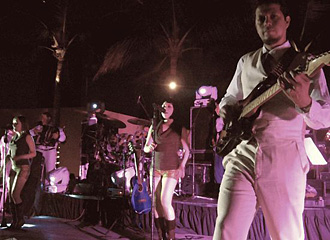 Grupo Odisea doing what they do best - Entertaining!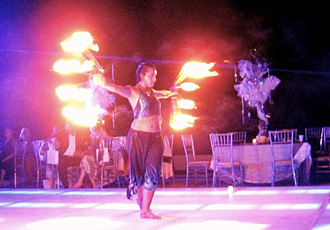 Fire dancer from Semilla Jaguar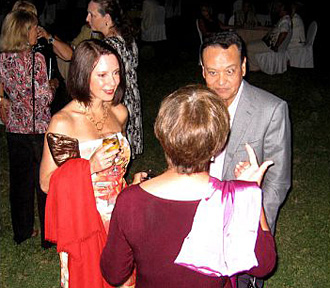 Jorge Montoya and Costanza Quaggioto who came all the way from Venezuela to honor Peter and Buri.
In every sense of the word, the most successful Becas Ball ever is now just a pleasant memory for the Ball goers, donors and producers. But for the hundreds of scholarship recipients the success of the Ball spells their own success as it allows them to continue in school, whether junior high, senior high or university, for another year. How could it have been any better than to have spend such a lovely evening of fun, food and friendship that produced such significant results?


The hard working members and friends of Becas Vallarta want to express their sincere gratitude to all who helped make this 2009 Becas Crystal Ball the success that it was. The list is long, and with great trepidation, I am going to try to list them so all can see to whom we are indebted for this fantastic event. So here goes with apologies to those that I am sure I will miss.


First thank you to Buri and our late friend, Peter Gray, for the inspiration for the ball and for the hard work and devotion that both have given and Buri continues to give to Becas Vallarta. There are no better friends or allies and their largesse expands to all of Puerto Vallarta's best, brightest and neediest!


Next, thank you to those who planned and executed the entire event - Ball Co-Chairs Pat Bendix and Elinor Prawer along with the Wedds Planners, Estrella Rodriquez, Paula Arredondo and Joanna Otero and Abigail of the Westin Resort and Spa. The advance planning as well as the myriad of last minute changes were handled with a professionalism unequaled in the annals of Becas Balls.


A large thanks to the Westin Resort and Spa by the generous complimentary cocktail hour and another one to Los Bambinos, who donated their time and talent with Romantic Latin Tunes and Rock and Roll in both Spanish and English.


Thank you to Marcia Escontria and her cohorts at Ambiance by Marcia for the pre-ball preparations and donation of the exquisite and lovingly hand made table favors. Thank you for the Becas Gift Bags to sponsors and donors Liverpool Department Store, Con Orgullo Azteca, El Coyul Liquor Store, Elements of Design, Kérastase Paris by L'Oreal, Memo's Gourmet Café, Pat Light Banderas Soap Blends, The Spa at blu and Xocodiva. And thank you to Larry Sheldon who imagined and created this innovative surprise for the guests and hopefully started a new tradition.


Another grand thank you to Bernard of Trio and Bruce of Teatro Limon for providing all the red and white wine to augment the delicious meal prepared by the Westin. What would we do without our generous friends and supporters?


New Becas supporter Sandra Cesca skillfully handled the display of the Silent Auction items and MC and Auctioneer Len of blu with his translator, Ciergio Gonzales Villa, expertly enticed the patrons to bid on the incredible items donated for the auction. Thank you Sandra, Len and Ciergio.


Both the foundation and the buyers of the auction gifts were thrilled by the donations of a stay at Quinta Don Jose Boutique Hotel in Tlaquepaque, a stay at La Casa De Espiritu Alegre or Alma Del Sol in Guanajuato, a Manuel Morelos Original Ceramic Object of Art from Ted Pentecost, a stay in Hacienda Jalisco in San Sebastian, two Chef's Table Dinners for 8 at Teatro Limon, a spa treatment at Blu Styling Salon, original paintings by Ada Colorina, Marta Gilbert and Meg Monroe, a stay at La Casita del Patio Verde in Mexico City, a stay in La Casa Encantada in Patzcuaro, Michocan, a stay in El Tamarindo Beach and Golf Resort in Barra de Navidad, a stay in Hacienda San Angel in Puerto Vallarta, a Ramiz Barquet Bronze Sculpture, a Seth Cloutman 5 Course French Dinner for 8 Prepared in Your Home, 2 Rounds of Golf for 2 at the Four Seasons Punta De Mita and a stay at El Careyes Beach, Barra de Navidad. A huge, huge thank you to all who executed the auctions, all who donated those terrific prizes and to all of the high bidders.


Another new tradition was instituted this year with the addition of three valuable door prizes which patrons won by just being there. So we, and the lucky winners, send gigantic thank you's to Cassandra Shaw for the $500 peso gift certificate for Cassandra Shaw Jewelry, to Ron Morgan for 3 nights in his elegant 3 bedroom condo in Molino de Agua and to Nino Foppiani for the exquisite gold and diamond earrings he designed and donated.


Many need to be thanked for the accouterments of the ball. So thank you Karla Rangel of Trendy for the beautiful tables and chairs; thank you Francisco Salazar of Vodax Detalle de Lujo for the exquisite center pieces on those tables; thank you José Antonio Contreras of Winners for the illumination, the lighted dance floor and the great audio systems.


A special thank you to that fabulous Grupo Odisea who provided the fabulous entertainment for the entire evening. Thank you Guadalupe Rodriguez for the brilliant fireworks show and thank you Oliver Martinez of Semilla Jaguar for the intriguing fire dances. All of these providers reduced their prices to rock bottom as donations to Becas Vallarta. What a spirit of genuine caring and generosity from these people who worked so many hours to make the Ball the spectacular event that it was!


And thank you to all who bought tickets and attended the Ball. As you know, we sold out of tickets a week before the event, so next year, get your tickets early! We and our almost 300 scholarship students are grateful to each of you and look forward to being with you at the 2010 Becas Ball!
---

Polly G. Vicars and her husband of almost 60 years, Hubert (a.k.a. "Husband") retired to Puerto Vallarta in 1988 and soon became active members of several charitable organizations. Polly is the author of "Tales of Retirement in Paradise: Life in Puerto Vallarta, Mexico" [a sell-out!] and "More Tales of Retirement in Puerto Vallarta and Around the World." Proceeds from the sale of her books go to the America-Mexico Foundation, a scholarship foundation that is their passion.

Click HERE for more articles by Polly Vicars, or click HERE to learn more about Becas Vallarta and the America-Mexico Foundation.
Tell a Friend
•
Site Map
•
Print this Page
•
Email Us
•
Top