Vallarta Living | March 2009
Becas Crystal Ball Sold Out!

Polly G. Vicars - PVNN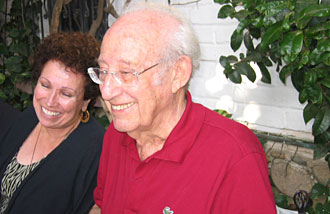 Buri and our honoree, the late Peter Gray, at a Becas Breakfast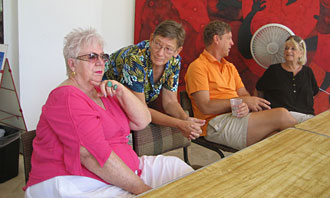 Ball Co Chairs Pat Bendix (left), Elinor Prawer (right) with Becas computer expert Linda Wirth and staunch supporter Tom Rasch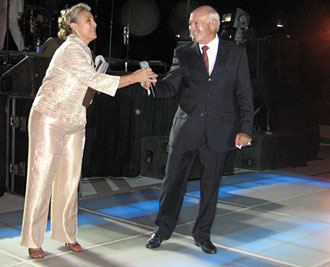 Presidents of Becas and AMF Mariel and Carlos Fregoso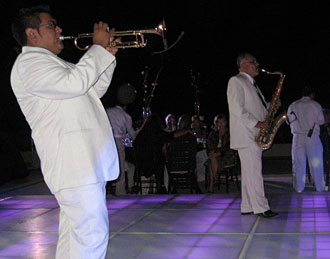 Grupo Odisea at the 2008 Becas Ball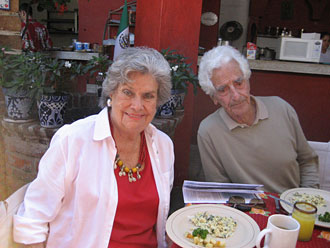 Artist Nelly Barquet with her sculptor Husband and donor of Live Auction sculture, Ramiz Barquet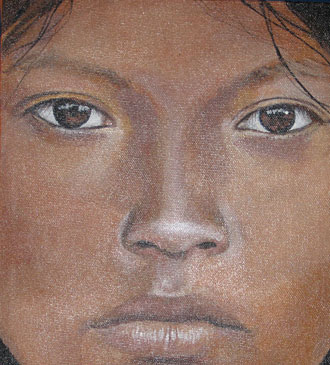 A photo of Marta Gilbert's Silent Auction original painting, "Maria, Chulita Linda"

Handsome young men and women, Becas University Scholarship Students, will be on hand at the March 5 Becas Crystal Ball to help guests find their seats, be sure they have tickets for the drawing and assist in any way needed.


While the patrons will be having the time of their lives, those young people will be assured of having their lives changed through education thanks to the support of Becas Vallarta/America-Mexico Foundation that has funded the education of thousands of Vallartenses since the 1960's.


After months of preparation Crystal Ball Co-Chairs Elinor Prawer and Pat Bendix, along with Wedds Planners, Paula, Estrella & Joanna, and all of the Becas members will be ready for the sold-out event. The evening will begin at 7 pm with complimentary cocktails hosted by the Westin Hotel and Resort and music compliments of the ever popular group Los Bambinos.


Attendees will bid on these fabulous silent auction items: Manuel Morelos Original Ceramic; stays in Quinta Don Jose Boutique Hotel, Tlaquepaque; La Casa De Espiritu Alegre or Alma Del Sol, Guanajuato; 2 nights stay, with breakfast and dinner in Hacienda Jalisco, San Sebastian; Dinner for 8 at Teatro Limon's Chef's Table; Beauty treatment by Blu Styling Salon; Framed Becas Ball Poster "Tribute to Peter Gray"; original art by Ada Colorina, Marta Gilbert and Meg Munro. The Silent Auction will close promptly at 9 pm.


What follows will be an evening of beauty and fun provided by a bevy of talented people: lighted dance floor and spectacular audio system by Jose Antonio Contreras; elegant tables, chairs, decorations and flowers by Karla Rangel's Trendy, Mandala, and Francisco Salazar's Vodax; music and entertainment by Groupo Odisea; fireworks by Jose Rodriguez; fire dances by Oliver Martinez's Semilla Jaguar.


Seated at elegantly decorated tables for ten graced with red and white wine, compliments of Teatro Limon and Trio, each guest will receive a special table favor designed and fabricated by Ambiance by Marcia and her exceptional group of helpers. And to jazz up the ball, Becas loyal supporters, Larry Sheldon and Len of Blu have started a new tradition by organizing and distributing elegant bags of goodies solicited from many of Vallarta's generous businesses and sponsored by Liverpool, our fabulous new department store.


M.C., the genial Len of Blu Styling Salon, will keep everything moving (hopefully not shaking) after everyone raises his and her glass in tribute to Peter Gray, truly a man for all seasons who, in addition to his many civic activities, was dedicated to "changing lives through education," the Becas motto coined by Peter and his beautiful wife Buri.


While the gourmet dinner is served by the efficient and gracious Westin wait staff, Grupo Odisea will provide music and entertainment in the awesome Westin venue, seaside and moonlit.


After dinner, there will be dancing and a live auction conducted by Len of Blu of these fabulous items: 4 night stay for 2 persons, full daily breakfast at La Casita del Patio Verde in Mexico City; 3 night stay for 4 guests in Grand Sala Suite, 2 bottles of champagne, red or white wine in La Casa Encantada, Patzcuaro, Michocan; 2 nights for 2 persons at El Careyes, Careyes, 3 nights, 4 days in Ocean Front Casita for 2 persons, 2 rounds of golf in El Tamarindo Beach and Golf Resort, Barra de Navidad; 1 night for 2 people in Hacienda San Angel, Puerto Vallarta; Ramiz Barquet bronze sculpture, 5 course French dinner for 8 prepared in your home by Seth Cloutman; golf for 2 at the exclusive Four Seasons Punta de Mita Golf Course.


Finally, as a thank you from the donors and Becas to loyal supporters who come to our Ball there will be a drawing for three spectacular door prizes: $500 peso gift certificate at Cassandra Shaw Jewelry, 4 days 3 nights in a luxurious 3 bedroom condo with morning cook and maid in Molino de Agua Puerto Vallarta and gold and diamond earrings by the famous Mexico City designer Nino Foppiani. To win one of these prizes all one has to do is be there!


All of the Ball tickets were sold more than a week before the Ball date! If you missed out of this 2009 event mark your calendar for next year so that won't happen to you again. See you lucky ticket holders at the Ball!
---

Polly G. Vicars and her husband of almost 60 years, Hubert (a.k.a. "Husband") retired to Puerto Vallarta in 1988 and soon became active members of several charitable organizations. Polly is the author of "Tales of Retirement in Paradise: Life in Puerto Vallarta, Mexico" [a sell-out!] and "More Tales of Retirement in Puerto Vallarta and Around the World." Proceeds from the sale of her books go to the America-Mexico Foundation, a scholarship foundation that is their passion.

Click HERE for more articles by Polly Vicars, or click HERE to learn more about Becas Vallarta and the America-Mexico Foundation.
Tell a Friend
•
Site Map
•
Print this Page
•
Email Us
•
Top