Len and Larry Will Be Missed!

Twila Crawford - PVNN
July 17, 2009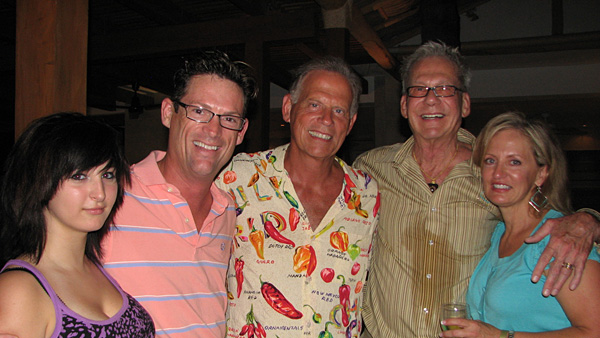 Houston attorney David Feldman (c), purchased Len and Larry's home. He and his wife Dennie (R), who is also an attorney, threw the farewell party at Amapas Sunset, inviting the duo's friends. (photo by Jeri Grants)
A crowd gathered at Amapas Sunset last Sunday to send off Len Greenough and Larry Sheldon to their new life in St. Petersburg, Florida. "It was wonderful to see so many of our dear friends turn out," they said.


Len first came to Vallarta as a tourist in 1999. He moved here in 2002, spending the 5 months of each winter. Then, in 2004, he sold everything in the States and made Puerto Vallarta his home. The very next year, he and his partner, Larry, designed, built and opened blu salon on upper Olas Altas.


During their time here in Vallarta, Len provided such fun around town at charity events and with writing his clever column, len's life, and Larry helped with many charitable events.


Len will return to Puerto Vallarta every three months to style hair. Larry plans to spend time as a docent at the Dali Museum in St. Petersburg. The museum there has the largest collection of Dali outside Spain.


We definitely will miss Len and Larry!
---

An award-winning journalist, Twila Crawford lives in Puerto Vallarta, where, in addition to contributing articles to BanderasNews, the PV Mirror and other local publications, she writes Out and About in Puerto Vallarta, an informative column that offers inside information about who, what, why, where and when it's happening around Banderas Bay.
Click HERE to read more articles by Twila Crawford.