Vallarta Living | July 2009
PEACE Plea Gets Results

Harold Sokolove - PVNN
Thanks to your donations, more than 150 Banderas Bay area children will be able to attend the PEACE 2009 summer camps. For more information or to make a donation, please visit PeaceMexico.org.
Just about a week ago, a plea sent out by PEACE volunteer Carol Davenport appeared on BanderasNews, asking for help to overcome the funding shortage of the organization's activities, especially the PEACE children's summer camp.


The same request for immediate financial support was passed around on Facebook by a number of PEACE supporters.


Well, there is some good news to report.


It is always inspiring to see how much difference a small group of people can make in this world," says Molly Fisher, Director of PEACE.


Thanks to about a dozen donations, both large and small, the necessary $65,000 pesos has been raised just in time to sponsor the summer camp beginning on July 13th as planned.


More than 150 children will be able to attend the PEACE summer camps, held in the towns of Higuera Blanca, Punta de Mita and La Cruz in Bahia de Banderas.


"This is our highest enrollment yet," according to Fisher, who went on to explain how several of the donations were serendipitous.


"When I thought of not having the money to be able to have the summer camp, I mentioned it to all of the PEACE supporters I knew," Fisher says.


The news of camp possibly not happening reached a childhood camp friend of Fisher.


Although they hadn't seen each other for 20 years, when they were campers at Camp Eberhart in Three Rivers, Michigan, Fisher had continued to keep in touch with her friend, Lesley Truett Weiss on Facebook.


When Weiss heard about the PEACE camp dilemma, she told Fisher that she would mention it to her boss, Richard Sandoval, the owner of Richard Sandoval Restaurants, who is originally from Mexico and who developed the menu for Ketsi at the Four Seasons Resort in Punta de Mita, the town where one of the camps was to be located.


Not only did Sandoval come through with a generous donation, another of Fisher's local contacts became instrumental in finally reaching the funding goal. Her friend communicated PEACE's situation to the renters of his Punta de Mita home. Bunny, Natalie, Brooke and Harold Ginsburg, members of a family vacationing in the coastal town, donated the balance of the money necessary to put the camps on.


Fisher reminds everyone that PEACE is still in the midst of a funding shortfall and many of its projects are on the line.


"If you have ever considered a donation of any size to PEACE, now is the time," says Fisher.


For more information or to make a donation, please visit PeaceMexico.org.
---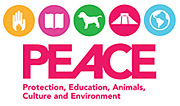 A Banderas Bay non-profit organization, PEACE acts as an umbrella organization for four charitable programs, Casa Comunidad, Ayuda Los Animales (Help The Animals), a Women's Co-Op (Manos de Mujeres Unidas) and Community Pride. It is a U.S. non-profit 501(c)(3) organization, which accepts tax-deductible donations and a Mexican Civil Association that issues facturas for donations. For more information, please visit PeaceMexico.org or click HERE to read more about PEACE
Tell a Friend
•
Site Map
•
Print this Page
•
Email Us
•
Top