Vallarta Living | July 2009
On Being a Single Woman (of a Certain Age) in Puerto Vallarta Part Three: Kissing Frogs

Liana Turner - PVNN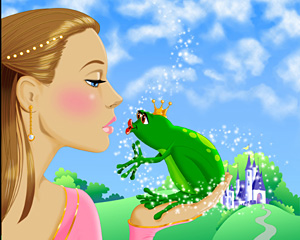 Some people are just destined to kiss a lot of frogs before finding their prince... or princess. (Peggy Mozley, picturebook.com)
In Part 2 of this series, (On Being a Single Woman of a Certain Age in Puerto Vallarta - It's Not Me... It's You,) I wrote about certain details of a few recent romances, and put parts of my life out there for all to see... and comment on.


Most of the comments were positive, from women who have had similar experiences. That was my target audience, so I'm happy to have reached them. No one enjoys talking about the parts of their life that didn't quite turn out the way they had hoped.


Please note that I did not say "failures," because we shouldn't consider an unsuccessful relationship, or even several of them, to be failures. They are opportunities to learn and gain experience. We don't talk about these things enough because we are embarrassed or ashamed that we haven't been able to find a suitable partner "like everyone else has." Well, the fact is that not everyone else has or does.


Many relationships appear to be happy and healthy from the outside looking in, but there is a pretty good chance that if a single person is feeling envious of someone who is part of a couple, there is a good deal of envy working in the opposite direction as well.


Some people, men and women, wrote about me, "She got what she deserved." Well, if they mean that I deserved to have a lot of fun, some good sex, enriching experiences and to learn something more about myself and others with each relationship, then they are right.


If they mean that I deserved to have people deceive me and that I deserved to be hurt deeply by some (superficially by others,) then they are just being mean and missing the point. I don't consider myself a victim, but I am a person who has been deceived.


I could correlate the comments from these people with "blaming the victim," which is not a good thing to do. Just because you go on vacation and leave a window open, it doesn't mean that it's your fault if some criminal breaks in and steals your stuff. Being stupid is usually not a crime. Stealing and lying and deceiving usually are. And there are many people a lot more stupid than I am. Who's going to protect them?


Women should not be blaming themselves for relationships that don't work out with men of questionable character, especially when people are so good at hiding their true selves, and when third party snoopers want to blame the women too, that really gets me going.


Unless we are psychic, we have no way of knowing how things will turn out. Everyone is so well-behaved in the beginning stages of a romance. It can be really deceptive. No one ever burps or farts or leaves the toilet paper roll empty in the first two weeks.


They will, however, lie to cover their tracks, and as we get older, these liars have developed some very good techniques over the years. They are almost impossible to detect. Some men will even wash dishes in the beginning!


If everyone would just behave as they normally do from the start, we could avoid a lot of these problems. Don't pretend to love football if you can't stand it, or buy a whole new wardrobe so you can accompany "Spike" on his Harley.


Be true to yourself and to others. If everyone would just do that one simple thing, then it might be easier to sniff out the scoundrels, and men would know that they are not suited to that particular woman and would be able to get out before things get ugly, and vice versa.


That doesn't mean that we shouldn't leave our comfort zones a little bit. If you have always dated a certain "type" and it hasn't been working out for you, then maybe you could explore other kinds of people that you wouldn't normally date.


If you have previously required all your dates to be wearing a suit and tie, maybe you could branch out into shorts and polo shirts. We should be willing to be flexible and to change our ideas of who might be right for us, but not be willing to change our basic nature. That would be dishonest.


Be patient, make your own good life, and take care of yourself while you are single. Don't despair. Some people are just destined to kiss a lot of frogs before finding their prince... or princess.


The Irreverent Chef, a.k.a. Liana Turner, is the chef and owner of Paradise Bakery and Catering. Serving the "Best Cinnamon Rolls in Vallarta," along with delicious sandwiches, salads, main dishes and yummy sweet treats every day but Sunday, and providing all styles of catering services, from pre-prepared meals to-go for informal gatherings to full service elegance for dinners, cocktail parties, wedding receptions and special events, Paradise Bakery & Catering is located at Sierra Aconcagua 299, Prolongacion Brasil, Colonia Lazaro Cardenas, Puerto Vallarta. For more information, call (322) 222-5133 or visit VallartaCatering.com.

Click HERE for more articles by The Irreverent Chef
Tell a Friend
•
Site Map
•
Print this Page
•
Email Us
•
Top