Puerto Vallarta Real Estate | October 2009
Vallarta Real Estate Market Strengthening

Marla Hoover - banderasbaylifestyle.com
October 02, 2009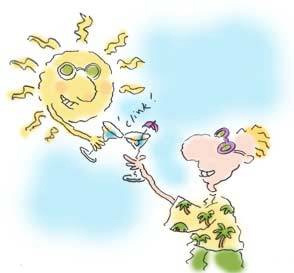 The future's so bright we have to wear shades...
This summer brought with it a market that has been as hot as the tropical weather. As always there is a silver lining to everything. This past year, prices of Puerto Vallarta real estate moderated to a more realistic playing field, which brought back the buyers.


Puerto Vallarta is now experiencing a buyer's market, however, do not expect it to last long. This is all happening while the infrastructure and services in Mexico are improving drastically. Thus not only have lifestyle conditions improved but property is now more affordable. That is a win-win in any book.


More good news is that on August 21st Felipe Calderon, the President of Mexico, announced that signs are positive that the recession will soon end in Mexico. "We have been able to contain the impacts to a certain limit," said the president, "and we are working hard not only to overcome the recession, but also to move ahead with more strength."


The President mentioned that several positive signs indicate that economic recovery is beginning, and went on to say that Mexico will come out of the crisis not only surviving, but stronger with a clear direction of growing more and being more competitive.


With international businesses continuing to invest in Mexico as well as its own growth in important sectors such as the automotive industry there is a high level of confidence in the direction of Mexico's economy.


This, plus the fact that more and more foreign buyers will find that healthcare, stores, availability of goods will be at least as good as what they're used to back home – but still at a considerably lower price. Besides the availability of international items, an improving Mexican economy will provide high quality products from this country. Go check out the new Gallerias Mall if you need proof.


Local realtors expect a busy "high season" this year. With the increase of sales we have seen this summer, it would be wise for foreign buyers to examine the importance of purchasing soon, as we all know the quickly the market can turn and buyers markets here are few and far between. Those that were waiting till the bottom hit last winter and are now making purchases know there is only one way prices can go from here.


Another very important issue that will see an expected increase in sales of real estate in Puerto Vallarta is the anticipated advent of US Medicare benefits in Mexico. The US congress is being pushed to pass legislation quickly that will give the now 1 million Expats, many of whom are retirees, their health benefits in the country they reside - Mexico.


Things are looking up, come on down but don't forget your shades!


Puerto Vallarta real estate - relocation specialist Marla Hoover is a member of the US National Association of Realtors (NAR) and AMPI, the Mexican Association of Real Estate Professionals. You can contact her by email at marla(at)g3mex.com, or by calling 011 (52) 322-209-0832 from Mexico, or +1 (206) 274-9962 from the US


Click HERE for more articles by Marla Hoover.
Tell a Friend
•
Site Map
•
Print this Page
•
Email Us
•
Top