Café Roma Hosts Successful Fundraiser for the School of Champions

Art Fumerton - childrenofthedumpvallarta.org
November 28, 2009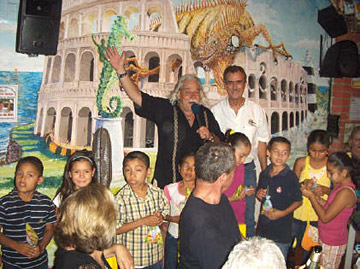 Café Roma Kids North American Tour 2009 a huge success.
The classic Fox-Einstien combination gave its final performance of the year on November 11th at Café Roma here in Puerto Vallarta in aid of the kids at Feed the Children Vallarta's School of Champions program. Followers of the duo did not go away disappointed; not only did they put on a great show but they raised an impressive sum of money towards an excellent cause.


Over one hundred guests were present to enjoy Fox and Einstien's antics along with ten children from the School of Champions who enchanted everyone there and had a fantastic time. What's more, more than thirty prizes worth in excess of $100,000 pesos were won by those who bought tickets for the event. This concludes the incredibly successful Café Roma Kids North American Tour, which this year featured three venues across the continent and has raised enough money to keep the School of Champions operating for half of the school year.


Fox and Einstein look forward to seeing you for more family fundraising fun next year...


From the kids and all those involved with the School of Champions, a big thank you to those who donated items and helped with the fundraiser:


Sheraton Hotel, Vallarta Adventures, La Palapa, Tikul, Café Des Artistes, Thierry's Steak House, Kaiser Maximillian, Daiquiri Dick's, Outback, Westin Hotel, La Mansion, La Leche, Liverpool, Marriott Hotel, Brazil Restaurant, Casa Isabel, Nacho Daddy's, Si Seńor, Colin Williston, and local painters Ada Colorina and Federico.

About the Feed the Children Vallarta (formerly Children of the Dump)



Feed the Children was founded in 1998, originally as Desayunos Para Los Nińos de Vallarta, a Mexican non profit, tax exempt corporation. Through private donations, the program feeds more than 1,500 children daily in 5 primary schools around the dump, operates nine day care centers and an after-school program for 300 students in grades 3 through 6, teaching them English, math and computing. The goal of the Feed the Children Vallarta is to ensure education through grade nine and to educate the children of Puerto Vallarta in the skills necessary to rise above poverty. Click HERE to learn more.