Vallarta Living | December 2009
Becas: A December of Fun and Good Works

Polly G. Vicars - PVNN
December 01, 2009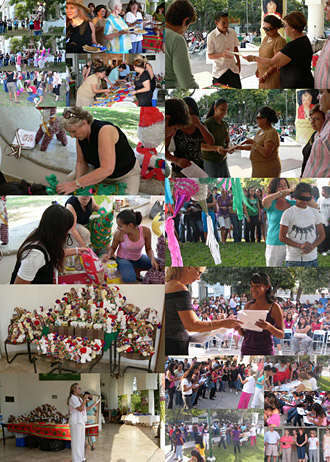 Becas Posadas Past
The leisurely pace of this beautiful city by the sea is palpably quickened every December. The "snowbirds" fly in from north of the border, the six-month residents return to their villas and condos to join in the festivities of the season, local businesses, the city and the functionaries of the Cathedral of Our Lady of Guadalupe prepare for the thousands of Vallartenses and visitors who participate in or watch the colorful twelve day pageantry of the Guadalupe Processions December first through the twelfth and of course there is Christmas day.


But these are not the only events hastening the pace of Vallarta. On Tuesday, December 1, the well known and popular super market Guiterrez Rizo begins its "Round-Up for Becas." As most of you know, this is a method for Tina Rizo and her staff and each of you who shop there to support the three hundred scholarship students of Becas Vallarta (America-Mexico-Foundation). Whether you need a loaf of bread or the "fixins" for an elaborate party, you can shop at Rizo, Calle Constitución #136, 6:30 am through 11:00 pm seven days a week and when you check out, say to the cashier, "Redondear por favor" (round up please).


Add the Annual Becas Posada on December fifth, at Los Mangos Library to the December Events. This annual Posada is to honor our becados (scholarship students) and give them a chance to meet and mingle with the all volunteer cadre of Becas Members who work all year on their behalf.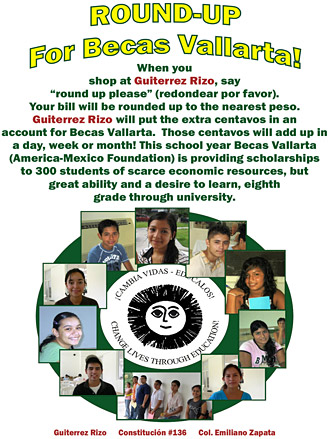 Rounding Up for Becas at Guiterrez Rizo
Presidents Mariel and Carlos Fregoso orchestrate the afternoon of fun, food, friendship, pińatas, music and more. This year will have an added dimension as the folks from Oxxo, who 'rounded up for Becas' in August, September and October, will present a check representing all those centavos that amazingly will provide a year's scholarship for twenty-three university students or twenty-nine high school students or one hundred junior high students!


There is another December event that I think you will want to add to your calender. That is the upcoming December 16th River Café Becas Breakfast at 9:30 am. The folks at the River Café have planned a great menu starting with a Fresh Fruit Plate and an Assortment of Sweet Rolls followed by the ever popular Mexican Machaca with Eggs or a Vegetarian Omelet complimented with Hash Brown Potatoes and of course Coffee or Tea.


As always, the Vallarta community is donating a fabulous array of gifts and gift certificates for the raffle and some real humdingers for the silent auction. Tickets for the breakfast are $150 pesos and must be purchased in advance. I have to warn you that they are limited and are going very fast. We sold out for the La Palapa breakfast one week before the event and many were disappointed. So call us today! Call me at 044-322-182-0215 or call Mariel at (322) 221-0789 or any other Becas member.


So shop at Rizo and don't forget to say, "round up please;" come by Los Mangos Library on the 5th about 5:00 pm and join in the festivities with the amazing young people you have been helping to complete their educations; and, for goodness sake, buy your ticket to the December 16 River Café Becas Breakfast bringing lots of pesos to buy raffle tickets and bid on silent auction treasures. See you soon?
---

Polly G. Vicars and her husband of almost 60 years, Hubert (a.k.a. "Husband") retired to Puerto Vallarta in 1988 and soon became active members of several charitable organizations. Polly is the author of "Tales of Retirement in Paradise: Life in Puerto Vallarta, Mexico" [a sell-out!] and "More Tales of Retirement in Puerto Vallarta and Around the World." Proceeds from the sale of her books go to the America-Mexico Foundation, a scholarship foundation that is their passion.

Click HERE for more articles by Polly Vicars, or click HERE to learn more about Becas Vallarta and the America-Mexico Foundation.
Tell a Friend
•
Site Map
•
Print this Page
•
Email Us
•
Top