Entertainment
How to Say I Love You in Puerto Vallarta

PVNN
February 09, 2010
Puerto Vallarta's golden sand beaches, warm blue waters and stunning sunsets seduce lovers and whisper of romance - so what better place to spend the most romantic day of the year? (video by PromoVision)
It's February, and we all know what that means... Love is in the air! Be it a Valentine's Day or any other day, Puerto Vallarta's white sand beaches, warm blue waters, and stunning sunsets seduce lovers and whisper of romance - so what better place to spend the most romantic day of the year?


When it comes to celebrating Valentine's Day in Puerto Vallarta, there are so many ways to show how much you care that finding the one that's perfect for your sweetheart can be a bit overwhelming. That's where we come in. Here at BanderasNews, we want to help you make this Valentine's Day as memorable as possible, so we've put together a list of special ways to say "I Love You."


Say it with Flowers



From sweet affection to passionate love, sending flowers says it all. Flowers To Go will deliver fresh and beautifully decorated flowers right to your home or hotel room. Rodolfo Gómez 126, Romantic Zone. Tel: (322) 223-5686


Satisfy Their Sweet Tooth


This Valentine's Day, score some points with your loved one, while saving some 'dough'. Pie in the Sky is offering a 15% discount if you reserve your yummy chocolate Besos, Heart Cakes, Mini-Mousse Hearts, Boutique Art Cakes, and other sinful sweets before February 10th. Puerto Vallarta: Lázaro Cárdenas 247, Tel: (322) 223-8183. Bucerías: Héroes de Nacozari 202, Tel: (329) 298-0838.



You can find that perfect Valentine's Day gift for your friend or loved one at Xocodiva Artisian Chocolates. Choose from their selection of hand-rolled truffles, gourmet nuts and bars, and chocolate-dipped strawberries, or show your affection with a gift-wrapped chocolate heart-shaped box filled with your selection of truffles. 118 Rodolfo Gomez, Romantic Zone. Tel: 044-322-113-0352.


Show How Much You Care


Flowers and chocolates are a great way to impress that special someone, but what could be a better way to celebrate love and friendship than by extending a helping hand to the community by attending one of these charitable events that don't skimp on style or class?



On February 12th at 7 pm, the Westin Resort will host the Becas Vallarta Valentine Benefit Concert, featuring two of Vallarta's own artists, guitarist Mario Blanco and pianist Adriana Martínez, playing classical romantic music that will satisfy the most demanding of music lovers. Tickets: $200 pesos (booked in advance and on sale now), or $250 pesos at the door. Tel: (322) 223-4606 or 223-1371.



Celebrate the Day of Love with a Sunday Brunch at the Vallarta Botanical Gardens. On February 14th - and each Sunday thereafter from 10 am-2 pm - you can enjoy a delicious Brunch, surrounded by the natural splendor of the Gardens, at a price you're going to Love! Carretera Puerto Vallarta a Barra de Navidad Km. 24. Tel: (322) 223-6182.



R.I.S.E. & Shine Gourmet Champagne Brunch at the amazing Villa Suzannah in Mismaloya on Valentine's Day, Sunday, February 14th. This lovely, spacious home is on the hill and offers an unbelievable view of the Mismaloya bay below. Funds raised support the Refugio Infantil Santa Esperanza (R.I.S.E.), a special shelter for children in Puerto Vallarta. Tickets, at $350 pesos each, are available for limited seatings at 10:30 am and 12:30 pm. Tel: (322) 222-9081.



Director Lucille Shipley and her workshop participants are holding their Annual Workshop Exhibition on Saturday & Sunday February 13th & 14th 2-6 pm at the workshop studio on Calle Zaragoza #414, next door to the Casa Kimberley pink bridge, in the Gringo Gulch neighborhood of Puerto Vallarta. 10% of ALL sales will be donated to the SPCA - Puerto Vallarta. Tel: (322) 222-1697 or 044-322-227-1864.


Wining & Dining


What better way to celebrate Valentine's Day than to enjoy an intimate evening of wining, dining and romance? Fine dining at one of Puerto Vallarta's many romantic restaurants is one of the best ways to show your love to make your sweetheart feel special.



Back Alley Steakhouse
225 Francisco I. Madero, Romantic Zone

From 4-10 pm on February 14th, in addition to their regular menu, Back Alley Steakhouse will be serving up a special Valentine's Day menu for only $199 pesos per person. For reservations, please call (322) 223-3560 or send an email to backalleysteakhouse(at)gmail.com TODAY!



Daiquiri Dick's
Olas Altas 314, Romantic Zone

There is no better way to show your love than by treating that special someone to a fabulous Valentine's Day dinner or scrumptious brunch in the postcard perfect setting of Daiquiri Dick's Restaurant on Los Muertos Beach in Puerto Vallarta, Mexico. Reservations: (322) 222-0566.



Encore Restaurant and Lounge
No. 15 Ave. Pacifico, Bucerias

You can enjoy a especially prepared 3 course meal for Valentine's Day while International Songstylist, Armi Grano and the Viva Jazz Trio sings your favorite love songs, such as My Funny Valentine, My Romance, But Beautiful, Misty, Once I Loved, Sabor a Mi, Besame Mucho and many more during this romantic evening at Encore Restaurant and Lounge. There will also be dancing. Showtime starts at 7:00 pm to 10:15 pm. Tel: (329) 298-0250.



Frascati Ristorante
Langosta 10, La Cruz de Huanacaxtle

According to George Bernard Shaw, "There is no love more sincere than the love for food," so whether you are alone or with your one true love, you can celebrate your love of food by enjoying one of Frascati's delectable new dishes: Shrimp Empanada filled with five cheeses, Grilled Provolone, Sea Scallops sauteed with saffron or Grilled Lamb Chops. Tel: (329) 295-6185.



Kaiser Maximilian
Olas Altas #380 B, Romantic Zone

Treat your loved one to a world of fine food and wine at Kaiser Maximilian. In addition to innovative dishes that merge new and old world cuisine, European Chef / Owner Andreas Rupprechter prides himself on having an extensive wine selection, by the glass or the bottle, to pair with any entrée, appetizer, or dessert. Olas Altas #38B, Zona Romántica. Tel: (322) 223-0760.



nh Krystal Puerto Vallarta
North Hotel Zone, Puerto Vallarta

Experience a magical evening that begins with a beautiful sunset and delights your loved one with a candlelight dinner on the beach. nh Krystal's Valentine menu begins with your choice of soup or salad, followed by a delicious entree of either Beef Medallions or Chicken Breast and Cheese Cake with Passion Fruit sauce for just $400 pesos per person. Local residents enjoy a 20% discount. Tel: (322) 226-0708.



La Cascada Restaurant
Carr. a Barra de Navidad Km 4.5, South Shores

Please your senses while enjoying a romantic beachfront dinner under the stars with your special someone. On February 14th, starting at 6:30 pm, La Cascada Restaurant at the Howard Johnson Hotel on the south shores of Puerto Vallarta will feature a special 4-course menu, with prices that start at $220 pesos per person for an appetizer, salad, main course, dessert, and glass of wine. Tel: (322) 226-8050, ext. 92037



Le Kliff Restaurant & Bar
Km. 17.5 Carr. a Manzanillo

Perched on the edge of a cliff just 25 minutes south of downtown Puerto Vallarta, you'll find one of the most romantic fine dining experiences on Banderas Bay, Le Kliff Restaurant and Bar. This open-air restaurant with an enormous palapa roof is the best place to catch one of Vallarta's famous sunsets - and there's nothing more romantic than watching the sun dip into the sea... Tel: (322) 224-0975.



River Cafe
Isla Río Cuale #4, El Centro

The River Cafe is preparing something special for you - from their kitchen, with Love! Enjoy a special Valentine's dinner that includes your choice of a Bistro Salad with Spinach and Arugula or Squash Blossom Cream Soup, followed by a delicious entree of either Prosciutto wrapped Salmon or New York Steak with Cognac Peppercorn Sauce and Butterscotch pot de Créme with Chocolate Truffle Crunch and a glass of Champagne for $450 pesos per person. Tel: (322) 223-0788.


Valentine's Day Getaways


A Valentine's Day getaway can be the perfect way to stoke the fires of romance in your relationship. When the theme is romance few things are better than finding the perfect way to cozy up to your main squeeze, and these Banderas Bay area hotels and tour companies offer romantic getaways you'll never forget.



Hacienda Jalisco
San Sebastian del Oeste

Nestled within the lush, mountain region of the Sierra Madres exists one of Mexico's most tranquil, magical hideaways, Hacienda Jalisco. Located approximately two hours outside of Puerto Vallarta in beautiful San Sebastian del Oeste, this charming bed and breakfast offers guest suites designed to relax the mind and soothe the soul. Tel: (322) 222-9638.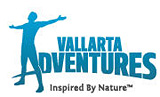 Vallarta Adventures Rhythms of the Night
Av. Las Palmas 39, Nuevo Vallarta

Vallarta Adventures' exclusive jungle beach hideaway, Las Caletas, provides the ultimate backdrop for romance. Celebrate Valentine's Day on the exclusive Rhythms of the Night tour, which includes a scenic ocean cruise across Banderas Bay, a special buffet dinner, a mystical Pre-Hispanic music and modern dance show, plus a few extra surprises for guests on the February 14th excursion. Tel: (322) 297-1212



Villa Bella B&B
Calle de Monte Calvario #12, La Cruz de Huanacaxtle

If you are planning a romantic getaway this Valentine's Day, this beautiful bed and breakfast in La Cruz de Huanacaxtle Mexico is a dream get-away come true. Always aiming at complete relaxation and comfort, Villa Bella's friendly staff will make sure that your stay exceeds all your expectations. Tel: (329) 295-5161.



The Westin Resort & Spa
Marina Vallarta

Love is in the air at the Westin Resort & Spa! For the entire month of February you can enjoy their services while spending unforgettable moments in the company of that someone special. Promotions include: A luxury room for 2 at just $1795 pesos per night, a Couple's Well-Being Package - a 50 minute massage and a manicure or pedicure for $2619 pesos, and a 5 course Romantic Dinner at Arrecifes Restaurant that includes a welcome cocktail, a bottle of French Sparkling Wine and a keepsake photo for $2300 pesos. Tel: (322) 226-1100.


In short, there are hundreds of great ways to celebrate the love you share in Puerto Vallarta and surrounding areas. But the most important thing to remember is this: no matter what you decide to do, it is the company you're in and the feelings you share together that'll make this Valentine's Day memorable!

Tell a Friend
•
Site Map
•
Print this Page
•
Email Us
•
Top