Vallarta Living
New Para Los Niños NY Deli to Benefit the Kids of R.I.S.E.

Roberta Rand - PVNN
March 29, 2010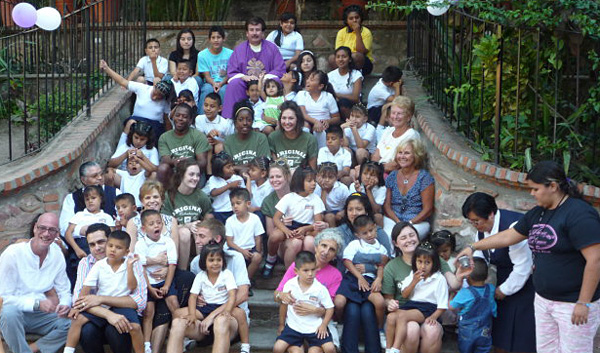 The 9th anniversary celebration of RISE this past Saturday with volunteers from London, the US, Canada and Mexico.
Refugio Infantil Santa Esperanza (R.I.S.E.), the Puerto Vallarta orphanage founded in 2001, nurtures, feeds, houses and educates between 40 and 60 neglected, abused and abandoned Mexican children in Puerto Vallarta. But with only $3,000 pesos per month supplied by the Mexican government, the charity depends largely on American and Canadian donors to fund the lion's share of its operating expenses.


And there's the rub. Not-for-profit organizations in the US have been hit hard by the economic downturn; it's even worse for charities in Mexico. Giving has dropped off significantly to RISE and similar local charities, forcing RISE volunteers and people like Chris Amo, president of the Children Shelter of Hope Foundation, to come up with ever-more creative fund raising ideas.


"We've had some wonderful champagne brunches," says Amo, "held at beautiful villas around Banderas Bay, and featuring the donated talents of two top chefs, Cristhian Rios and Seth Cloutman." The brunches have been a big hit, and now, due to the generosity of Luis and Nancy Melgoza, RISE has a new source of income that also promises to be a welcome addition to Puerto Vallarta's list of gourmet food purveyors: at last, a New York-style delicatessen. Recently, the Melgozas contacted Chef Seth Cloutman to announce they wanted to donate their Conchas Chinas deli space to RISE.


"The Para Los Niños (For the Children) Deli will be a completely non-profit enterprise," says Chef Cloutman, "with all profits from sales of smoked meats, homemade breads and other traditional deli items going to RISE and other children's charities in Puerto Vallarta."


And that's not all. Chef Cloutman has plans to establish a vocational cooking school in the large kitchen on the floor directly below the deli. "Our goal is to help the older children of these children's refuges learn marketable skills that will give them a leg up in life. We want to offer them an alternative to life on the streets washing car windows."


Applegate Realty has also donated a two-tier green space behind the deli which Cloutman wants to see cultivated for a vegetable garden - also to be tended by RISE kids. Bob Price, director of the Puerto Vallarta Botanical Gardens has consented to act as official advisor for this project.


"Our hope is that the deli will provide a sustainable cash flow with the potential to raise over a third of the monthly operating budget for RISE," says Cloutman.


The Para Los Niños Deli promises to be a welcome addition to the bustling Conchas Chinas neighborhood, offering delectable cured hams, roast turkey, roast beef, pastrami and homemade sauerkraut, in addition to a variety of homemade breads and savory soups as well as breakfast items and great coffee. Guests at the deli café will enjoy the bird's nest location with ocean breezes and a peekaboo view of the spectacular rocks and ocean below.


The Para Los Niños Deli is slated to open on April 15th with a menu featuring healthy salads, soups, sandwiches, breakfast entrees and a variety of fresh made cookies and pastries. Hours will be 7 am-7 pm, Tuesday through Sunday.


Location: The Para Los Niños Deli is located on the Mismaloya highway between Applegate Realty and OXXO. Look for the blue canopy.


The Refugio Infantil Santa Esperanza is a non-profit shelter for babies and children under the age of 14. Some of these children are orphans but most come from unbearable situations having been abused, neglected, or simply abandoned. R.I.S.E. is a Mexican non-profit charitable organization, which accepts donations through a number of charitable organizations. More information about tax deductible donations can be found at their website: Refugio-Infantil.org.
---

Prior to relocating to Puerto Vallarta, Mexico from Colorado Springs with her dog, Bo, Roberta Rand worked as a magazine editor, web editor and marketing copywriter. She is also an essayist and author, whose book "Playing the Tuba at Midnight" explored the quirks of living single.
Tell a Friend
•
Site Map
•
Print this Page
•
Email Us
•
Top