Vallarta Living
Biblioteca Los Mangos Benefit and a Puerto Vallarta Historical Trip Down Memory Lane

Gary R. Beck - PVNN
July 07, 2010
Sergio Toledano's Villa Leonarda, one of the most historic homes in Puerto Vallarta, was the site for an early summer fund raiser to benefit Biblioteca Los Mangos on June 26, 2010.
Related article: Vallarta Steps Out for Los Mangos Library

The stunning Villa Leonarda was the site for an early summer fund raiser to benefit Biblioteca Los Mangos (Los Mangos Library) on June 26, 2010. Doors opened at 6 pm with no entry fee. Tasty combination food plates and drinks were available at $50 pesos per food plate or drink.


Participating places were No Way José, Barcelona Tapas, Los Chilaquiles, tamales from Pam Thompson's source and Xocodiva Chocolates. Los Frijoleros, taking a summer break from El Arrayán, performed lovely sets to great appreciation. 100% of the proceeds benefited the Puerto Vallarta Public Library, which is very much in need as we enter the warm summer months.


Villa Leonarda, owned by Sergio Toledano, is one of the most historic homes in Puerto Vallarta, is possibly the oldest building still standing in Vallarta, circa 1860-1880. Miners hauled silver on donkeys and mules down along the river from Mascota and San Sebastian. The building was used for storage and bunkhouse-style sleeping quarters while the ore was laden onto ships in Bahía de Banderas followed by the men's return eastward into the Sierra.


Situated in Gringo Gulch, the villa became a local gathering place for artists and celebrities in the 1960's who considered Vallarta one of their favorite getaways. John Huston (who directed "The Night of the Iguana"), Richard Burton and Peter O'Toole spent many an afternoon into the late evening playing poker on the terrace by the pool with other friends.


Elizabeth Taylor and Richard Burton, who used to sit under the fabulous Ficus tree on the patio to watch the river flow by, were only a few of the celebrities that delighted in the unique atmosphere of this house, one of the first built in the old fishing village that has become a world-class resort. Rock Hudson was a frequent guest as well as Burt Lancaster and the beautiful Mexican actress Dolores del Río. Huston, who built his house on a small cove south of Vallarta, Las Caletas, loved to spend the afternoons at the villa playing poker, his favorite game.


After filming "Cleopatra," Elizabeth and Richard came to Puerto Vallarta in 1962 so he could begin work on the Tennessee Williams drama "The Night of the Iguana," shot almost entirely in the oceanside jungle of Mismaloya, now considered a watershed event in the history of modern day Vallarta.


At the time, hotels for cast and crew were in short supply and primitive to say the least. The old Oceano Hotel that stood in front of the black and white striped lighthouse on the malecón in Old Town was the production's headquarters. But when Elizabeth arrived to find a dirt floor and cockroaches flying around, Burton called his buddy Huston and said "My friend, if we don't find suitable accommodations for Elizabeth, I'm afraid I won't be able to star in your film."


Huston immediately offered the couple his own rented villa on the hill on the north side of the river, Casa Kimberley, and the rest is history. This area was where up and coming architects Freddy Romero and Guillermo Wulff were building fabulous villas on the hillside. Burton bought their little getaway as a 32nd birthday present for Elizabeth in February 1964, one month before their marriage.


In time, other jet set friends and celebrities followed and created an artistic and happening enclave in the exclusive neighborhood that came to be known as the Gringo Gulch. Elizabeth and Richard visited the house often over the years and Burton eventually purchased the house across the street, razed it and built another house around a large pool directly in front of Casa Kimberley, connecting the two houses with "The Lover's Arch". It became Burton's poker lair when high jinx buddies were in town or "the dog house" when Elizabeth saw fit to lock him out of the main house. Hence the neighbor's name for the The Lover's Arch was "El Puente de Reconciliación" or the "Bridge for Making Up."


The Burtons entertained often and other Hollywood friends Roddy McDowell and Rock Hudson became regulars. They also offered their romantic hideout to other couples facing public scrutiny, such as Spencer Tracy and Katherine Hepburn, who could come enjoy tropical times away from prying eyes. The Burtons spent much time in Puerto Vallarta over the years, bringing along their kids (she had three children plus the daughter she adopted with Burton), their movie star friends and Taylor's ever present entourage.


The Burton's befriended many of the locals and took a special interest in the young nephew of their neighbor, clothing designer and boutique owner Xavier de la Torre, owner of Villa Leonarda and friend of Rock Hudson.


Sergio Toledano, now an award-winning Mexican photographer, was at the time a precocious 12 year old boy who had recently lost his mother. Taylor had strong maternal instincts and she and Richard took him under their wings, standing in as godparents for his first communion and taking him on many trips around the world including on their yacht the Kalizma which they moored off England while Burton filmed "Anne of a Thousand Days".


The international paparazzi that gathered outside the gate at Casa Kimberley waiting for photo ops of the famous couple sending headlines around the world from Vallarta: "Liz to Adopt Another Child". There is a wonderful collection of '60's black-and-white photos of Sergio with the Burtons adorning a wall in the villa.


Taylor sold the Casa Kimberley complex several years after Burton died in 1984, saying the "memories made her too sad." She could never bring herself to spend the night there again after he was gone. Hundreds of Burton's books and letters were found, along with movie memorabilia, vintage 60's clothing and a collection of Taylor's wigs.


Taylor comments in her book, "My Love Affair with Jewelry", that a be jeweled Tiffany brooch in the shape of a dragon that Burton gave her for the premier of The Night of the Iguana, "forever symbolized the early days of our marriage when we lived in Puerto Vallarta."


No doubt being hopelessly in love in Puerto Vallarta can make for some special memories.


Today, Villa Leonarda continues to possess a special magic, overlooking Río Cuale, mountains and jungle. Three-foot thick stucco/adobe walls, arches, high ceilings, trestle doors, hacienda-style wooden shutters, antique wrought iron and vintage handmade tiles are the distinctive design details of this century + old masterpiece.


Time has gone by, but the magic of the place still exerts its power, and today Villa Leonarda welcomes guests who wish to experience the beauty of Puerto Vallarta surrounded by the fascination of these old walls and the warmth of the Mexican people that captures one's imagination. Angelica Huston and brother, Danny Huston, internationally acclaimed artist Alejandro Colunga and photographer Gabriel Figueroa, Jr. are frequent guests at the villa.


The June 26 grand fund raising event at Villa Leonarda helped support Puerto Vallarta's very own library and cultural center. Los Mangos was built and runs purely on donations. It is not only a library but a true cultural center offering everything from free movies to dance and art. There is a continual struggle for funds and volunteers.


Ricardo Murrietta is one of the driving forces and hardest workers for Los Mangos. He is the director/supervisor. Maria Jose Zorilla is the head of the board and director. Sally Conley had her own little library in Pitillal. She was a board member and the person who put the amazing English section of books together along with other volunteers. When she passed on, most of her little library was moved to Los Mangos. Donations were made in her memory to create "Sally's Corner" (the children's library.) It is a very special place putting together various programs for the kids.


Biblioteca Los Mangos is located at Avenida Francisco Villa 1001, Colonia Versalles, Puerto Vallarta. For more information, volunteering or donating, call (322) 224-9966 or send an email to blm(at)prodigy.net.mx. For updated information on Los Mangos and library activities, please visit biblioteca-los-mangos.blogspot.com.


Special thanks for this fund raiser go to Sergio Toledano, the participating restaurants, Los Frijoleros plus numerous volunteers who worked to make this a grand success.

Villa Leonarda is located at Guerrero 414 Centro in the Gringo Gulch neighborhood of Puerto Vallarta. For more information or to inquire about rentals for up to 10 guests, please visit VillaLeonarda.com or contact Sergio at info(at)villaleonarda.com.
---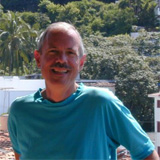 After 20 years in the San Francisco restaurant business, Gary R. Beck turned his attentions to cooking, dining out, creating recipes and exploring Puerto Vallarta's rich array of eateries. Famous for his restaurant guide, available online at CafePress.com or Lulu.com, Gary also writes restaurant reviews for Puerto Vallarta newspapers, Bay Area magazines, and now, a feature column for BanderasNews.com. Contact Gary at garyrbeck1(at)yahoo.com.
Click HERE for more articles by Gary R. Beck.
Tell a Friend
•
Site Map
•
Print this Page
•
Email Us
•
Top