Vallarta Living
Hotel Marriott Hosts Becas Vallarta's Planning Session

Polly G. Vicars - PVNN
September 10, 2010

The torrential rains that have wreaked such havoc on Puerto Vallarta and its environs have not dampened the plans for a fantastic season for Becas Vallarta, A.C.


Our small tireless group of members met on September 6 in a luxurious meeting room in the Marriott Hotel graciously donated to Becas Vallarta for all of its meetings. The Marriott not only gives us the room to use, but supplies us with coffee, tea, milk, cookies, etc. How generous is that? With no office of our own (no paid staff, no equipment) we have had to scramble for a meeting place until Denis Whitelaw, Marriott Manager stepped in to donate this room to us. Thank you Marriott!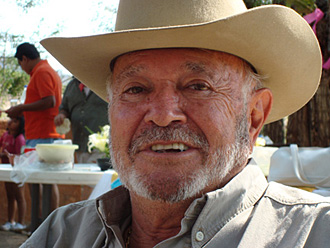 Carlos Fregoso, Becas worker extraordinary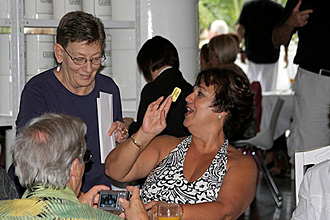 New member Aurora de la Torre giving her winning ticket to Linda Wirth at a Becas Breakfast
Mariel de Fregoso, Becas President, assisted by her husband and America-Mexico president ticked off the agenda items. First she introduced new member, Aurora de la Torre who recently returned to Mexico with her husband, Luis Horcasitas to live in the deluxe Grand Venetian Condominiums.


Aurora worked with non-profits in the US for years and has been coming to all of our events, impressing all who met her. We were thrilled when she accepted our invitation to become a member of Becas Vallarta Foundation and have already put her to work translating and taking charge of the registration at the upcoming Becas Golf Tournament. Welcome Aurora!


Mariel then announced the return of the Palomazo Culinario Event (Culinary Jam Session) after an absence of two years.


The Culinary Jam will be held on Sunday, October 24 at the Marriott Hotel. The festivities will begin at 7:00 pm with a cocktail hour followed by an 8:00 pm four course sit down dinner with wine. This unique evening is sponsored by Kaiser Maximilian, Trio, Vitea, Thierry Blouet, La Palapa, Le Kliff, Los Xitomates and the Marriott Hotel.


The highlight of the evening will be large TV screens showing the chefs from these 5 star restaurants as they prepare the gourmet dinner. There will also be live music, entertainment, a raffle and the wonderful feeling of doing good while having fun! The proceeds from the $600 pesos tickets will be divided equally among Becas Vallarta, Agape, Arturo y Los Hijos de Dios and the Asilio San Juan Diego.


Carlos Fregoso reported on the upcoming golf tournament for Becas Vallarta at the Marina Vallarta Club de Golf. Carlos has been trying for years to get a golf tournament for Becas and has now succeeded!


The Club Corp Becas Vallarta Golf Classic, scheduled to be held on Friday, November 5, will be the best Golf Tournament Vallarta has ever seen and obviously Carlos has convinced many others as he has 15 sponsors: Grupo Bajo Cero, Corona, Bebidas Vallarta, El Arrayán, Pepsi, Liverpool, Benitto's, Silver Bottled Water, Trio, Vitea, Scotiabank, Kaiser Maximilian, Ocho Tostadas, Vector, Marriott, and Toyota Puerto Vallarta.


The Elimination Scramble, which will begin at 11:00 am, costs only $95 US (or peso equivalent) and includes 18 holes with a shared cart. It also includes outstanding prizes from the sponsors, an awards ceremony with delicious food and if you make a "hole-in-one" you will win a Toyota donated by Toyota Puerto Vallarta.


All proceeds will be divided among Becas Vallarta, The Muscular Dystrophy Association's Augie's Quest and Club Corp's Employee Partner Fund. You may register at the Marina Golf Shop. Get your tickets there or from Mariel de Fregoso or me.


The Outback 10th Anniversary Fiesta was discussed next. It will be held on Thursday, November 11, from 8 until ???. After the huge success of our Outback Becas Dinner on September 2, I know that everyone is going to want tickets to this gala event which promises to be delightful!


Outback is really going all "out" to make this the best ever fiesta with the entire event "out" side the restaurant. They will be serving all the delicious food for which they are famous, plus a cocktail, a glass of wine and a soft drink. If you want more cocktails you can buy $40 peso tickets and four of those tickets will buy a bottle of house red wine.


There will be a raffle, silent and live auctions with fabulous prizes. In addition, Grupo Odisea (they played at Becas Ball and are marvelous) will entertain during the evening for your listening and dancing pleasure. All proceeds from the event will be divided among Becas, Casa Hogar and Pasitos de Luz. Tickets are only $400 pesos and you can get them from Mariel, me and any other member of Becas, but get them early as they are bound to go fast.


Carlos Fregoso also announced the confirmation of an alliance among Becas Vallarta, UNIVA and Club Rotario del Sur to provide scholarships to students with a promedia of 9.0 or above and small economic resources.


The first 15 have been awarded their scholarships for this school year and are attending classes. Becas and Club Rotario de Sur will each pay 10% of the tuition cost and UNIVA will pay 30%. The student will then pay the remaining 50% which each has agree he or she can do. We see this step as the beginning of a fine alliance of these three groups as well as a great help to the students.


Adding to all of the support Becas gets from Vallarta's business community, Guiterrez Rizo recently gave Becas $13,687.32 pesos from their Rounding Up for Becas campaign in their five stores. This was amazing as the funds were collected during this slowest of slow business in Puerto Vallarta. A big thank you to Tina and her staff.


With great enthusiasm, the group reviewed the rest of the upcoming events for 2010 and I am sharing these dates with you so that you can mark your calendars and call for tickets. Tickets for any of the preceding or following events can be purchased by calling me at (322) 223-1371 or 044-322-182-0215, or emailing me at phvicars(at)gmail.com or by calling Mariel de Fregoso at (322) 221-0789 or 044-322-130-0474 or emailing her at csolairepv(at)gmail.com.


Tuesday, November 9, 2010 - Becas in Action School Tour
Wednesday, November 17, 2010 - 1st Becas Breakfast at Coco's Kitchen
Thursday, December 2, 2010 - Holiday Happening at Avalon
Wednesday, December 15, 2010 - 2nd Becas Breakfast at La Palapa
Friday, December 18, 2010 - Classical Ballet Concert at Marriott Hotel
Wednesday, January 19, 2011 - 3rd Becas Breakfast at Daiquiri Dick's
Tuesday, February 8, 2011 - Becas in Action School Tour
Friday, February 11, 2011 - Valentine Concert under the Stars
Wednesday, February 16, 2011 - 4th Becas Breakfast at the River Café
Thursday, March 10, 2011 - 50th Anniversary Becas Ball
Tuesday, March 15, 2011 - Becas in Action School Tour
Wednesday, April 6, 2011 - Becas Brunch & Fashion Show at La Leche


All of us in Becas Vallarta are excited about the upcoming events and the incredible support of our community. We are excited to have five new members, Julio César García Peña, Pedro de Silva Ruiz, Gabriel Parra Athié, Yolanda Lgartúa and Aurora de la Torre.


We are excited that we have more than 300 scholarship students this school year – the most ever. But, YOU are the key to a successful year. So mark your calendars, give Mariel or me a call to reserve your tickets for some or all of the events and feel good that you are helping to make a difference in the lives of our scholarship students who, without your help, could not get the education they want and deserve. So ya'll call for tickets ya hear!
---

Polly G. Vicars and her husband of almost 60 years, Hubert (a.k.a. "Husband") retired to Puerto Vallarta in 1988 and soon became active members of several charitable organizations. Polly is the author of "Tales of Retirement in Paradise: Life in Puerto Vallarta, Mexico" [a sell-out!] and "More Tales of Retirement in Puerto Vallarta and Around the World." Proceeds from the sale of her books go to the America-Mexico Foundation, a scholarship foundation that is their passion.

Click HERE for more articles by Polly Vicars, or click HERE to learn more about Becas Vallarta and the America-Mexico Foundation.
Tell a Friend
•
Site Map
•
Print this Page
•
Email Us
•
Top