Vallarta Living
Outback Becas Event Great Success

Polly G. Vicars - PVNN
September 06, 2010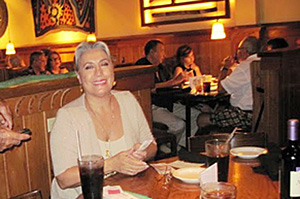 Mariel de Fregoso Becas Vallarta, A. C. Fabulous president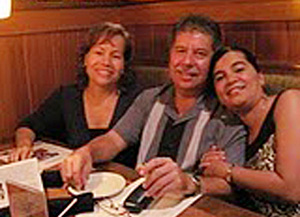 Maestro Melchor Cortes, Martha Flores Salceda de Cortes and Ingrid Macias Cruz enjoying the ambience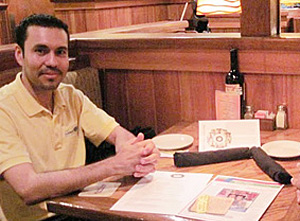 Eliseo Flores Salcedo AKA Liko, former becado who has made good at local Ford Dealership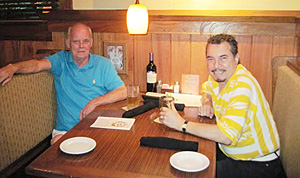 Bill Wurzell and Eduardo Alejandro, staunch Becas Supporters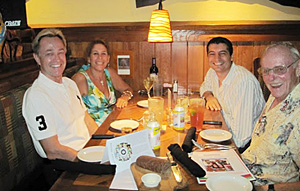 Carl Timothy, June Rosen, Marcelo Mico and Jerry Wilson - all Becas friends and supporters
Despite the fact that September is considered the hardest month of the year to do fund raising, that the economy both in Mexico and the United States is awful, that most of the "snowbirds" have not returned to Vallarta, the September 2 Outback Dinner was a rousing success in every aspect of the word "success!"


Sujay Cross, the Public Relations Manager for Outback told us the maximum tickets we could sell was 100 as they had to have room for their regular customers. Most of us laughed and said, at least to ourselves, that we would be lucky to sell 50! But through the efforts of our devoted members and the incredible support of Vallartenses, we sold a whopping 99 tickets.


Outback donated all the proceeds from the ticket sales to Becas making it possible to fund 16 junior high scholarships! Additionally the proceeds from the raffle and silent auction afforded the funding of another 6 junior high scholarships. Imagine - all that fun and good food making it possible for 22 eager young girls or boys of low economic resources, but high educational aspirations to attend another year of school thanks to Outback and you!


The attendees were a cross section of Puerto Vallarta - local business people, former scholarship students, Becas members both new and old, and supporters of this scholarship program that is in its 50th year.


Some of the attendees were Maestro Melchor Cortes Cortes with his wife Martha Salcedo de Cortes from Melchor's Spanish Language School, his brother-in-law Eliseo Flores Salcedo who was a becado and now is a valued employee at Ford Dealership as is his companion, Ingrid Macias Cruz, Cuqita and Enrique Huerta from Cuquita's Beauty Salon, Artist Ed Alejandro and Bill Wurzell from La Palapa Condominios, Becas members Presidents Mariel and Carlos Fregoso, Vice Presidents Linda Azcarate (with husband Eduardo) Pat Bendix (with husband Richard), Polly Vicars (with husband Hubert), Treasurer Cuquita Preciada, Linda Wirth (with husband Terry) Elinor Prawer (with husband Harvey), Suzie Erickson(with husband Lance) Estrella Rodriguez, Marta Vial, Cheo Rangel, Sergio Valle Pardo along with new members Yolanda Lgartúa, Aurora de la Torre de Horcasitas (with husband Luis Horcasitas) Pedro de Silva Ruiz and Julio César García Peña.


Additionally several perennial donors to the raffle and silent auction were in attendance: Marcelo Mico of Pilates, June Rosen Lopez of June Rosen Galleria and Jeff Coates and his lovely wife from Los Veranos Canopy Tour.


Everyone seemed to having a great time enjoying each other and the fabulous food. A surprise innovation for Becas was four door prizes, red and white wine from Coyul, a gorgeous anthurium from Vallarta Botanical Gardens and an official World Cup Football.


The raffle brought out lots of cheers and boos as people won the prizes donated by Acqua Day Spa & Gym, Andales, Casandra Shaw Jewelry, Coco's Kitchen, El Mundo de Azulejos, Galeria June Rosen Lopez, Jan & John Meyer, La Palapa Restaurant, Los Veranos Canopy Tour, Marcel Mico Pilates, No Way José!, Salon Diva's, Tapiz at the Vallarta Botanical Gardens, The River Café, and Xocodiva Artisan Chocolates.


Some real bargains were found at the Silent Auction for nights at Hacienda Jalisco in San Sebastian and Casa Obelisco in San Pancho as well some fabulous jewelry.


The staff at Outback outdid themselves in seeing that everyone was served quickly and with the correct orders. Wonderfully, the assistant to Sujay is Edgar Solis Lopez who was a becado many years ago when our founder Bernice Starr was running the program. Everywhere I go in Puerto Vallarta I run into successful people who got their educations from Becas Vallarta. That is inspiration enough to keep all of us volunteers working to keep the program solvent and viable.


On that note I want everyone to know that Becas has no paid staff, no office, no telephone, no computers or office equipment. Our marvelous volunteers use their own equipment to produce whatever is needed to keep us going. What a tribute to the generosity and devotion of our small group of Mexicans, Americans and Canadians!


Thank you Outback for a fabulous evening! Thank you Vallarta for donating gifts and attending this fun event. Mark your calendars now for Thursday, November 11, 2010 for Outback's 10th Anniversary Fiesta which will again benefit Becas Vallarta, Casa Hogar and Pasitos de Luz. So get ready Vallarta, I'll soon be calling you to buy tickets and donate gifts.
---

Polly G. Vicars and her husband of almost 60 years, Hubert (a.k.a. "Husband") retired to Puerto Vallarta in 1988 and soon became active members of several charitable organizations. Polly is the author of "Tales of Retirement in Paradise: Life in Puerto Vallarta, Mexico" [a sell-out!] and "More Tales of Retirement in Puerto Vallarta and Around the World." Proceeds from the sale of her books go to the America-Mexico Foundation, a scholarship foundation that is their passion.

Click HERE for more articles by Polly Vicars, or click HERE to learn more about Becas Vallarta and the America-Mexico Foundation.
Tell a Friend
•
Site Map
•
Print this Page
•
Email Us
•
Top