Sample some of Mexico's heritage with a taste of Spain! On Saturday, March 5th, join Rivera Cuale and co-host Pincho & Olé Tapas Lounge for a dazzling evening on the riverfront!
Watch as the Spanish owner of Pincho & Olé prepares a delicious Paella, a traditional rice dish that originated centuries ago in the Valencia region on the east coast on Spain. He will explain each of the steps to make an authentic paella as he prepares the dish in a giant recipient called a "paellera" – and then, you can eat! He will also be bringing his exquisite house Sangria for you to enjoy!
This fantastic evening will be a fundraiser, with proceeds going directly to the onsite Rivera Cuale-PEACE Community Garden to get it off to a good start. A minimum donation of $50 pesos gets you in to Rivera Cuale, and cash bar will be available for Sangria, beer and wine.
We will soon be emailing out invitations with more details, so watch for it so you can RSVP! (If you are not on our mailing list please email Leanne Smith at leanne(at)riveracuale.com to RSVP.)
Old town charm, new town luxury... plus, the most convenient, accessible in-town location in Puerto Vallarta. That's Rivera Cuale - an award-winning, environmentally-sensitive riverfront community of full-time residential condominiums; secluded and quiet, yet minutes from downtown.
Click HERE to learn more about Rivera Cuale Puerto Vallarta.
---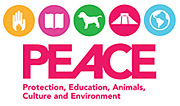 PEACE: Protection, Education, Animals, Culture and Environment, is a nonprofit organization established in 2005, made of four main programs which focus on education, entrepreneurship, animal well-being, and community engagement in the coastal regions of Nayarit, Jalisco and Quintana Roo, Mexico. Through innovative and community based programs, PEACE is working to improve the quality of life in local communities throughout the Bahía de Banderas.
For more information, please visit PeaceMexico.org or click HERE to read more about PEACE