Puerto Vallarta, Mexico - With exceptional cuisine and superior service in an elegant beachfront setting, when it comes to fine dining in Puerto Vallarta, Daiquiri Dick's has it all... especially during Restaurant Week 2011, when you can enjoy a special 3-course menu for only $299 pesos.
Since 1987, Peter and Tari Bowman's romantic al fresco dining destination, great at sunset, has drawn visitors from all over the world who return for an evening on the Bahía de Banderas marked by creative cuisine, good service and remarkable views.
When visiting Daiquiri Dick's during Restaurant Week 2011, our party entered and was greeted promptly. The table selected was the middle of three dining area, ceiling covered with white cloth, but open to the breezes and super vista.
The front area is beachfront on the new Malecón, open to sun and air, with several white canopy umbrellas for shade. The furthest rear room was totally covered, perfect for the summer rainy season, yet open to the activity of Playa Los Muertos. Predominant colors are pale blue with rust furnishings and walls. Soft background music mixed with a gentle roar of the high crashing waves of the full moon.
Later, strolling musicians meandered through; on this occasion it was Jorge and Lenny, longtime entertainers of Southside diners with their smooth harmonies and expert guitar playing. The chatter of the many guests added to the ambiance. As the sun sank, the sky colors brightened into blasts of orange, red and pink. Soon, lights appeared along the shore and up into the hills.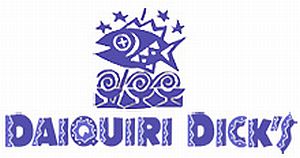 Daiquiri Dick's Restaurant Week 2011 menu offers three starters:
Tangerine-Marinated Shrimp Ceviche served with tangy, spicy chips: Predominant bright flavor of tangerine accented the sweet shrimp and onion making a delightful and unexpected sensation. Round crisp tostadas were supplied for the basis.
Tuscan Summer Soup with goat cheese and Parmesan croutons: Rich deep fresh tomato jumped out to the forefront backed with
smooth goat cheese croutons and a hint of chile. The soup was cold and refreshing.
Roasted Pepper Bruschetta with goat cheese and chipotle: Sauteed yellow bell pepper and onion strips softened into a delightful topping for crisp bread toasts topped with cheese and melted in the oven, again sporting a mild chile accent.
Entrées on this special festival menu offer a choice of three dishes:
Mahi Mahi in northern Thai khao soi noodle soup: A spectacular and unusual creation from Southeast Asia was a bowl with a large mahi mahi fillet in coconut milk broth over a bed of noodles, some allowed to cook to slight crispness. A version of green curry with mild chile was incorporated with the thin milk base.
Grilled Cajun Beef Tenderloin with chipotle aioli and roasted potatoes: Full flavored meat was cooked as ordered and drizzled with spicy chipotle mayonnaise. Accompanying chile dusted potato chunks were fresh and moist.
Grilled Pork Chop with sweet onion marmalade: Pork and onion meld well and here the sweetness was a factor.
Finishing off a delightful meal were:
Chocolate Panna Cotta with spiced pumpkin seed brittle: Soft yet firm gelatin chocolate creation, Italian cooked cream, was enhanced by a pumpkin candy-like confection.
Seasonal Fruit Cobbler à la mode: Berries mixed into a compote with crust and topped with vanilla ice cream.
Gelato of the Day: Mango was the choice on this visit, rich and very creamy, with a bold forward fruitiness.
Many times a visit to the beach results in a not so satisfying dining experience, but here at Daiquiri Dick's, one need not worry. The cuisine is international with deep emphasis on Mexican and Asian. Executive chef Ignacio (Nacho) Moreno has perfected his creativity and continues to explore both new creations and combinations of ingredients.
Of note is Daiquiri Dick's award-winning Sunday brunch with the live soothing music of Ella y El: D'Rachael on vocals, harp and flute and Antonio Chávez on keyboard and vocals, noon to 3 pm.
Open daily from 9 am to 11 pm, Daiquiri Dick's offers elegant dining in a relaxed atmosphere for breakfast, lunch or dinner. (Closed on Tuesdays from May 1st to October.) Visa, MasterCard and Banamex accepted. Reservations are recommended, and can be made by calling call (322) 222-0566. For more information, visit DDPV.com, or click HERE to read more about Daiquiri Dick's.
The author was supplied one choice in each of the 3 courses on the special Restaurant Week menu and this review is in no way connected to his independent restaurant guide, "Puerto Vallarta Restaurant Guide Beck's Best", where write-ups receive no compensation.

Restaurant Week continues through May 31st at some of the most recognized restaurants in Puerto Vallarta.
For a list of participating restaurants and Restaurant Week 2011 reviews click HERE.