Puerto Vallarta, Mexico - The restaurant Daiquiri Dickís in Puerto Vallarta is going to the dogs. Itís time to grab your best friend and head to the 6th Annual Pet Picnic.
This event will be a howling good time on Saturday, December 3rd starting at 11 am on the restaurantís patio overlooking Los Muertos Beach. Enjoy a gourmet boxed lunch, and there will be a special doggie bag for your pal.
Last year over 70 dogs and their best friends made an appearance at this fun-filled event. Proceeds will benefit the non-profit association PEACE, Protection - Education - Animals - Culture & Environment, with special emphasis and support for free spay/neuter clinics in the Banderas Bay region.
"Itís an amazing event," says dog lover, Bill Kelly. "I came spontaneously the first year and have been hooked ever since, I always have a great time, win prizes and have a super lunch. I really look forward to this party every year."
Audience participation is encouraged for the Best Costume and Best Trained contests. This year check out the latest in dog fashions starting at 11:45, followed by the Best Dressed competition at 12:00, and the Best Trained dog rounding out the show at 12:15. Donít be late if you want to participate.
Thereís going to be a raffle with all kinds of great items, too. This is also a fantastic chance to meet other animal lovers and learn how you can help in the plight of local dogs and cats. There will also be animals from local foster homes looking for their forever homes.
Tickets are $250 pesos in advance and $300 at the door. You can purchase them at Daiquiri Dickís Restaurant, Olas Altas 314 or at Banderas Bay Trading Company, Constitucion 319-A. Space is limited, so get your tickets early. It promises to be another tail wagging event.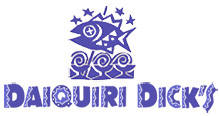 Daiquiri Dick's contemporary design exudes a quiet elegance that invites relaxation, and its tropical location at Olas Altas 314 on Los Muertos Beach offers the perfect atmosphere for enjoying spectacular views of Banderas Bay. For reservations call (322) 222-0566. For more information, visit DDPV.com.
Click HERE to read more about Daiquiri Dick's.
---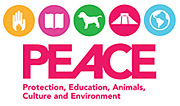 PEACE, (Protection, Education, Animals, Culture, Environment) established in 2005, is a 501(c) 3 nonprofit organization made up of three main programs which focus on education, animal well-being, and environmental protection in the Bay of Banderas, Nayarit, Mexico. PEACE works hand-in-hand with communities in Mexico to provide holistic education, combined with community action programs that enable people to improve their quality of life as well as their financial stability.


For more information, please visit PeaceMexico.org
or click HERE to read more about PEACE