Puerto Vallarta, Mexico - To celebrate the release of the 2012 Children of the Refugio Cookbook, The River Café is hosting a launch party on Sunday, December 18th from 3 to 5 pm. The River Café has generously donated canapés, so come on down, celebrate the publication of the bilingual cookbook, and get your copy in time for the holidays!
100% of proceeds from the sale of this publication go directly to Refugio Infantil Santa Esperanza (R.I.S.E.) and the Vallarta Botanical Gardens, as all costs have been underwritten and talents donated. All of the featured restaurants have also committed to supply food for the over 600 guests expected to attend the annual RISE for Hope event scheduled to be held on February 11, 2012.
Edited by local Chef Seth J. Cloutman, the 2012 Children of the Refugio Cookbook features recipes from the finest restaurants in Puerto Vallarta as well as recipes from beloved community members. Intermingling professional portraits of the children taken at the Gardens with stunning photographs of the food, it is hoped the project will raise much needed funds to be split evenly between the two non-profit organizations.
Delicious complimentary food for everyone ... dozens of the best restaurant recipes in Puerto Vallarta ... meet some of the Children of the Refugio whose portraits are in the book ... the opportunity to purchase the cookbook for Christmas gifts ... what could be better?
Please join us at The River Café on December 18th to celebrate and pick up your copy. Copies will also be available for sale in the Gardens gift shop.
For more information, please write fernando(at)foodbyseth.com.

The Refugio Infantil Santa Esperanza is a non-profit shelter for babies and children under the age of 14. Some of these children are orphans but most come from unbearable situations having been abused, neglected, or simply abandoned. R.I.S.E. is a Mexican non-profit charitable organization, which accepts donations through a number of charitable organizations. More information about tax deductible donations can be found at their website: Refugio-Infantil.org.
---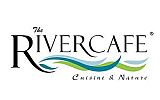 Open daily from 8 am to 11:30 pm, The River Café is located at Isla Rio Cuale #4 in downtown Puerto Vallarta. Reservations are recommended and can be made by calling (322) 223-0788 or online at RiverCafe.com.mx.

Click HERE to learn more about The River Café.