Puerto Vallarta, Mexico - We are excited to announce the launch of the PEACE Action for Food program in Puerto Vallarta! The PEACE "PV Protectores Action for Food" program is funded by the proceeds from PEACE Puerto Vallarta Home Tours, an initiative run entirely by volunteers.
Attendance for the tours was up 12% last season and the tours grossed over $250,000 pesos, which was banked until September (or Septihambre as it's known locally because it's the month when hunger is at its highest, being the slowest month of the year in tourism) at which time the Action for Food program, (which tour funds support) began.
Action for Food is a program where people living in some of the poorest colonias in the Vallarta area meet with members of PEACE and identify work projects in their community, such as removing graffitti from buildings, picking up trash, painting schools, weeding public areas, etc. Two hours of volunteering on the project gives each person a food basket containing 10 meals.
Here are the numbers from the beginning of the program in September:
• Total number of participants: 48
• Estimated number of people benefited: 200
• Neighborhoods worked in: Paso Ancho & Col. Buenos Aires
The population is responding very well. We have more people asking to be participants than we can currently afford to support, which is our incentive for growing the tours.
Tours will resume on Tuesday, November 20th and will end on March 26th although we'll be closed on December 25th and January 1st. We hope to increase ticket sales once again this season so we're able to help even more of those in need.
For more information on PEACE Home Tours, or to make your reservations, please visit PeaceHomeToursPv.com, or PeaceMexico.org.
For more information about the "Protectores Action for Food" program please send an email to ceci(at)peacemexico.org.
A big thanks to all participants and volunteers who help to make this program a success!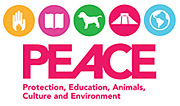 PEACE, (Protection, Education, Animals, Culture, Environment) established in 2005, is a 501(c) 3 nonprofit organization made up of three main programs which focus on education, animal well-being, and environmental protection in the Bay of Banderas, Nayarit, Mexico. PEACE works hand-in-hand with communities in Mexico to provide holistic education, combined with community action programs that enable people to improve their quality of life as well as their financial stability.


For more information, please visit PeaceMexico.org, or
click HERE to read more about PEACE
---

If you are planning a dream vacation in beautiful Puerto Vallarta, Mexico, look no further than PVRPV. Representing the highest quality vacation accommodations in the Banderas Bay area, PVRPV is your experienced and reliable choice for Puerto Vallarta home, villa and condo rentals and rental property management. In addition to providing visitors with affordable vacation rentals, PVRPV has a longstanding commitment to giving back to this wonderful community we call home. To learn more, check out the PVRPV Blog. For more information about PVRPV's vacation rental services click HERE, or visit PVRPV.com.