Bahía de Banderas, Mexico - The Action for Food Drive was begun in September to support PEACE's Protectores de la Comunidad, a.k.a. the Community Pride program.
PEACE developeded this program in 2010 to help provide food for people in need, while creating environmentally-friendly communities.
Here's how it works: Everyday people who are struggling to put food on their tables volunteer for PEACE identified work projects in their community, such as removing graffitti from buildings, cleaning up trash, painting schools, weeding public areas, etc. In return for working two hours a day on the designated project, volunteers receive a basket of healthy food that will provide them, and their families, with 10 wholesome meals.
Thanks to the wonderful response from good citizens throughout the Banderas Bay region, PEACE collected a total of 2533 food items in September to help local families through the difficult month, often referred to a Septihambre (hungry September.)
Community members rallied to the cause and, as a result of generous donations of non-perishable food items, as well as a few monetary gifts through our Paypal account, PEACE was able to provide 4,940 meals to lessen the impact of such a tough time of the year. In return, food basket recipients will carry out 988 hours of community service.
A heart-felt "Thank You" goes out to the local businesses who served as drop-off locations for the food drive: The Vallarta Yacht Club in Nuevo Vallarta, The Bucerias Art Walk Plaza in Bucerias, and The Octopus Garden and Philo's in La Cruz.
PEACE would also like to thank the Punto Burros community, the US Consulate, and EVERYONE who contributed to such a meaningful cause. Mil Gracias!
Related Article: PEACE Action for Food Program Hits the Ground Running
---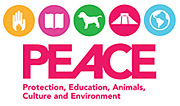 PEACE, (Protection, Education, Animals, Culture, Environment) established in 2005, is a 501(c) 3 nonprofit organization made up of three main programs which focus on education, animal well-being, and environmental protection in the Bay of Banderas, Nayarit, Mexico. PEACE works hand-in-hand with communities in Mexico to provide holistic education, combined with community action programs that enable people to improve their quality of life as well as their financial stability.


For more information, please visit PeaceMexico.org,or
click HERE to read more about PEACE