Puerto Vallarta, Mexico - Join Democrats Abroad on Tuesday, November 6, 2012, for an election night party at No Way Jose! Restaurant. We'll be watching marathon coverage of the tight contest all evening and then - Election Night Party!!!
The party starts at 8:00 pm and will go until the final numbers are in. A champagne toast and celebration will cap off the evening with our victory announcement!
The cost for the evening is $250 pesos which includes botanas through the evening and the champagne toast. The bar is not hosted.
No Way Jose! is located at 5 de Febrero 260, Zona Romantica, Puerto Vallarta. Come early and have dinner. For reservations or more information, e-mail Bonnie at bonmott(at)hotmail.com. Be prepared for many happy returns!
For more information about the Costa Banderas Chapter of Democrats Abroad, click
HERE
. For local assistance, contact Susan Wichterman at 044-322-303-5181 or mexicoms(at)hotmail.com or Paul Crist at 322-222-4793 or editor(at)mexicodemocrats.org.
---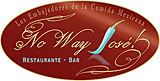 Named the "Best Overall Restaurant," "The Best Moderate Restaurant" and runners-up for "Best Service" in Vallarta Lifestyles' 2011 Readers Choice Awards, No Way Josť! is located on the south side of downtown at 5 de Febrero #260, just over the Vallarta street bridge on your left. Open 7 nights a week in the winter season from 4-11:30 pm, reservations are available by calling (322) 223-2853 or by emailing reservations(at)nowayjosemx.com. For more information, visit NoWayJoseMx.com.

Click HERE to learn more about No Way Josť!