Puerto Vallarta, Mexico - MexPup, Puerto Vallarta's non-profit dog rescue organization, is wagging its tail in anticipation of its 2nd Annual "One Woof at a Time" benefit extravaganza on Thursday, January 31st, at El Arrayan Restaurant
Since June 2011, MexPup has been answering "what can I do?" for animal lovers who have seen the endless number of abandoned, abused, and injured dogs living in the city streets. In a short amount of time, their team of warm-hearted volunteers has made a difference in the lives of hundreds of dogs.
Created by Canadians and supported by the international and local community, MexPup has overseen the health, socialization, fostering, and chaperoning of these dogs. Once these lovable creatures are happy and healthy, MexPup secures them a flight to various Canadian cities. With "Guardian Angel" volunteers to accompany them, the dogs are just one more step closer to finding their forever homes.
It's a new beginning for so many dogs, and MexPup is proud of the caring service they provide. However, they need support to keep their efforts alive. So what could be better than throwing a fiesta to raise awareness and much-needed financial assistance? It's time to grab your party shoes and join MexPup for their "One Woof at a Time" benefit.
We will be feasting on El Arrayan's delicious canapes and Valapanza Tacos' MexPup Tacos Al Pastor - made especially for this event with made from scratch yellow, red, and green tortillas to match MexPup's logo.
Woof-aritas, MexPup's version of a Margarita, will be a great addition to the traditional Mexican fare. If wine or beer is more your style, then you will enjoy the 4-hour open bar. A cash bar is also available along with some great prizes and evening surprises.
Entertainment for the evening will be provided by the incredible Kim Kuzma! Awarded the 2001 West Coast Music Award for "Best Independent Release" and nominated for the Best Live Performer and Artist of the Year, Kim will be sharing her passion for those who are helping Puerto Vallarta dogs reclaim their "leash on life"
You won't want to miss this "woofer of a party"! Get your tickets today.
If you are a business owner and would like to contribute to the raffle or the silent art auction, please contact Mona at mona(at)mexpup.com.
We'll see you there!
Date: Thursday, January 31st
Time: 7 pm
Venue: El Arrayan Restaurant (Allende #344, Centro)
Price: $400 pesos per person and $550 pesos per person at the door
---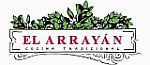 Located at #344 Allende, just a short stroll up from the Malécon in El Centro, El Arrayán is open Wednesday-Sunday from 5:30 pm to 11 pm. Closed on Mondays and Tuesdays. Visa, MasterCard and American Express Cards are accepted. Reservations online at ElArrayan.com.mx or by calling (322) 222-7195.

Click HERE to learn more about El Arrayán.