Puerto Vallarta, Jalisco, Mexico - The new Espacio de Arte Arrayán, has been created within El Arrayán Restaurant in downtown Puerto Vallarta for the cultural delight of locals and visitors alike.
Starting Wednesday, November 6th, the oil paintings made by Maestro Roberto Gil de Montes will be displayed on the restaurant's walls. Gil de Montes is originally from Guadalajara, a place where the murals of Orozco and Day of the Dead celebration had a major influence on his art. In 1958, he wanted to be a songwriter, but his decision and career changed when he saw a documentary about sculptor Henry Moore. It was at that moment that he decided to become a Plastic Artist.
Wednesday, November 13th, will be the official opening of this wonderful exhibition at Puerto Vallarta's newest art gallery - Espacio de Arte Arrayán. To celebrate, the restaurant will be serving Mexican appetizers and wine.
Gil de Montes is a graduate of the Otis Art Institute in Los Angeles, California, and for 25 years he was represented by Jan Baum Gallery. His works have been exhibited in the prestigious Hispanic Art Exhibition of the United States of America, in which thirty painters and sculptors toured the US; and in Le Démon des Anges, which toured Europe. His art works have also been exhibited at the Los Angeles County Art Museum, the Phoenix Museum, and in the Smithsonian Museum in Washington DC.
Roberto currently lives in La Peńita de Jaltemba, Nayarit, which has been a source of inspiration for the paintings that will be displayed in Espacio de Arte Arrayán, and will soon be exhibited in the Lora Schlesinger Gallery in Los Angeles, CA.
The walls of Espacio de Arte Arrayán also feature 14 pieces of the Zitakua Vallarta - La Malagua art project, which is a graphic display consisting of a collection of prints that incorporate experimental work techniques, along with a Huichol artists' stamp of the State of Nayarit, and works by artists from Puerto Vallarta, Jalisco. All of these works constitute a new artistic expression that represents the multi cultural richness of Mexico.
The Zitakua Vallarta - La Malagua art project has been exhibited in various venues, such as the Mexico Consulate in Chicago, the Aramara Museum in Tepic, the Cuale Museum in Puerto Vallarta, the Museo de Arte Popular in Mexico City, and on the walls of the main subway stations in Mexico City for well over 6 months. Connoisseurs and lovers of Mexican art will be happy to learn that the Zitakua - Malagua pieces can be purchased. For more information contact Ms. Carmen Porras at info(at)elarrayan.com.mx.
Espacio de Arte Arrayán and Restaurant El Arrayán invite you to visit and enjoy this new window to the world of art in Puerto Vallarta, Mexico. All are welcome, for the love of art!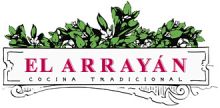 Located at #344 Allende, just a short stroll up from the Malécon in downtown Puerto Vallarta, El Arrayán is open Wednesday-Monday from 5:30 pm to 11 pm. Closed on Tuesdays. Visa, MasterCard and American Express Cards are accepted. Reservations online at ElArrayan.com.mx or by calling (322) 222-7195.

Click HERE to learn more about El Arrayán.