Puerto Vallarta, Mexico - Elena Martinez Bolio comes to Puerto Vallarta via her home in Mérida to show her very moving and beautiful textile art. The show will open Wednesday, December 18 at 6 pm, with a reception for the artist, who will be present at Espacio de Arte Arrayan, located within Restaurant El Arrayán at Allende #344, El Centro.
Born in Mérida, Elena Martinez had her early training in fine arts where she studied drawing and painting with various teachers including the renowned Master Pinto Rafael Aranda, Master Miguel Ángel Sáenz Quijano, and Master Manuel Lizama.
Elena has found a multitude of ways to explore her creativity. Devoting herself to interior and furniture design for several years before turning her focus to textile painting and mixed media. Her recent solo exhibition at Museo Textile de Oaxaca was an ambitious and bold body of work focused through her narrative textiles on women in the Yucatan who were surviving through prostitution. Elena admitted that she had concerns about showing such a controversial topic, but the museum embraced her ideas for an exhibition.
In this new personal and creative stage, Elena looks at her self to present her vision of dreams, among which are memories, desires and loves. This has led to the development of a personal and self-taught art that has matured and should provide viewers with a stimulating experience.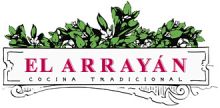 Located at #344 Allende, just a short stroll up from the Malécon in downtown Puerto Vallarta, El Arrayán is open Wednesday-Monday from 5:30 pm to 11 pm. Closed on Tuesdays. Visa, MasterCard and American Express Cards are accepted. Reservations online at ElArrayan.com.mx or by calling (322) 222-7195.

Click HERE to learn more about El Arrayán.