Puerto Vallarta, Mexico is an awesome place to party anytime of the year, but on New Year's Eve it literally explodes! It's got the atmosphere, the proper attitude and the energy to attract people who know a great party when the see one.
Of course, the main attraction is the fireworks that explode all across Banderas Bay at midnight, as dozens of hotels and restaurants both here and in Nuevo Vallarta set off professional pyrotechnic displays and lots of amateurs firing off firecrackers with varying degrees of ability.
But much like its rich cultural diversity, variety is the spice of life in Puerto Vallarta, and on December 31st, you'll find New Year's Eve celebrations for every taste and budget.
Some people choose to "take it to the streets," bar crawling or dropping in on the Olas Altas street party before grabbing a taco and heading to the beach or to Los Muertos Pier at midnight to watch the fireworks, while others choose to reserve a table at one of the city's fine dining restaurants for an intimate evening of wining, dining and romancing.
Whatever your preference, our New Year's Eve Planner is your guide to some of the most spectacular celebrations taking place in Puerto Vallarta and around the bay on the last night of 2013.
---

DAIQUIRI DICK'S
Olas Atlas 314 @ Los Muertos Beach
Ring in 2014 at Daiquiri Dick's Restaurant with fabulous food, live entertainment, festive fireworks and a glass of bubbly! A three-course New Year's Eve dinner will be available from 5-11 pm featuring your choice of: Japanese Seed Oysters on the half-shell with Champagne Mignonette -or- Octopus Carpaccio with Lemongrass and Sambal Aioli -or- Sweet Potato Soup with Mushroom Confit; a main course of Roasted Pistachio Crusted Rack of Lamb served with Mushroom Paté -or- Seared Duck Breast with Berry Sauce over Horseradish Mashed Potatoes -or- Blackened Salmon served over Succotash; and Tiramisu -or- Apple Upside-Down Tarte for dessert. Dinner begins at 5 pm, but there will be a $450 peso per person cover charge for seatings after 8 pm. This includes live music from the popular Los Bambinos, a glass of champagne, party favors, fireworks and lots of good cheer. Reservations are highly recommended and can be made online at DDPV.com, or by calling (322) 222-0566.
---

KAISER MAXIMILIAN
Olas Altas #380 B, Puerto Vallarta Romantic Zone
Kaiser Maximilian Restaurant's prime location, right in the middle of Olas Altas street, makes it the perfect place to spend an unforgettable New Year's in Puerto Vallarta! Starting at 8 pm (last seating at 9 pm,) in addition to a front row seat to all of the Olas Altas street party action, you'll enjoy a spectacular five course meal of: Vegetable Terrine with shrimp, bell pepper sauce; Smoked Mushroom Cream Soup with Quinoa, roasted chiles; Roasted Salmon, succotash, avocado, mashed sweet potato; Beef Tenderloin with short rib pastry, creamy polenta, beer glazed carrots; a Dessert Potpourri - plus a DJ playing music for dancing and a glass of Sparkling Wine - all for just $1250 pesos (approx. $100 USD) per person. Gratuities not included. Make your reservations online at KaiserMaximilian.com or by calling the restaurant at (322) 223-0760.
---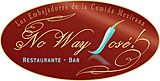 NO WAY JOSÉ! RESTAURANTE - BAR
5 de Febrero #260, South Side, Puerto Vallarta
No Way José! invites you to celebrate New Year's Eve at Tu Casa en Vallarta, where the flavors, colors, music and traditions of this city will give party goers the opportunity to discover for themselves just how colorful Puerto Vallarta really is! You'll enjoy a fabulous four-course meal that starts out with your choice of: Cream of Mexican Corn -or- Mexican Lime Soup AND La Ilusion -or- Classic Cesar Salad. Next you'll get to choose from seven (7) different No Way José! favorites, like Classic NWJ! Chiles en Nogada, Chicken of the Sea, or El Filete Mignon Chaman with Tamale. Top that off with Tehuala -or- Chocolate Ecstasy; a Celebration Kit that includes: 12 good luck grapes at midnight, a glass of champagne, party favors, party hats, live music, and the classic No Way José! party vibe - and you've got one great New Year's Eve celebration - all for just $899 per person! For reservations, call (322) 223-2853 or email reservations@nowayjosemx.com. Special discounts do not apply for special events. Gratuity not included. Cash only please.
---

SI SEÑOR RESTAURANT & BEACH CLUB
Amapas 114-C @ Los Muertos Beach
Ring in the New Year in Puerto Vallarta at Si Señor Beach Mexican Restaurant on Playa de Los Muertos. Fireworks exploding all over Banderas Bay provide an excellent backdrop for the evening's festivities, which start with dinner from 8-10 pm. The chef have developed a special 4-course menu, which you can enjoy with your toes in the sand or in the open-air dining room, and includes: Creamy Three Cheese Soup; Spinach Salad with a Cranberry-Pecan Dressing; Blackened Tuna & Jumbo Coconut Shrimp; 4 Layer Opera Cake - Vanilla, Chocolate, Almond & Pecan with a Creamy Frosting; and a Glass of Sparkling Wine. Savor the flavors of the awesome menu, relish an exceptional view, and ring in 2014 with the Si Señor Beach staff for just $950 pesos per person, plus gratuities. For reservations, call (322) 222-0577, send an email to Contacto@SiSenor.mx, or visit SiSenorBeach.com.
---

THE BLUE SHRIMP RESTAURANT
Olas Altas 366 @ Los Muertos Beach
The New Year's Eve Party at The Blue Shrimp Restaurant is the place to be while ringing in 2014. On December 31, 2013 from 5 pm until 1 am, in a postcard setting with the lights of downtown Puerto Vallarta and Los Muertos Pier providing the backdrop, the chefs will be serving up a delightful 3 course surf and turf menu that includes: Cream of Asparagus Soup; Filet Mignon with Cardamom Sauce and Sauteed Jumbo Shrimp with Fine Herbs; Basket of Tropical Fruit or Key Lime Pie, plus 1 Glass of Wine for $1100 pesos per person. Gratuities not included. The regular menu is also available, as well ad The Blue Shrimp's extensive wine list and full bar for great libations. Join them on the beach for a super New Year's Eve celebration. Reservations are recommended, and can be made by calling (322) 222-4246, emailing
TheBlueShrimp12@hotmail.com
or online at
TheBlueShrimp.com.
---
Keep checking BanderasNews.com for additional Puerto Vallarta New Year's Eve parties and dinner menus, which will be added as more information becomes available.