Puerto Vallarta, Mexico - The Costa Banderas Chapter of Democrats Abroad and the Paradise Community Center present: "Academy Award Week and Oscar Night Celebration!"
The week-long celebration will feature eight of 2013's best films - all of which have been nominated for Oscars - starting on Saturday, February 22nd, and will culminate in the live-streaming of the Academy Awards Ceremony on Sunday, March 2nd!
The venue for the screenings will be the Paradise Community Center and the shows begin at 7 pm. Doors open at 5 pm, so arrive early to enjoy the food vendors at the Community Center and eat before the show. Wine, beer and other refreshments are also available.
The selected films and dates are as follows:
Her - Saturday, February 22nd - Theodore is a lonely man in the
final stages of his divorce. When he's not working as a letter writer, his down time is spent playing video games and occasionally hanging out with friends. He decides to purchase the new OS1, which is advertised as the world's first artificially intelligent operating system, "It's not just an operating system, it's a consciousness," the ad states. Theodore quickly finds himself drawn in with Samantha, the voice behind his OS1. As they start spending time together they grow closer and closer and eventually find themselves in love. Having fallen in love with his OS, Theodore finds himself dealing with feelings of both great joy and doubt. As an OS, Samantha has powerful intelligence that she uses to help Theodore in ways others hadn't, but how does she help him deal with his inner conflict of being in love with an OS?
This film won the Golden Globe Award for Best Screenplay. It has also been nominated for 5 Academy Awards, including Best Film, Best Achievement in Music for Original Score and Original Song, and Best Original Screenplay. Written and Directed by Spike Jonze. Staring Joaquin Phoenix, Amy Adams, and Scarlett Johansson.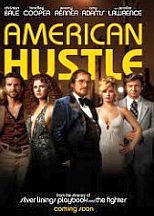 American Hustle - Sunday, February 23rd - A fictional film set
in the alluring world of one of the most stunning scandals to rock our nation. American Hustle tells the story of a brilliant con man, Irving Rosenfeld, who along with his equally cunning and seductive British partner, Sydney Prosser, is forced to work for a wild FBI agent Richie DiMaso. DiMaso pushes them into a world of Jersey powerbrokers and Mafia that's as dangerous as it is enchanting. Carmine Polito is a passionate, volatile, New Jersey political operator caught between the con-artists and Feds. Irving's unpredictable wife Rosalyn could be the one to pull the thread that brings the entire world crashing down.
This film was directed by David O. Russell, and stars Christian Bale, Amy Adams, Bradley Cooper, Jennifer Lawrence, and Jeremy Renner, It won the Golden Globe for Best Picture, Best Actress (Amy Adams), and Best Supporting Actress (Jennifer Lawrence.) Nominated for 10 Academy Awards, including Best Picture, Best Actor, Best Actress, Best Supporting Actor, Best Supporting Actress, Best Achievement in Costume Design, Directing, Editing, Production Design, and Best Original Screenplay.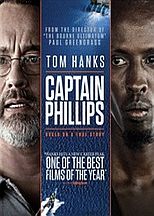 Captain Phillips - Monday, February 24th - Captain Phillips is a
multi-layered examination of the 2009 hijacking of the US container ship Maersk Alabama by a crew of Somali pirates. It's simultaneously a pulse-pounding thriller, and a complex portrait of the myriad effects of globalization. The film focuses on the relationship between the Alabama's commanding officer, Captain Richard Phillips, and the Somali pirate captain, Muse, who takes him hostage. Phillips and Muse are set on an unstoppable collision course when Muse and his crew target Phillips' unarmed ship; in the ensuing standoff, 145 miles off the Somali coast, both men will find themselves at the mercy of forces beyond their control.
This film was directed by Paul Greengrass and stars two time Oscar winner Tom Hanks, Catherine Keener, and Barkhad Abdi. It has been nominated for 6 Academy Awards, including Best Picture, Best Supporting Actor (Barkhad Abdi), Best Achievement in Film Editing,
Sound Editing, Sound Mixing, and Best Adapted Screenplay.
Blue Jasmine - Tuesday, February 25th - Jasmine French used to be on the top of the heap as a New York socialite, but now is returning to her estranged sister in San Francisco utterly ruined. As Jasmine struggles with her haunting memories of a privileged past bearing dark realities she ignored, she tries to recover in her present. Unfortunately, it all proves a losing battle as Jasmine's narcissistic hang-ups and their consequences begin to overwhelm her. In doing so, her old pretensions and new deceits begin to foul up everyone's lives, especially her own.
Blue Jasmine was written and directed and by Woody Allen and stars Oscar winner Cate Blanchett, Alec Baldwin, and Peter Sarsgaard. This film won Blanchett the Golden Globe for Best Actress. It is nominated for 3 Academy Awards, including Best Actress, Best Supporting Actress (Sally Hawkins,) and Best
Original Screenplay.
Dallas Buyers Club - Wednesday, February 26th - An American
biographical drama film based on the true-life tale of Ron Woodroof, an AIDS patient, who began smuggling unapproved pharmaceuticaldrugs into Texas when he found them effective at improving his symptoms.
Dallas Buyers Club was directed by Jean-Marc Vallée and stars Matthew McConaughey, Jared Leto, and Jennifer Garner. The film has been critically acclaimed and received several awards and nominations, including Screen Actors Guild Award and Golden Globe Award wins for McConaughey and Leto, and six Academy Award nominations including Best Picture, Best Actor for McConaughey, Best Supporting Actor for Jared Leto, and Best Original Screenplay.
Gravity - Thursday, February 27th - Gravity is a heart-pounding thriller that pulls you into the infinite and unforgiving realm of deep space. Dr. Ryan Stone is a brilliant medical engineer on her first shuttle mission, with veteran astronaut Matt Kowalsky. But on a seemingly routine spacewalk, disaster strikes. The shuttle is destroyed, leaving Stone and Kowalsky completely alone - tethered to nothing but each other and spiraling out into the blackness. The deafening silence tells them they have lost any link to Earth and any chance for rescue. As fear turns to panic, every gulp of air eats away at what little oxygen is left. But the only way to get home may be to go further out into the terrifying expanse of deep space.
Directed, co-written, co-produced, and co-edited by Alfonso Cuarón, Mexican director, screenwriter, producer, and editor. He is best known for his films "Y tu Mama Tambien" and "Harry Potter and the Prisoner of Azkaban." Cuaron and Gravity have been nominated for Best Picture, Best Director, and Best Editing. The film stars Sandra Bullock, (nominated for Best Actress,) and George Clooney. Gravity has been nominated for 10 Academy Awards. The film also scored big at the 2014 Critics Choice Awards winning seven awards and a Golden Globe Award for Best Director.
The Wolf of Wall Street - Friday, February 28th - A black
comedy which tells the story of New York stockbroker Jordan Belfort. From the American dream to corporate greed, Belfort goes from penny stocks and righteousness to IPOs and a life of corruption in the late 80s. Excess success and affluence in his early twenties as founder of the brokerage firm Stratton Oakmont warranted Belfort the title "The Wolf of Wall Street."
The film was directed by Martin Scorsese, and stars Leonardo DiCaprio, Jonah Hill, Margot Robbie, Matthew McConaughey, and Jean Dujardin. It has been nominated for five Academy Awards, including Best Picture, Best Director, Best Adapted Screenplay, Best Actor, and Best Supporting Actor. The Wolf of Wall Street won the Golden Globe Award for Best Actor for DiCaprio.
*Audience alert: The Wolf of Wall Street has an R rating for excessive nudity, drug use, and foul language.*
12 Years a Slave - Saturday, March 1st - A 2013 British-
American epic historical drama and an adaptation of the 1853 memoir of the same name by Solomon Northup, a New York State-born free negro who was kidnapped in Washington DC in 1841 and sold into slavery. He worked on plantations in the state of Louisiana for twelve years before his release.
The film opened to critical acclaim, being named the best film of the year by several media outlets, and receiving several awards and nominations including the 2014 Golden Globe Award for Best Motion Picture – Drama. The film was directed Britain's Steve McQueen and stars Chiwetel Ejiofor, Michael Fassbender, and Lupita Nyong'o. It has been nominated for 9 Academy Awards including Best Picture, Best Director, Best Actor, Best Supporting Actor, and Best Supporting Actress.
Oscar Night Gala Celebration - March 2nd - The
week will culminate in the live-streaming of the Awards Ceremony and an awards gala celebration, produced by the Paradise Community Center.
*More details about the gala will be shared when pricing and specifics are available.*
Tickets may be purchased in advance at the Paradise Community Center which is located at 127 Pulpito, Puerto Vallarta, directly across from Coco's Kitchen in the Zona Romantica. Advance tickets are $75 pesos each or 6 films for $400 pesos. Tickets may also be purchased at the door one hour before each film for $100 pesos, subject to availability. VIP seating is available for $200 pesos, which includes 2 free drinks. Only 10 VIP tickets per show.
Request For Volunteers: We are in need of volunteers to help on the Film Nights and the Oscar celebration. If you are interested, please let us know which of the events you are interested in by contacting Tobe Jensen at tjensen1942(at)hotmail.com; or David and Judy at snowkamp1(at)yahoo.com for helping with box office and ticket taking; or Joy Lehman at joylehman(at)gmail.com for the Gala event.
---

For more information about the Costa Banderas Chapter of Democrats Abroad, click HERE. For local assistance, contact Dee Dee Camhi, Chair, at rdcamhi(at)mac.com.