Puerto Vallarta, Mexico - Glamorous ball goers agreed that the March 8, 2014 Becas Ball at the Club Regina more than lived up to it billing as the "social event of the season." The garden was filled with beautifully dressed women and men sipping unique cocktails imagined and furnished by the Four Seasons Resort Punta Mita and served by a cadre of their handsome and efficient waiters for the first hour of the event.
While enjoying the best cocktails ever, the guests were able to peruse the laden silent auction tables. Gifts were from as far away as the Four Seasons Mexico City, the Hotel Casa Encantada in Patzcuaro, and of course from here at home in Puerto Vallarta.
Everyone was impressed with the caliber of the gifts and the generosity of the enterprises that donated more than 75 items. The most popular items, attracting many bids, were gift certificates from the local restaurants. Thanks to Archie's Wok, Benitto's Paninoteca Bar, Bravos, Café des Artistes, Coco's Kitchen, Daiquiri Dick's, Kaiser Maximilian, La Palapa, No Way José!, River Café, Sonora, Trio, and Vitea for helping make this event a success.
The venue for the four course sit-down dinner by event producer extraordinary, Rocco Troyani, was lavish with fresh flowers and candles decorating every table, making the scene a Parisian fairyland flanked by our own Eiffel Tower. Each guest found a Gift Bag on his or her chair, donated and prepared by Marcelo Mico Pilates, which included chocolates from Xocodiva Artisan Chocolates, pens from Carl Timothy Real Estate Group, Mexican boy and girl dolls from Lalo Morales Articulos Mexicanos, a charm and a certificate for the bracelet from Diamonds International, discount cards from Cassandra Shaw Jewelry and Maestro Melchor Cortes Spanish School Vallarta. San Javier Hospital added a thermos bottle to the gifts.
Thierry Blouet, chef and owner of the renowned Café Des Artistes, designed and oversaw the production of a beautifully served and delicious menu with appetizers, Coq Au Vin, followed by an array of deserts especially made for the Becas Ball. Trio Restaurant donated the red wine that accompanied the dinner and Coyul the champagne that followed it.
Before, during, and after dinner, the rhythmic sounds of Odisea of Ciudad Guzman, Jalisco, filled the flower-scented air. The two dance floors were filled with Ball goers, with people watchers at the tables. Odisea, a band of great fame, not only is a fantastic orchestra, but offers a show of dancers and singers as well. Vibrant voices, great musicians and beautiful people make this group a joy to see and to hear.
Mariel and Carlos Fregoso, Presidents of Becas Vallarta and the America-Mexico Foundation, welcomed the guests and called the winning numbers for the impressive door prizes. The grand door prize was a beautiful string of Chinese pearls crafted and donated by Nino Foppiani from Mexico City, followed by a three night stay in Villa Sevilla donated by Ron Morgan Properties, a miniature "Octavio" bronze sculpture donated by San Javier Hospital, $100 USD gift certificates from Diamonds International, and play tickets from Act II Entertainment. Congratulations to the lucky winners.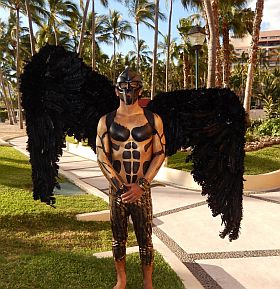 Following the door prize awards, Mariel introduced the 25 University Becados (scholarship students) who were at the event which helps make their educations possible. They introduced themselves with short biographies and their courses of study. The fairyland setting became very quiet for this presentation as all of the guests knew those students were why we were all there. For more than fifty years, Becas Vallarta/America-Mexico Foundation has provided funds for thousands of young Vallartenses of great ability and almost no economic backing to get the education they desire and deserve.
Mil Gracias
to those who supported the Ball and those who came - for helping us fill our coffers to enable us to continue to fund the educations of the almost 400 students we have this year.
We all had wondered who were the delightful men on stilts, acrobats, and other enticing folks who had strolled (or unicycled) through the garden during the cocktail hour. After the student presentation we found out. We were introduced to the enormously talented folks of Vallarta Entertainment, directed by Hugo Lopez. They put on a show equal to Cirque de Soleil to the delight of the crowd. Fire acts, feats of movement from another world punctuated with awesome fireworks kept Ball goers in a joyous mood sending them scurrying to the dance floors when this intriguing act finished. Well done, Vallarta Entertainment!
I think it is safe to say this was the best Becas Ball ever. Kudos go to Mariel and Carlos Fregoso who arranged all aspects of this event - a monstrous job that stretched into months of preparation. Many thanks to all the sponsors - Café des Artistes, Four Seasons Resort Punta de Mita, Intercam, Marcelo Mico Pilates, Patio Los Arcos, Rocco Troyani and San Javier Hospital. The Ball could not have happened without you and the hundreds of businesses, volunteers, becados and ball goers. It was a ball!
NOTE: The final Becas Breakfast of the Season will be on April 9, 2014 at Coco's Kitchen at 9:30 am. Call or email me for tickets, $150 pesos each, at (322) 223-1371 or phvicars(at)gmail.com. It promises to be great, and we hope to see you there!

To learn more about Becas Vallarta, click HERE or visit BecasVallarta.com. If you would like to volunteer or make a tax deductible donation, please call Polly Vicars at 011-52-322-223-1371, Buri Gray at (322) 221-5285, or send an email to becasvallarta(at)gmail.com.