Puerto Vallarta, Mexico - One person can truly make a difference, and when we help children there is a ripple effect that continues for generations to come. Here is the story of one "retired" ex-pat in Puerto Vallarta and the huge impact her work has had on many children in need here, offering her time, experience and much needed financial aid to some of our city's most deserving recipients.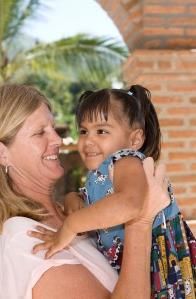 Chris Amo at RISE
Chris Amo founded
Children's Shelter of Hope Foundation
, an organization dedicated to improving the lives of disadvantaged children living in the Puerto Vallarta area. Portland Oregon native, Chris Amo spent 30 years teaching primary school before retiring to spend winters in Puerto Vallarta. Her "retirement" has been a gift and a blessing for countless children in need in Puerto Vallarta. Her tireless commitment, passion and hands on approach are admirable.
Since 2003, the Children's Shelter of Hope Foundation has been primarily assisting two non-profit organizations in Puerto Vallarta: 1. Refugio Infantil Santa Esperanza (RISE) and 2. Pasitos de Luz (PDL).
The Refugio Infantil Santa Esperanza (RISE) is a non-profit home for children in need, ranging in age from infancy through their mid teens. RISE does not receive financial support from the Mexican government, relying solely on individual donors. Children's Shelter of Hope Foundation, been involved in establishing programs, soliciting new donors and organizing many fundraising events to assist in paying for food and basic expenses. The average cost to feed and house one child is approximately $300 US per month.
Many of the children who live there are brought by the government's social service agency, DIF. Children brought by DIF have often been abused, neglected or abandoned, often arriving hungry and confused. RISE offers a safe home to these children, sometimes temporarily other times it is the only home they will ever know.
Most of the children at RISE have had little education and will have their first opportunity to attend school regularly. Children's Shelter of hope has been crucial in providing school uniforms, shoes, and school supplies. The foundation has participated actively in the fundraising events as well as coordinated hundreds of visits for volunteers.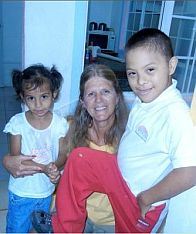 Chris, volunteering at PDL
Pasitos de Luz
(PDL) is a free daycare center for children with disabilities such as Cerebral Palsy, Down Syndrome, Muscular Dystrophy, consequences of Meningitis and Microcephaly, to name just a few. Their mission is to provide each child with the fullest life possible and one that is full of dignity and value.
Low-income families with disabled children have no government subsidized care for their children. Most day care facilities are not equipped to provide staff members with the abilities or training to care for a special needs child. Pasitos de Luz provides over 100 severely disabled children in the Puerto Vallarta area with meals, physical rehabilitation, medical services, orthopedic equipment, and occupational and speech therapy.
When asked how the name Pasitos de Luz came to be, founder Yolanda Sanchez replied "when the odds seem so stacked against you; there should always be a 'light' somewhere along the way which will help to guide you and lighten the load."
If you are a Vallarta resident who has some spring cleaning to do, please consider donating to one or both of theses worthy causes. Current needs at RISE and Pasitos de Luz may be, but are not limited to:
• Food (large quantities) - i.e: oatmeal, beans, tuna, pasta, canned goods etc.
• Toiletries - i.e: shampoo, soap, lotion, toothpaste, diapers, towels, etc.
• Cleaning supplies - i.e.: bleach, disinfectant, mops, etc.
• Equipment - i.e: washer, dryer, computers, fans, whiteboards, AC units, etc.
• Clothing - primarily children's clothing, but RISE has several teenage girls that are also in need of clothing, shoes, etc.
• School Supplies - backpacks, pencils, erasers, paper, notebooks, etc.
Visit the foundation website at cshf-us.org to learn more about volunteering or donating. With the support of donors, volunteers, and the tireless dedication of Chris Amo and her Children's Shelter of Hope foundation, the 'light' will continue to glow and the future of many of Vallarta's children in need are now much brighter.
Betty Neumann is a Real Estate agent at Tropicasa Realty, established in 1997. If you have questions about this article, or would like to speak to Betty about living, or buying a home or condo, in Puerto Vallarta, you can contact her at betty(at)tropicasa.com or 322-105-8630.
---

Since 1997, Wayne Franklin and his team at Tropicasa Realty have been a trusted name in Puerto Vallarta real estate. Tropicasa Realty is the region's representative for "The Leading Agents of the World" and with over 100 years of combined experience in real estate, all agents of the company are affiliated with AMPI. Wayne Franklin or any member of his knowledgeable team can be contacted in-person at their Romantic Zone Office - Pulpito 145-A at Olas Altas or in their San Marino Office - San Marino Hotel at Rodolfo Gomez 111-4. While in PV they can be reached at (322) 222-6505 or by calling 866-978-5539 (Toll-Free) from the U.S.


Click HERE to learn more about Tropicasa Realty, or visit tropicasa.com.