Puerto Vallarta, Mexico - At MEXLend, we are approaching our 10th Anniversary - Woo Hoo! That makes us Mexico's oldest and most successful, continually operating Mortgage Brokerage and we're proud of this milestone. It has been a challenging few years for all of us in related fields and as we like to say here in our office, "if you survived the economic crisis ... if you are still standing ... you are successful."
Fortunately, things are looking up. World credit markets are improving, mortgage funds are gradually becoming more accessible and business volume is increasing steadily. However, along with this renewed optimism, unfortunately, comes rumor and speculation...
Case in point: One of Mexico's major banks, one of its largest providers of Peso Mortgages for Mexican Nationals has been working on a pilot program for the US and Canadian Market. These loans are being designed to be something of a hybrid between the old GE / Compass style of lending and the Mexican system of underwriting and processing. This program has been in the works for some time and continues to be in a research and development phase. MEXLend has been a part of this research and development from the beginning.
Sadly, word got out recently that this loan program was ready to fund, and applications were being solicited by some brokers. Some of you have received active solicitations for this product with the understanding it was ready to fund. Perhaps you were even under the impression loans have funded already. This is not the case, at least not for the time being. Even worse, any applications submitted to this program are void, and any fees that may have been collected would have to be refunded.
Right now, today, there are actually several new programs in the Research and Development phase, and at MEXLend we want you to know that when these launch, when they are LEGIT and RELIABLE, we will make sure you, the Realtor and Developer Community - our most valued and trusted source of referrals - know about it.
Over the past 10 years, MEXLend has closed more loans in more territories than any competitor, past or present and we continue to represent EVERY lending product available in Mexico (for foreigners and nationals). Additionally, we have two loan options which are exclusive to MEXLend. Although, in the spirit of fairness and best practice, we do open these up to referrals from qualified outside brokers.
Some of you may remember that MEXLend piloted the first GE Loans, the first Intercontinental National loans, the first Laredo Bank loans, first Scotiabank US dollar loans, first IMIGroup loans, first GMAC loans and, most recently, our exclusive Alaska Financial loan program. In fact, MEXLend not only piloted those programs, but we were the first company to close their loans and we've have remained their most valued broker... 10 years of firsts. 10 years of recognition.
MEXLend remains your most trusted mortgage provider because we are careful with our client's money and our Realtors' credibility. It is our policy to never solicit for a loan program until we have quietly closed several transactions. In this way, we ensure that our clients and realtor partners do not get caught in a bind, or worse, lose thousands of hard earned dollars.
The great news is that right now, MEXLend has loans available for your US and Canadian clients, as well as Mexican Nationals - in fact, ANY nationality that needs a loan in Mexico.
We are thankful that 2013 and 2014 have been banner years for our company. It is gratifying to be heading into our 10th year with great loan products, a stellar reputation and most importantly, your referrals and continued support. Many thanks and much success to you all!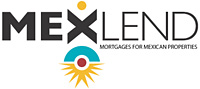 Are you looking to purchase vacation or investment property in Mexico? To discover which one of the many mortgage loan options that MEXLend offers is right for you, visit MexLend.com or mexlend.com.mx, call (322) 222-7377 in Vallarta, toll-free at 1.800.3.Mi.Casa in Mexico or (917) 779-9061 from the US or Canada.

To learn more about MEXLend, click HERE.