El Tuito, Jalisco, Mexico - Tierra Alta is very excited to present the First Annual Vallarta - Nayarit Paint Out and Plein Air Festival, scheduled to take place on the weekend of January 17, 2015.
Tierra Alta is a pristine ecological cabin development in an oak forest on the edge of the Sierra Madre Mountains less than an hour from Puerto Vallarta, near the town of El Tuito. Featuring numerous and yet undiscovered sumptuous views, the site is the perfect location for inaugurating what will become a Vallarta - Nayarit community artistic tradition.
The time honored practice of recording the immediate beauty of a time and place in the open air and natural light is commonly given the French term:
En Plein Air
and its roots can be traced to the Impressionists and various 18th and 19th century schools of art.
At Tierra Alta, artists will choose their sites from which to paint in a variety of mediums including oils, acrylics, pastels, charcoal and graphite. The event will cover a two-day period with registration taking place on Saturday morning the 17th of January, 2015.
Completed artworks will be viewed and judged on the following day, Sunday the 18th of January 2015 by a panel of three judges. Awards and honorariums will be given to several of the artists whose works will be considered to have best captured the beauty of the surrounding landscape.
The event will be open to all regional and visiting artists, as well as to the appreciating public at large who will have the opportunity to enjoy seeing the artists at work. Festivities shall include farm-fresh and organic regional food and drink to be provided by regional restaurants and caterers.
An open house showcasing the beauty and availability of lots and custom cabins at this singular ecologically-sensitive development of Tierra Alta will coincide with the Paint Out.
A 'Call to Artists' will follow this announcement in the coming weeks that will specify all of the details and scheduling needed for participation in this event.
Event Details:
WHAT: The First Annual Vallarta - Nayarit Paint Out and Plein Air Festival
WHEN: Saturday, January 17th and Sunday January 18th, 2015
WHERE: Tierra Alta Ecological Development on the edge of the Sierra Madre Mountains less than an hour from Puerto Vallarta.
Proudly Sponsored by:
Tierra Alta, an Ecological Cabin Development: 222-9180,
info(at)tierraaltatuito.com
Tropicasa Realty: 322-222-6505,
info(at)tropicasa.com
The Loft Galeria: 222-6353,
sales(at)theloftgaleria.com
Additional sponsors to be announced.
---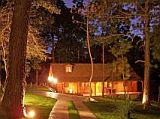 Set on 5 hectares of rolling hillsides, the Tierra Alta eco cabin development will comprise 21 country cabins built for weekend enjoyment or full-time living. With cabin/lot combined pricing starting at only $95,000 USD, reservations are already being taken. If you would like to see what the Tierra Alta lifestyle offers you, please call
Tropicasa Realty
's Wayne Franklin at (322) 222-6505, to set an appointment to preview the model cabin and breathe the fresh mountain air of El Tuito.
To learn more about Tierra Alta
Click HERE,
or visit
TierraAltaTuito.com.