El Tuito, Mexico - The "Municipio de Cabo Corrientes" seems to be much too large to be a municipality (which in Mexico are entities that function like counties with a measure of independent governance). Puerto Vallarta is also a Jalisco "municipio," but it has less than half the area (680sq kms) of its municipal neighbor, Cabo Corrientes, to the southwest.
However, Cabo Corrientes has a population of only 10,000 people scattered over its entire 1,540 square kms for a density of just 6.5 persons per square km. The much smaller Vallarta municipality now has more than 250,000 residents or about 375 persons per square kilometer which is about 58 times the density of Cabo Corrientes, its larger municipal neighbor to the south. And, that greatly understates Vallarta's real density by excluding the many thousands of non-resident vacationers that fill hotel and condo rentals for much of the year.
This contrast in contiguous populations is roughly equivalent to placing Massachusetts (density 331) alongside of New Mexico (density 6.6) as if they were right next door to each other, as is the case for Vallarta and Cabo Corrientes municipalities.
The density contrast between Vallarta and Cabo Corrientes is extreme anywhere in the world, especially for neighboring entities that share a border.
As you enter the Cabo Corrientes municipality headed south on Highway 200, you almost immediately enter a population density of single digits, much closer to Mongolia's which may have the lowest density of any country on earth. Mongolia has only 2 people per square kilometer compared to 6.5 in Cabo Corrientes. The US, even with all of those wide open spaces of the West has a density of 31 and Mexico is at 57.
Population Density Per Square Kilometer
Mongolia: 2.0
Massachusetts: 331.0
New Mexico: 6.6
Cabo Corrientes Municipality: 6.5
Puerto Vallarta Municipality: 375.0
United States: 31.0
Mexico: 57.0
For some people, low density may weaken the aesthetic response to places with scant signs of human presence. I may be attracted to these empty spaces in the world. But there are obviously millions and perhaps billions of people whose preference is for a dense coating of humanity - a kind of Coney Island of human concentration.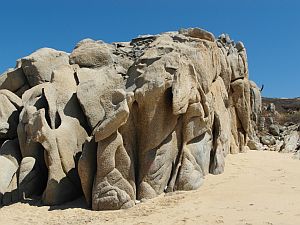 Playitas Beach, Cabo Corrientes
On the beaches of Cabo Corrientes, people seem to have been replaced with water cut rocks. At Playitas, there are stone menageries wonderfully sculpted by the water. They look like a stampede of imaginary African animals, frozen just before reaching the surf.
By contrast, Banderas Bay seems to carry on the romantic dream that the bay itself somehow cares about the people who line its gorgeous postcard shores, all set about with coconut palms. Cabo Corrientes, on the other hand, is an environment that does not seem to even notice us much.
Cabo Corrientes still seems distracted by its own more desolate and lonely beauty, perhaps because it is simply not accustomed to being seen by anyone at all.
The Mexican Tourism Board on Cabo Corrientes:
"Along the coast of Cabo Corrientes, around 75 kilometers in length, you'll find a set of paradisiacal beaches of fine, white sand, abundant vegetation and spectacular cliffs. Some of these beaches have barely been explored, making them ideal for those seeking to go deeper into the wilds of the Mexican coast and forget the noise and pollution of the cities. A great variety of fruits are grown in the fertile soil of Cabo Corrientes: mangoes, papayas, banana and coconuts are the main crop, and a number of enticing local dishes are prepared using them."
---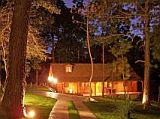 Set on 5 hectares of rolling hillsides, the Tierra Alta eco cabin development will comprise 21 country cabins built for weekend enjoyment or full-time living. With cabin/lot combined pricing starting at only $95,000 USD, reservations are already being taken. If you would like to see what the Tierra Alta lifestyle offers you, please call
Tropicasa Realty
's Wayne Franklin at (322) 222-6505, to set an appointment to preview the model cabin and breathe the fresh mountain air of El Tuito.
To learn more about Tierra Alta
Click HERE,
or visit
TierraAltaTuito.com.