Puerto Vallarta, Jalisco, Mexico - The search for authentic Mexican cuisine in Puerto Vallarta ends at El Arrayán Cocina Tradicional. This intimate and comfortable restaurant, just a few short blocks from the Malecón in downtown, serves traditional, and truly memorable, Mexican food.
Since it opened in 2003, El Arrayan has developed a loyal following. Between authentic Mexican food prepared from old family recipes and 100% locally produced ingredients, weekly cooking classes, and owner Carmen Porras E. and her wife Claudia Victoria R. being well known for their charitable works in the community, El Arrayán is a must-stop for any visitor to Puerto Vallarta.
In a recent SF Gay Travel Examiner article, author Ed Walsh listed 'Five Reasons El Arrayán is one of Puerto Vallarta's Best Restaurants.' Being a big fan of El Arrayán myself, I've elaborated on his reasons:
El Arrayán Owner Carmen Porras
Born in Mexico City, Carmen Porras learned a deep appreciation for Mexican heritage and authentic Mexican cooking from her family. After graduating from high school, Carmen went to study at the Les Roches Hotel Management School in Bluche, Switzerland, where she learned the cooking techniques and management skills that make her restaurant such a success. Carmen is also known for her charitable and community work in Puerto Vallarta. She is one of the organizers of
Vallarta Pride
and donates her restaurant space for meetings and special events surrounding Pride. Support someone who takes pride in their community!
Real Mexican Food
El Arrayán is known for serving authentic Mexican food, not the Tex Mex/Taco Bell food that you can get everywhere else. The menu is diverse and celebrates the traditions of Mexico by employing authentic, locally produced ingredients while preserving traditional regional recipes. So, get out of your comfort level and away from the fajitas and burritos and try the unique real Mexican food for which El Arrayán is famous.
The Decor
El Arrayán is a modern building that is designed to look like a Mexican hacienda. A courtyard in the middle of the restaurant and an open view to the kitchen, so you can have a peek on how your meal is being made. The restaurant also features an array of art with traditional Mexican influence, including local Huichol work. And yes, there is free WiFi if you can't bring yourself to disconnect.
The Architecture
El Arrayán is one of Puerto Vallarta's prettiest buildings, inside and out. The atmosphere is contemporary Mexico with accents reminiscent of times past. The walls are colors traditionally used in haciendas of the La Sierra region in Jalisco: washed-down terracottas, brown, brilliant yellow and lively pink. The restaurant's beautiful exterior is reflected in its warm interior and wonderfully friendly staff.
Great Location
El Arrayán is situated in downtown Puerto Vallarta. It is a 10-minute walk from the landmark Our Lady of Guadalupe church and a 15-minute walk from the city's gay-friendly Zona Romantica.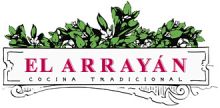 Located at #344 Allende, just a short stroll up from the Malécon in downtown Puerto Vallarta, El Arrayán is open Wednesday-Monday from 5:30 pm to 11 pm. Closed on Tuesdays. Visa, MasterCard and American Express Cards are accepted. Reservations online at ElArrayan.com.mx or by calling (322) 222-7195.

Click HERE to learn more about El Arrayán.