Puerto Vallarta, Mexico - David and Xochitl Kimball have been developing a 7 hectare (17 acre) property for people looking for pristine mountain land appropriate for cabin sites. Their property, Tierra Alta, is one mile from El Tuito and a one hour drive from Puerto Vallarta. It is about 45 minutes from the Pacific Coast beach towns of Mayto, Tehuamixtle and Villa del Mar.
The market has spoken and we have been listening carefully.
But first, we should be clear about large cabins. We like them. They can be very beautiful and for anyone in the cabin business, they are obviously more profitable to work with than small cabins.
Large cabins are appropriate for people who have clearly-defined family and friend requirements. Their kids may be grown and there may be another generation on its way to share the pleasures of cabin vacations. A larger cabin allows people to continue family traditions of cabin use without causing too much discomfort from space limitations.
Large cabins can also be more flexible, allowing use not only as weekend and vacation "getaways" and as family gathering points but also as retirement homes. We consider a large cabin to be a structure with at least three bedrooms and bathrooms and total covered square footage of at about 1,500 square feet. The cost for a cabin this size, including a building lot of at least 1,600 square meters (nearly a half-acre) starts from $128,000 USD.
Large cabins obviously cost more but fortunately there are people with large families, many friends and enough personal resources to build a large cabin that can become "part of the family" for the long term.
However, we have learned over the last year that many people want less expensive cabins. They prefer to accommodate a small cabin to a reasonable budget. They will find a way to coexist happily with their families in limited space - as long as they can still have large lots and large decks.
The reasons for this preference for small cabins
are quite simple. The long tradition of the family cabin in the US and Canada did not generally require a large, expensive building. Instead, cabins were deliberately built to be simple cottages (as they are called in Canada) whose rustic finish detail was considered a more practical design choice.
The Cabin deck: Secondly, in weather as benign as El Tuito's, nobody hangs out indoors. Your natural tendency is to be outdoors - to enjoy the extraordinary weather that brought you here in the first place. You will really live in the part of the house that is closest to pure nature: the deck. The deck becomes the natural focus for simply resting with wonderful views and weather. Drinks and meals also migrate toward the deck simply because that's where people want to be. For the same reason, social exchange also tends to happen on the deck.
Tropical cabin design: So the tropical cabin is evolving toward designs that will give more space to the deck and less to the cabin interior. This means that with weather like El Tuito's, both size and cost can be reduced.
Modular Cabins: A smaller, more affordable cabin does not need to lock the owner into a fixed design footprint as the family continues to grow. To avoid any such limitation, we have produced a collection of "modular cabins," which are designed to be easily expanded in the future at very low cost.
As an example of the new modular designs, "The Tuito" begins with a single floor which, of course, includes a spacious deck (375 sq. feet.) The Tuito has one bedroom and one bath in a very simple yet highly functional layout that allows excellent economies in construction. The modular "Tuito" cabin can be purchased for just $59,000, including underground water and electrical hookups (limited time offer). A 2 bedroom 2 bath model can be purchased for only $10,000 USD more! Again, these offers are limited and only available for the next couple of cabin and lot sales.
In a few years, if the owner has the need and the resources to expand the cabin, he can do so easily with the new modular designs, and affordably.
With El Tuito weather, cabin design can truly be a case of "less is more." Less cabin means lower cost and more enjoyment of this grand countryside near El Tuito. And if you need more cabin space or more deck later on, no problem. Of course, upgrades and speciality designs can be incorporated into any cabin design based on your needs and desires.
---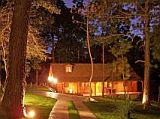 Set on 5 hectares of rolling hillsides, the Tierra Alta eco cabin development will comprise 21 country cabins built for weekend enjoyment or full-time living. With cabin/lot combined pricing starting at only $95,000 USD, reservations are already being taken. If you would like to see what the Tierra Alta lifestyle offers you, please contact
Tropicasa Realty
's Wayne Franklin at (322) 222-6505 or
franklin(at)tropicasa.com
to set an appointment to preview the model cabin and breathe the fresh mountain air of El Tuito. To learn more about Tierra Alta
Click HERE,
visit
TierraAltaTuito.com,
or follow them on
Facebook.