El Tuito, Mexico - Kai Doyle doesn't waste anybody's time. She moved to El Tuito nine years ago because she felt that this small town represented "The Real Mexico."
"I didn't come to Mexico to live with a bunch of other gringos," she says.
"I don't like Puerto Vallarta during the high season," Kai says. "It's too crowded for me. It seems like L.A. by comparison to El Tuito." Kai looked at other small communities near Vallarta but none of them had the unique features that El Tuito offered.
For example, San Sebastian is "too cold and too far." El Tuito, by comparison, has perfect, mild weather year round and is less than an hour's drive from Vallarta. With a population of approximately 4,000, this mountain town is large enough to have basic amenities such as ATMs, good television service and cell phones that share the Vallarta area code.
There are a few very good restaurants: Mario's Courtyard on the Plaza in front of the Cabo Corrientes Municipal Office Building, Valle Azul on the western edge of the Plaza, and El Divisadero, 15 minutes from El Tuito on the road to Chacala. (See their website for a map and directions.)
The town does not yet have high speed internet service although some of the residents have learned to live with sending and receiving internet messages at night when transmission speeds are highest (but still painfully slow.) There are perpetual rumors of the near term installation of much greater internet capacity, but Kai counsels patience rather than false hopes for a sudden improvement in the town's internet infrastructure.
In fact, Kai is generally ambivalent about "progress" in El Tuito. For example, she would like to see continued improvements in health care such as the city sponsored door-to-door inoculations for children. She also welcomes the local program for reducing dengue cases though eliminating standing water throughout the community. And, Kai would like to see local government support for recycling as well as for reducing litter throughout El Tuito. On the other hand, Kai is not eager for the kind of progress that would cause El Tuito to "lose its charm."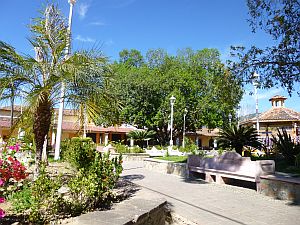 "I know that El Tuito is going to grow," Kai says. But she finds herself feeling protective and a little secretive about the features and attractions that could bring too much growth too soon. For example, the nearby Pacific beach town of Tehuamixtle ("Tehua") has wonderful lobsters and oysters pulled directly from its beautiful sheltered bay and prepared in sunny beachfront restaurants as yet undiscovered by high volume tourism. The road from Tuito to Tehua is finally being paved, and when complete (nobody is predicting when) the travel time to the coast will be reduced to about 30 minutes. However, with much improved access, a town like Tehua will soon enjoy its own tourism boom. Tehua will change.
Kai confesses to an urge to keep such places a secret but she also recognizes and welcomes the benefits of tourism revenues for the communities of the Cabo Corrientes Municipality. Despite her misgivings about the "discovery" of her beautiful El Tuito region, she loves her Mexican neighbors in El Tuito and wants the best for them. "They have a generosity of spirit, kindness and affection which I admire. Mexico is in my heart," she says. "And El Tuito is the real Mexico."
Of course, much of real Mexico is sparsely settled and very poor. Kai works with the El Tuito Rotary Club on a variety of projects in Cabo Corrientes that add basic educational infrastructure such as housing for teachers and bathrooms for rural schools. She and her comrades in the Rotary Club have also started a "BECAS" or scholarship program for local students. Kai also contributes time and energy to reducing the local stray dog population through Spay and Neuter clinics. "The treatment of animals in Mexico is an educational problem," she says. "Change is going to take time. Change always seems like it's either too fast or too slow. When it's too slow, it's frustrating even though, yes, I know we are not living in the States here. And when change is too fast, I worry about El Tuito losing its charm. I would hate that."
There is so much in Mexico that should not be changed, Kai says. "Where in the US would you find active folkloric dance groups like the one we have in El Tuito? These people are proud of their culture, as well they should be. And Mexicans care for their elderly in a way that is much more loving than in the US."
Kai says, "I have never looked back" during her years in El Tuito. She has tried to find the right balance between preserving the past and embracing the future. For the most part, she seems to have enjoyed the ride.
At the moment, what change would she like to see in her beloved El Tuito?
"Well, we do need a really good bar."
---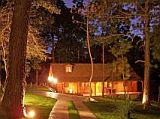 Set on 7 hectares of rolling hillsides, the Tierra Alta eco cabin development will comprise 21 country cabins built for weekend enjoyment or full-time living. With cabin/lot combined pricing starting at only $59,000 USD, reservations are already being taken. If you would like to see what the Tierra Alta lifestyle offers you, please call
Tropicasa Realty's
Wayne Franklin at (322) 222-6505. To enjoy an out-of-the-ordinary Mexico vacation and breathe the fresh mountain air of El Tuito, call (322) 222-9180 for rental information.
To learn more about Tierra Alta
Click HERE,
or visit
TierraAltaTuito.com.