Puerto Vallarta, Mexico - Every Saturday, Puerto Vallarta's Old Town Farmers Market-Tianguis Cultural treats shoppers to an extraordinary spread of "make it, bake it, grow it" goodies. You'll find farm-to-table produce, tantalizing artisan foods, unique arts and crafts and on-site services.
But that's not all. You'll also discover impassioned nonprofit organizations. Most come to promote annual projects and to sell fund raising tickets. They reach out to thousands of shoppers each season, and we are delighted to help them help the community in all sorts of ways. (We like to think of it as a part of our community development efforts.)
Below are the groups that joined us this season:
• ACT LGBT AC - As a non profit, this organization promotes LGBT tourism and businesses in Vallarta. Its members will be at the market on April 18 to promote Vallarta Pride 2015.
• Chamber Orchestra - Since 2004, this group has entertained residents and locals with everything from salsa to pop music. Their annual holiday show is always a favorite.
• International Friendship Club - This charity funds an extensive Cleft Palate Surgery and Clinic Program to help children receive corrective surgeries and follow-up care.
• Navy League - Since 2006, the Navy League chapter in Vallarta has worked to improve the quality of life for Vallarta residents. Their largest annual event is Toys for Tots.
• Pasitos de Luz - This rehabilitation center offers free medical, education and wellness services to local children with disabilities. They will be at the market on April 18 and 25.
•
Vallarta Real Estate Fair
- This free event, sponsored by
Timothy Real Estate Group
, offers the latest news regarding Mexico real estate, immigration laws, tax laws and legal/lifestyle issues for current and future Vallarta residents.
• SPCA de PV - This non-profit organization funds and promotes sterilization, adoption and health care for companion animals in the Puerto Vallarta area.
Voluntourism at the Market
Volunteer tourism, also known as voluntourism, has been a popular activity for those who want to spend a portion of their time giving to the socio-cultural programs or environmental conservation. Amber Kostesky (17) from Alberta, Canada, chose to do just that. She volunteered at the SPCA for a senior high school project, benefiting the community by helping the animals.
Apply for Next Season
We are now accepting applications for the market's 7th season (the first Saturday in November 2015 to the last Saturday in April 2016). If you and your nonprofit organization would like to reach over 100,000 international market shoppers, contact coordinator(at)oldtownfm.com today.
Flamenco Tickets on Sale
World-renowned Flamenco dancer, Isabel Rivera Cuenca from Spain, will be selling tickets to her encore show, Mis Latidos (My Heartbeat). It's all a part of the cultural experience we share with shoppers every season, thanks to our partnership with the city's cultural department. If you're at the market this Saturday, be sure to buy your tickets and catch a live demonstration. Then catch Isabel Rivera Cuenca's one-night only performance at the Rio Cuale Cultural Center in Puerto Vallarta on Saturday, April 18, at 7:00 pm.
Sweets & Eats
After a full day of market shopping, be sure to visit our International Food Court (under the shaded pergolas on the eastern side of Lazaro Cárdenas Park). We're serving up tasty Thai, Indian, traditional Mexican favorites and vegan entrées (hamburgers, al pastor, falafels and sticky buns). Then add some sweetness to you day with freshly made cakes, cookies, chocolate-dipped bananas and candied nuts!
Get to Know the OTFM
Ours is a festive "make it, bake it, grow it" North American style market that celebrates the tradition and culture of Mexico's outdoor tianguis markets. We are a registered non-profit/association civil organization that focuses on the "buy local" movement as well as entrepreneurial and community development.
You're Invited!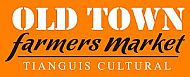 We only have two remaining market days, so be sure to join us for live music, warm weather, a cool downtown vibe and over 90 vendor stands and services! We're open from 9:30-2:00 on Saturday, April 18 and 25 in Lazaro Cárdenas Park, Old Town. For market updates, please visit
OldTownFM.com,
and "like" us
on Facebook.
Click HERE to learn more about the Puerto Vallarta Old Town Farmers' Market.