Vallarta Living | Community Services
Changing Kid's Lives One Smile at a Time
The IFC Cleft Palate Program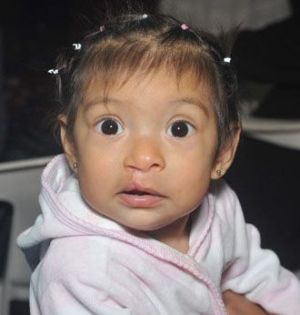 Since 1986, the IFC has funded a Cleft Palate program that provides free medical consultation and treatment to underprivileged children born with a cleft palate or harelip. Your donations are instrumental in creating new faces for the children.
The Puerto Vallarta Cleft Palate Program was started in 1986 by Celia and Ron Walker. After learning that a friend's baby had been born with a cleft palate, they went searching for a surgeon who could help this family - and found him in Guadalajara.


Soon there was another child who needed the same help and they went back to that surgeon in Guadalajara. Eventually, they had more children to help than they could transport. Ron then thought to ask the surgeon to come to Vallarta and perform the surgeries here.


As a result, Ron and other local residents formed the International Friendship Club (IFC) of Puerto Vallarta to fund the program. In order to support this program the IFC started a Home Tour program that has been operating during the winter in Vallarta for 30 years. The tours take people to the homes of the rich and famous - and those that are just architecturally interesting - and cost $600 pesos per person (discounted for IFC members). The owners of these homes donate access to their homes and the doctors and nurses donate their valuable time to support this worthwhile charity.

2016-17 Home Tours

The IFC offers Home Tours every Tuesday and Wednesday from 29th November 2016 to March 29th, 2017. Tours leave the Sea Monkey restaurant, which is at the foot of Aquiles Serdan on the beach, at 10:30 am. Tickets are available at the Sea Monkey (on tour dates) or online at ToursForVallarta.com or at the IFC office located in El Centro at the corner of Miramar and Libertad, up the stairs. Phone 322-222-5466

About the Cleft Palate Program

The Puerto Vallarta Cleft Palate Program runs at roughly three-month intervals, usually four times a year. There is a clinic held right at the IFC Clubhouse the day before surgeries. The children in the program see the doctors and are evaluated for ongoing needs and to determine if they need surgery the following day.


Normally around 30 children are seen on clinic day and a dozen or so patients will be scheduled for surgery. The IFC has been very fortunate recently to be working with the CMQ Hospitals. They have been most generous in their support of this program, providing operating rooms and beds for the children as well as many other services.


Our surgeons are Doctor Ezequiel Fuentes Lopez and Dr. Rodolfo Becerra Castaneda, and their instrumentistas are Enfermero Emma Gonzalez Serna, chief of nursing at Sanatorio Versalles, Enf. Maria del los Angeles Alvarado of the Instituto Jaliscence de Cirugia Reconstructiva, and anesthesiologist Dr. Emigdio de la Cruz Llontop Pisil, also of the Instituto Jaliscence de Cirugia Reconstructiva. The doctors bring all their surgical instruments with them, and the IFC buys the surgical supplies that are needed.


The IFC buys the airline tickets for the medical team and provides them with donated housing for their stay. Various restaurants in Puerto Vallarta support the program by donating dinners or offering our medical personnel and volunteers reduced prices. For example, Daiquiri Dick's has been donating clinic-night dinners to our group for years, and we appreciate that very much. Other Puerto Vallarta restaurants that have been generous in their support are: Ocho Tostados, Bravos PV, Masala La Cruz, PV Cupcakes, Prime 159, Sea Monkey, Ginger, Fajita Republic and Eddie's Place.


The IFC is an all volunteer charitable, educational, and social organization with over 600 members who organize and fund the Cleft Palate Program as well as support a number of other charitable activities in Puerto Vallarta. The IFC has a clubhouse space for classes, lectures and activities throughout the season. The clubhouse is also available for limited rentals to outside groups. Please visit ifctoursforvallarta.com to learn more about our Home Tours and ifcvallarta.com for news about the club's activities.


The International Friendship Club is a registered charitable organization in Mexico listed as Club Internacional de la Amistad de Puerto Vallarta A.C. It is located at the northeast corner of the Rio Cuale Bridge above the HSBC Bank, Colonia El Centro, Puerto Vallarta, Jalisco, Mexico, 48300. Phone: 322-222-5466. Website: ifcvallarta.com Email: ifcvallarta(at)gmail.com
• B E L O W T H E F O L D •
IFC Puerto Vallarta Home Tours Help Local Charities

John Warren

The IFC Home Tours, run by the International Friendship Club, are a great way for visitors and residents of Puerto Vallarta to see new places, explore spectacular homes and know that all of the profits made from the tours are used to make the lives of Mexicans living here a little better.

---
IFC Puerto Vallarta Home Tours, Activities are Back!

John Warren

Would you like to make new friends, volunteer for a good cause, learn to play bridge, listen to a lecture, meditate, or just go out to dinner with someone you've never met before? Look no further. The Puerto Vallarta International Friendship Club can meet all those needs and more.

---
IFC Puerto Vallarta Home Tours Resume November 29

John Warren

The International Friendship Club provides one of the most popular tourist activities in all of Puerto Vallarta, their always special Home Tours. So put on your walking shoes, grab your camera, and get ready to enjoy a fun-filled day of discovery, while helping the less fortunate.

---
Meet Friends at Vallarta's International Friendship Club

John Warren

What do you like to do? Learn? Volunteer? Play games? Eat, drink and socialize? You're in the right place if you're at the International Friendship Club of Puerto Vallarta. Whether you are in town for a few days, the winter, or a lifetime, you'll find plenty to do at the IFC.

---
Democrats Abroad Weekly Film Series Resumes Dec. 2

Tobe Jensen

The Costa Banderas Chapter of Democrats Abroad Mexico is launching its 6th Annual Film Series on December 2, 2015. The popular series features first-run films shown at the International Friendship Club in downtown Puerto Vallarta on Wednesday nights at 7 pm through April 6, 2016.

---
Puerto Vallarta Friendship Club Starts a New Season

John Warren

Members of the Puerto Vallarta International Friendship Club (IFC) are pleased to announce that the new season has already started and that we have fun-filled times ahead. Don't miss our first Brunch of the season at 10 am on Tuesday, November 10 at Casa Fantasía in the Romantic Zone.

---
IFC Puerto Vallarta Home Tours Resume November 17

Conrad Kostelecky

The International Friendship Club started offering Puerto Vallarta Home Tours 30 years ago as a way to raise funds to support the fledgling Cleft Palate Clinic. For the 2015-2016 season, the IFC Home Tours will run every Tuesday & Wednesday morning from November 17 through March 16.

---
What's Ahead for the International Friendship Club?

John Warren

On April 12th, the Puerto Vallarta I.F.C. held its final meeting of the 'season.' The new Board of Directors of the club was installed and Dan Grippo, the club's President for the last two years, handed over the reins to the new President, Henry Golas.

---
Dan Grippo: Looking Back on the Past Two Years at IFC

BanderasNews.com

After serving two years as the President of the Puerto Vallarta International Friendship Club, Dan Grippo is stepping down. Here, he takes a look in the rearview mirror at some things accomplished during the time he spent in office.

---
IFC Education Grants Making Good Things Happen

John Warren

The International Friendship Club just spent $138,000 pesos on making good things happen in Puerto Vallarta. Their Home Tours had a very successful season, and part of the program's revenues have been allocated to improve the lives of local Mexican residents who need help.

---
Kids Come First: IFC Medical Cost Share & Cancer Aid

John Warren

Puerto Vallarta's International Friendship Club (IFC) has a special program that encourages IFC members to help a local Mexican family apply for the Patrocinio Medical Cost-Share Program. The program focuses primarily on children under 18 in medical need whose families lack resources.

---
The International Friendship Club Cleft Palate Program

John Warren

On March 3rd at 7 pm, the IFC will host a public information session on its Cleft Palate Program at the IFC clubhouse. Medical professionals who volunteer their time to treat local children at no cost will summarize the past few years of medical care, with a PowerPoint presentation.

---
IFC Actively Supports Vallarta Educational Projects

John Warren

The International Friendship Club supports many people and organizations in Puerto Vallarta. Some of their most important work is focused on education. Last year's education budget was allocated to 7 organizations, and the IFC Education Committee is now assessing 2015 grant proposals.

---
Puerto Vallarta Visitors Love the IFC's Home Tours

Conrad Kostelecky

The IFC has been touring some of the most unique and beautiful homes in Puerto Vallarta for almost 30 years. In air conditioned busses, each week they visit four homes throughout PV - from downtown to Mismaloya. First time and repeat guests alike have praise for the approximatly 3 hour tour.

---
Vallarta IFC Cleft Palate Program Celebrates 30 Years

Janie Albright Blank

The Puerto Vallarta IFC takes pride in its unique Cleft Palate Program. It begins with providing funds for transporting doctors who donate their time to perform the surgeries. It ends with seeing smiles on the children's faces and their parent's tears of joy at its completion.

---
IFC Monday Night Hollywood Classics Film Series

Sue MacGregor

The Puerto Vallarta International Friendship Club (IFC) continues its Monday Night Movies this season with an exciting 'Hollywood Classics' movie series. All of these blockbuster films, stretching back to 1940, won 'Best Picture' Oscars the year they were released.

---
---

There are millions of children with unrepaired clefts who have little to no prospect of ever being helped. Their parents are so poor, they could never afford surgery. So they wait and they hope and they pray that someday, someone will come along and help them. You could be that someone. It costs as little as $250 to give a desperate child not just a new smile, but a new life. Learn more at SmileTrain.com.
Site Map
•
Print this Page
•
Email Us
•
Top