El Tuito, Jalisco, Mexico - With the most recent reservation of Lot 14, the Tierra Alta cabin community near El Tuito has now sold 25% of its inventory. The newest members of Tierra Alta's community are Jose de Jesus Gonzalez Aguiar and his wife, Celina. The Gonzalez family has two adult children and a young son, Jose Carlos, who is 14.
Jose is a financial advisor at Vector Casa de Bolsa where he specializes in the management of family assets and estate management. "Puerto Vallarta has been a very good place for business but now we are ready to take the time to enjoy life a little more. My wife has a family history that goes back many generations in both Puerto Vallarta and El Tuito, and we feel very comfortable in the wonderful natural setting at Tierra Alta."
Jose's wife, Celina, said, "It's only one hour to El Tuito and Tierra Alta from Vallarta and we enjoy the beautiful drive. It's surprising how much the weather changes just in that one hour - it's cooler and much less humid at Tierra Alta."
Tierra Alta is a master planned ecological development for cabins located in the foothills of the Sierra Madre range one mile west of El Tuito. The model cabin and the cabin under construction are built from log sidings. Adobe and rock structures can also being used.
Amenities include a swimming pool and a covered outdoor dining area with a charcoal grill. Water, electrical power and security services are all available. Satellite TV reception good. High speed Internet is in the planning process for El Tuito and is expected in the next six to eight months.
David and Xochitl Kimball are the owners and managers of Tierra Alta, a low density ecological cabin development one mile from El Tuito. Their model cabin is available for rent, and their 5 hectare property has been divided into large lots (minimum 1,600 m2) for purchase. An independent contractor offers a wide range of cabin designs at very competitive pricing.
---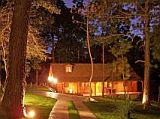 Set on 5 hectares of rolling hillsides, the Tierra Alta eco cabin development will comprise 20 country cabins built for weekend enjoyment or full-time living. With cabin/lot combined pricing starting at under $80,000 USD, inventory is selling fast. If you would like to see what the Tierra Alta lifestyle offers you, please call
Tropicasa Realty's
Wayne Franklin at (322) 222-6505. To enjoy an out-of-the-ordinary Mexico vacation and breathe the fresh mountain air of El Tuito, call David and Xochitl Kimball at (322) 222-9180 for rental information.
To learn more about Tierra Alta
Click HERE,
or visit
TierraAltaTuito.com.