Puerto Vallarta, Mexico - There's always so much going on in Puerto Vallarta and around the Republic, it can be difficult to keep up with it all. We've put together a brief overview of some of this week's Mexico headlines, plus Puerto Vallarta news and some of this weekend's events you won't want to miss.
Thanksgiving Deals on Riviera Nayarit Hotels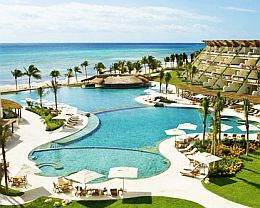 The Riviera Nayarit Convention and Visitors Bureau has joined forces with the Destination's hotels to launch the Riviera Nayarit's Thanksgiving Deals to mark the traditional celebration in the U.S. and Canada. There are 19 hotels in Nuevo Vallarta, Flamingos, La Cruz de Huanacaxtle, Punta de Mita and Litibú that are currently offering up to 58% discount on reservations, 2x1 kids, kids stay free, free nights, spa discounts and many more free amenities. These promotions are good through November 23, 2015, and are also being offered in Mexico with the label "Revolucionary Promos" as a remembrance of the anniversary of the Mexican Revolution. Participating hotels in the Riviera Nayarit include Villa La Estancia, Villa del Palmar Flamingos, St Regis, Iberostar, Rancho Banderas, Marival Resort, Marival Residences, Bel Air, Samba Vallarta, Villa Varadero, Hard Rock Hotel, Matlali, Riu Jalisco, Riu Palace, Riu Vallarta, Dreams Villamagna, La Tranquila, Occidental Grand and Grand Velas Riviera Nayarit. For promo details and to make your reservations, visit
RivieraNayarit.com.
Remittances to Mexico Rise 5.86% in First 9 Months of 2015
Remittances sent to Mexico by emigrants totaled $18.62 billion in the first nine months of 2015, up 5.86 percent compared to the same period last year, when remittances totaled $17.59 billion, the Bank of Mexico said Tuesday. The average remittance was $295 in the January-September period, up slightly from the $294 average registered in the same period last year, the central bank said. The number of transactions during the period totaled 63.07 million, with the majority of remittances sent via electronic funds transfers, the central bank said in a statement. Mexico received $23.64 billion in remittances in 2014, a figure that was up 9.6 percent compared to 2013. Remittances sent by Mexicans living abroad, mainly in the United States, are the country's second-largest source of foreign exchange, after oil, and help cover the living expenses of millions of people.
Gwyneth Paltrow and Chris Martin to Vacation in Vallarta
Proving that 'consciously uncoupling' is the best way to deal with a celebrity split, the ever-amicable Gwyneth Paltrow and Chris Martin are apparently planning on spending Thanksgiving together with their new partners in Puerto Vallarta, Mexico. Gwyneth is currently dating TV producer Brad Falchuk, with Chris being linked to his on/off girlfriend Jennifer Lawrence, and the former lovebirds think that Thanksgiving would be a good opportunity for them all to "bond" as they celebrate the holiday with their children - eleven-year-old Apple and nine-year-old Moses. The family also plans on having optimum privacy as they get to know one another in Puerto Vallarta. According to an inside source, "They plan to rent a friend's villa. This gives them maximum privacy, except when they go to the beach."
Mexico's Top Court Blocks Move to Plant Genetically Modified Soya
Mexico's Supreme Court on Wednesday blocked a move to allow the planting of genetically modified soya seeds in two states, arguing that indigenous communities that had fought the move should be consulted before it was approved.In a statement, the court said that the five justices had voted unanimously to grant an injunction against Mexico's agriculture ministry SAGARPA, which had given the permissions in the southern Mexican states of Campeche and Yucatan. On the court docket, U.S. agriculture giant Monsanto Co appeared among the list of interested parties in the case. In a statement, Monsanto said it respected the court's decision and would wait to see the full text of the ruling.
Weekend Events in Puerto Vallarta and Around Banderas Bay
Click on titles for more information
• Sheraton Hosts 'Biggest Tennis Tournament in Mexico'
• Old Town Farmers Market-Tianguis Cultural 7th Season
• Huge Garage Sale to Benefit Purr Project, Nov 7 & 8
• 2nd Guayabitos Riviera Nayarit Bike Fest, November 6-8