Puerto Vallarta, Mexico - Here's the latest news from Purr Project, a non-profit, no-kill feline shelter located just north of Puerto Vallarta, Mexico, that provides homeless cats and kittens a recuperative stay with the ultimate goal of adopting them out to loving homes sterilized, vaccinated and disease free.
Upcoming Purr Project Events
Purr Project Kitty Bingo
Let the games begin! Wednesdays: November 18 And December 2, 16 & 30. Are you ready for some Bingo? We're back at Margarita Grill with the BEST bingo prizes (like $200-peso gift certificates for Bravos, Starbucks and Daiquiri Dick's, bottles of Cuervo Gold tequila and wine, tickets to Purr Project's Luau on the Beach) plus our famous multiple-pull 50/50 raffle, and Margarita Grill's food and drink specials just for us bingo players! Bring a bag of gently-used clothing for the Purr Project account at Deja New Consignment and receive one additional bingo card free! Get there early for a good seat ~ tickets go on sale at 4:30 pm; the fun starts at 5:00 pm. You'll find Margarita Grill on the corner of Basilio Badillo and Piño Suarez in Old Town, and there's lots of covered parking nearby. Grab a friend, grab a table and join the fun!
Beach Luau at Sea Monkey
The Third Annual PuRR Project Luau will be held on Friday, December 11, at 5:00 pm on the beach in front of the Sea Monkey Restaurant on Los Muertos Beach. Once again, Troy Valens is generously providing a stunning sunset and a delicious dinner to go with it... so 100% of the $300 peso admission goes to the shelter! There will also be a Raffle for great prizes. Tickets are on sale NOW at the Sea Monkey and at our Saturday Adoption Booth outside
Daiquiri Dick's Restaurant
, or contact Marilyn at
exkhan(at)usfamily.net.
Seating is limited and this event always sells out.... so don't wait!
Shelter Tours
We have set the dates for the official shelter tours for this year and we hope YOU can join us on this little Mexican adventure. In addition to meeting some of the 150+ residents out at the ranch, you will see some of the countryside of rural Nayarit and the charming colonial village of San Juan del Valle. All this for only $300 pesos per person (or $20 by PayPal) and we throw in the bottled water and cat treats plus round-trip transportation from one of three convenient meeting points. The first tour is scheduled for November 25, then December 9 and 23 and every Wednesday in January and February. For more detailed information and
to make your reservation, just click HERE.
Garage Sale News
Our second annual PuRR Project Garage Sale on November 7/8 was a big success! Thanks to all the generous folks who had been donating items for the last five months, we had plenty of inventory to sell... literally something for everyone. By closing time on Sunday, there was only some clothing left and that was donated to the local women's shelter and the orphanage. Our piggy bank is pretty empty by this time of year, so this first fundraiser of the season is important... and we raised enough money to fund the shelter for three whole weeks! Thanks to volunteers Marilyn Khan, Linda Brasseal, Brenda Gill, Bob & Shanti Doelger, George Long, Suzanna Persa, Lisa Love, Pat Brumfield and Linda Shepherd for their hard work!
---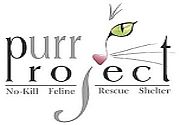 PuRR Project is a Non-Profit shelter in Puerto Vallarta, Mexico that provides homeless cats and kittens a recuperative stay with the ultimate goal to adopt them out to loving homes. All of our residents have been sterilized, vaccinated and are disease free. We accomplish this through our own efforts as well as collaboratively with other animal welfare organizations. Both monetary donations as well as donations of dry cat food are most welcome – and much appreciated. For more information, visit PuRRProject.com or send an email to info(at)PurrProject.com.