Puerto Vallarta, Mexico - Here's the latest news from Purr Project, a non-profit, no-kill feline shelter located just north of Puerto Vallarta, Mexico, that provides homeless cats and kittens a recuperative stay with the ultimate goal of adopting them out to loving homes sterilized, vaccinated and disease free.
This month, the focus is on our adoptable adult cats. Meet some of them and read about how Alice finally found a home after five years!
Reasons to Adopt an Adult Cat
For the abandoned, forgotten, and heartbroken adult cats, you just might be their last chance to have the love and warmth of a home where they can live out their years in comfort. Many available adult cats are barely out of kittenhood themselves. They still have plenty of spunk and energy – they're just a bit more mature. That's a good thing.
Here are some reasons why you may want to consider an adult cat:
1. What you see is what you get. Adult cats already know who they are. Kittens are undeniably cute, but you never know what the future holds, how large they may get, what their personality will ultimately be, etc.
2. Adult cats aren't as "chewsy." Kittens have a tendency to chew things, lots of things. Whether teething or just exploring the world around them.
3. After a long day at the office, you may just want to come home and curl up with your furry friend. An adult cat will greet you at the door and be more than happy to curl up and watch your favorite shows on TV. They've already learned about the unconditional love thing.
4. Adult cats may sleep at the foot of your bed, under the bed or in a cozy spot somewhere else in the house. Adult cats are generally happy to sleep when you do and don't try to attack your toes through the blankets in the middle of the night.
5. Adult cats are usually a better choice for families with small children. Kittens often play rough and are constantly underfoot. They're sharp – they can't help it, but kittens are all teeth and claws. Generally speaking, adult cats are more mellow, and they are often more patient with young children.
6. If you are no longer a "spring chicken" yourself, adopting an older animal may make more sense than one that may live from 12 to 20 years.
7. Many adult cats end up in shelters due to no fault of their own. Separated from their loved ones, surrounded by other cats, confined, confused, and sometimes frightened, many are emotionally devastated by their misfortune. Sadly, most people gravitate toward the cute, bouncy, big-eyed kittens. Older cats sit by and watch, as one loving family after another passes them over for a cute kitten. Adopting an adult cat is a way to say to a deserving animal "I believe in you." And remember... an adorable little kitten will be an adult in the blink of an eye.
The PuRR Shelter currently has a number of teenage to adult cats that will make wonderful companions, including our rescues from the Isla Cuale. All have been tested for FIV/Leukemia, vaccinated and spayed or neutered. If YOU are interested in making a difference by giving one a Forever Home, contact Linda at adopt(at)purrproject.com for more information.
Adoption Update: Alice
And speaking of adopting adult cats... Alice and her sister were in the very first group of kitties to go out for adoption when we started our Adoption Program in early 2010. Unfortunately, Torties are not generally considered "pretty" and they were never adopted and eventually went to live in the shelter gardens. Alice figured quickly figured out how to stand out in a crowd and became a favorite with visitors, always looking for a lap to sit in!
In 2013, Lynn & Ross Regandez were visiting from San Jose and picked her to Virtually Adopt, but it was another three long years before Alice hit the jackpot and found a real home!
Neil and Laura Parker of Puerto Vallarta had decided it was time to adopt and wanted to consider an adult. They visited the shelter and met lots of friendly cats, but Alice was the one who stole their hearts... and adopted them! Now named "Maya," Laura reports that she is totally at home and they are totally in love.
Upcoming Events:
Wow! Time has flown and "high season" is almost over! By the time you read this, we will only have three scheduled events left for this season:
Monday, March 21 – Adult Bingo at The Palm Cabaret. Starts at 4:00 pm and all the stops are out for a fun evening!
Wednesday, March 23 – Our final Kitty Bingo at Margarita Grill at 5:00 pm. Last chance to shout "Meow" for great prizes.
Wednesday, March 30 – The last official Shelter Tour at 9:00 am from Plaza Romy. For more detailed information and to make your reservation, click HERE.
We will also be at Daiquiri Dick's on Saturday mornings through April with our logo T-shirts, hats, bags, cozies & other goodies available.
It's going to be a long hot summer with lots of hungry felines to care for, so this is your last chance to support the shelter and have some fun at the same time. If you are in town, come on down and join us for any or all of these events!
---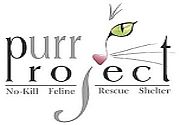 PuRR Project is a Non-Profit shelter in Puerto Vallarta, Mexico that provides homeless cats and kittens a recuperative stay with the ultimate goal to adopt them out to loving homes. All of our residents have been sterilized, vaccinated and are disease free. We accomplish this through our own efforts as well as collaboratively with other animal welfare organizations. Both monetary donations as well as donations of dry cat food are most welcome – and much appreciated. For more information, visit PuRRProject.com or send an email to info(at)PurrProject.com.