Puerto Vallarta, Mexico The Banderas Bay region has a unique international ambience where foreign residents and Mexican locals have developed a very special and seldom-found cultural acceptance. Traditional Mexican festivals and holidays blend in with expat celebrations like Canada Day and the 4th of July, which makes everyone feel "right at home." So, if you find yourself in Vallarta on the USA's Independence Day, you'll also find some great 4th of July parties, along with lots of food and fun at restaurants all around Banderas Bay.
BBQ Wing Cook Off & Keg Party at Marina Riviera Nayarit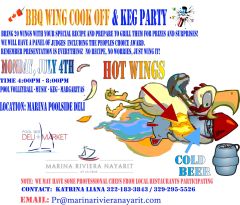 We're "winging it" at the Marina Riviera Nayarit Poolside Deli for the 4th of July. Join us for a BBQ Wing Cook-Off (chicken or veggies) on Monday, July 4th from 4:00-8:00 pm at the Marina Poolside Deli. Bring 20 wings or veggies to grill up for a chance to win some fun prizes. This family-friendly event is free and open to the public. You do not need to BBQ to join the fun, we only ask that you bring a side dish to complement wings and share with up to 5-8 others. Those who are bringing wings to BBQ will win prizes. Anyone can participate and we need the public (not participating) to taste for the "Peoples Choice" Awards. So far, we have 14 entrees with 4 of them being restaurants in the Bay area. Bring the family for Pool Volleyball, and don't forget your swimsuit and towel. There will also be awesome Live Music with Victor (Memo) & Enrique Ramirez Cipactli! For more information, contact Katrina Liana at (329) 295-5526, (322) 183-3843 or
pr(at)marinarivieranayarit.com.
Classy-Oke 4th of July Celebration at Nacho Daddy
Come on down to Puerto Vallarta's only Texas Style Dance and Music Hall for a 4th of July Karaoke Party like none other from 8-11 pm. It'll be a celebration of songs about the USA or, with 40,000 songs to choose from (in English & Spanish), whatever the day inspires you to share. This is your chance to show off your red-white-and-blue blood in dress and creativity! There will be no end to the all kinds of fancy 4th of July surprises - including food - so grab all your friends and be ready to sing some patriotic songs. It is a Karaoke party, after all. There's no cover charge and Nacho Daddy's upstairs is air-conditioned! Open daily from 4 to 11:00 pm (Closed on Wednesdays for the Summer), Nacho Daddy is located at Basilio Badillo #287 on the south side of Puerto Vallarta.
The following restaurants have specials to get you 'into the spirit' of the holiday:
Mark's Bar & Grill
Enjoy a free glass of Pancho's white sangria during Mark's Fourth of July party. White wine, peaches, apples, grapes, oranges, brandy, control and rosemary. Stop by for Kobe burgers and more, at Mark's Bar & Grill, Lazaro Cardenas #56 in Bucerías, Nayarit.
Joe Jack's Fish Shack
What could be more American than a juicy burger and mac-and-cheese. Few do it as well as Joe Jack's Fish Shack. We would be happy with the gravity-defying burger and the creamy, cheesy goodness of their mac-and-cheese, but as if to say "we love you more than all the stars in the sky," Joe Jack's offers up a 50% discount, only on July 4th, to all who are privy to two special words: "Tio Sam." With those two code words, your check is cut in half! Joe Jack's Fish Shack is located at Basilio Badillo #212 on PV's south side.
Los Muertos Brewing Company
Puerto Vallarta's only brew pub, is owned by a lovely American couple who know how to celebrate the 4th in style. Not only do they boast one of the area's best pizzas, but they brew their own beers to great success. Their pizza is wood-fired and deliciously crispy. Their burger is another favorite that you should give a try. This Friday, July 4th, they welcome us and all their esteemed customers to partake in some amazing food and good times. With a hat tip to 1776, year of the signing of the Declaration of Independence, Los Muertos offers specials including $17 peso pints! And $76 peso house favorites! Los Muertos Brewing Company is located at Lázaro Cárdenas 302 on PV's south side.
Daiquiri Dick's
The Fourth of July sizzles at Daiquiri Dick's, as the Summer Sizzle menu continues with American favorites from July 1st - July 11th. This year, Daiquiri Dick's chefs have created a special 4th of July menu that's a backyard BBQ with international flair. Click HERE to see Daiquiri Dick's All American Summer Sizzle menu, which is being served from 5 to 10:30 pm through July 11th. You can order three courses for $350 pesos, with choices for each course, or you can select your favorite appetizer, entrée or dessert a la carte. The restaurant's tropical location at Olas Altas 314 on Los Muertos Beach offers the perfect atmosphere for enjoying sizzling specials, cold drinks and cool breezes as you celebrate the USA's Independence Day.
Whatever you do, and wherever you are this Fourth of July, remember the real meaning of this important holiday - the birth of American independence - and take a moment to honor those who have made sacrifices for our freedom.