Puerto Vallarta, Mexico - There's always so much going on in Puerto Vallarta and around Banderas Bay, it can be difficult to keep up with it all. Here's a look at some of this week's Vallarta-Nayarit news headlines, community announcements and a couple of this weekend's events that you won't want to miss.
9th ABH Aquatic Marathon in Guayabitos - Saturday, October 22, 2016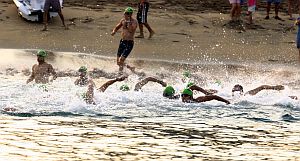 The 9th ABH Aquatic Marathon is making its next stop in the Riviera Nayarit with Guayabitos as host for this competition that will take place on Saturday, October 22, 2016 at 8 am. Considered one of the top open water competitions in Mexico, this national series will see over 600 swimmers from 10 different states around the nation compete in the "Mexican Pacific's largest pool," including Nayarit, Sinaloa, Jalisco, Puebla, Michoacán, San Luis Potosí, Nuevo León, Colima, Guanajuato and the Estado de México. The swimming distance in each of the 16 categories (men's and women's) is three kilometers. All swimmers will receive a participation medal and the event is expected to have around 2,500 spectators. Swimmers will depart from the Decameron Los Cocos hotel beach. They will receive a halfway point signal to turn back to the finish line at the San Carlos Hotel. The event is organized by promoter Alfredo Barba Hernández in coordination with the Compostela Hotel Association and backed by the Compostela City Council and the Government of the State of Nayarit.
Puerto Vallarta Walking Tours - New Name, Same Fun Walking Tours
The cobblestone streets of Puerto Vallarta are best explored on foot, so it comes as no surprise that there are several guided walking tours to choose from. One of the most popular is offered by Sandra Cesca, the author of "Walking Puerto Vallarta and Beyond." She is kicking off the 2016-2017 season with a new name, ('Puerto Vallarta Walking Tours'); a dynamic new website,
puertovallartawalkingtours.com
; a new walk: Malecón for Wheelchair Travelers; and spiced up versions of the 5 other neighborhood walks she offers. On each of these two-hour walks, Sandra shares stories, history, and little-known facts about this most interesting town while introducing you to local merchants and colorful characters. Sandra likes to take small groups of visitors to "neighborhoods and places where they get a really good taste of Mexican culture." Participants can see artisans at work, buy cigars, sample fresh warm tortillas and locally-made candy, order tacos from a street vendor, and explore traditional Mexican plazas and neighborhoods. For more information, and to make your reservations, visit
PuertoVallartaWalkingTours.com.
White Party Puerto Vallarta - November 26 & 27, 2016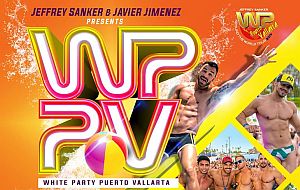 The world's premiere gay dance festival, "White Party" heats up PV for the second year in a row with White Party Puerto Vallarta, over Thanksgiving weekend November 26th through November 27th, 2016. Jeffrey Sanker teams up with local entrepreneur, Javier Jimenez, the owner of some of the hottest nightspots in Puerto Vallarta, to bring this legendary party to Mantamar Beach Club with the "Wet And Crazy" sunset pool party where White Party Puerto Vallarta will showcase superstar DJ: Dawna Montell (LA) to keep the sand pulsing into the night. And, to keep in true White Party Palm Springs tradition, huge surprises will be unveiled along the way, including over the top performances, amazing sound and light displays, and the hottest and sexiest Wet Dreams' signature go-go boys. Tickets start at $40.00 USD for admission to Saturday's Sunset Pool Party. After White Party, show your White Party ticket to: La Noche, Wet Dreams, Mr. Flamingo, and La Margarita to receive one (1) complimentary drink courtesy of White Party. For more information, and to get your tickets, visit
JefferySanker.com.
Weekend Events in Puerto Vallarta and Around Banderas Bay
Click on titles for more information
• Casa Karma Day of the Dead Calavera Contest
• Special Tasting Event at Casa Cupula's Taste Restaurant
• Mexican Cooking Classes at El Arrayán Restaurant
• The 8th Vallarta-Nayarit Gastronómica Gets Cooking