Puerto Vallarta, Mexico - There's always so much going on in Puerto Vallarta and around Banderas Bay, it can be difficult to keep up with it all. Here's a look at some of this week's Puerto Vallarta news headlines, a few community announcements and a couple of this weekend's events you won't want to miss.
Casa Connor Rehabilitation Center for Disabled Children Opens
The first stage of
CASA Connor,
a new rehabilitation center that will provide free care and treatment for children with disabilities, was inaugurated on October 20, 2016. Located approximately 20 minutes from the Puerto Vallarta International Airport, the 15,000 square foot castle-shaped building encompasses psychology, social work and special education departments, reception and waiting areas, a nursery, kitchen, dining and laundry rooms, as well as overnight respite services (including a Jacuzzi!) and accommodation for volunteers.
Pasitos de Luz
- a local nonprofit day care facility that has been providing a caring and loving environment, along with treatment for individual rehabilitation, nutritional meals, physical stimulation and therapy to Banderas Bay area children with various handicaps for the last 18 years - will be responsible for the day-to-day operations of CASA Connor. Thanks to the generosity of a Mexican family, who donated land, and the many generous donors and volunteers, the construction of Casa Connor is now completed, but funds are still needed for furnishing and operating costs. With your support, Pasitos de Luz can continue to flourish and grow, providing vital care for children with disabilities FREE OF CHARGE. Please donate today at
pasitosdeluz.org/casa-connor
and help them continue providing essential support to these children. U.S. and Canada tax deductible receipts are available. In-kind donations and volunteers are always welcome, and the community is welcome to come out to tour
CASA Connor
and learn more about the project. The new facility is expected to begin operation within the next four months and will be able to assist over 100 children per day.
Colina Spay and Neuter Clinic Needs Volunteers
Colina Spay and Neuter Clinic, a permanent facility in the Old Town/Romantic Zone of Puerto Vallarta that provides free spay and neutering services to pet owners who otherwise would be unable to get their pets "fixed," is looking for volunteers right now! They are looking for clinic volunteers to help with post surgery for 5 hours every Saturday or every other Saturday - and there are so many other ways to help too. You can help fund raise for their upcoming events, wash out cages, walk dogs, or donate blankets, funds or supplies. You could provide gift certificates from your business for silent auctions at their charity events, sponsor a clinic, or anything else you can think of that would help them help the animals! They have already sterilized over 4,500 animals for free! Help them keep snippin'! For more information, please contact Colette Zarry, co-founder of the Colina Spay and Neuter Clinic and owner of Lagostinos at
colettedogs(at)gmail.com,
or "Like"
Colina Spay and Neuter Clinic on Facebook.
Amapas Neighborhood Association Day of the Dead Party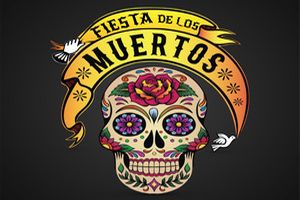 On Monday, October 31 from 7:00 to 11:00 pm, the Amapas Neighborhood Association (ANA,) in association with local bars, restaurants and other businesses, will be hosting a bicultural and bilingual outdoor party on Púlpito street, celebrating Mexico's Day of the Dead. Live music will be provided by the popular Piel Canela Trio playing Latin fusion and the best Gipsy Kings covers you have ever heard, plus the amazingly talented Elviz Martinez singing in English and Spanish, Moruno Gypsy Jazz Trio, and The Joker Band. The street will be closed to traffic, so there will be plenty of seating for the performances! Coco's Kitchen and Pulpito 116 will offer special 'Fiesta de Los Muertos' menus and prices. Blondies will be offering special 'slushie' Margaritas and other adult beverages, and Garbo will offer special 'Fiesta de Los Muertos' pricing – both during and after the show. Add to that free face-painting, a costume competition, festive street decorations, a traditional Day of the Dead Altar celebrating popular Mexican singer Juan Gabriel, the official lighting of 'Coco's Tree,' and a D.J. playing great music until 11 pm, and ANA's Halloween/Day of the Dead party will be
'To Die For!'
For more information, visit the
Facebook Event page.
Weekend Events in Puerto Vallarta and Around Banderas Bay
Click on titles for more information
• Casa Karma Day of the Dead Calavera Contest
• Vallarta Día de Los Muertos Festival, Oct 29-Nov 2
• Halloween / Day of the Dead Fun at Galerías Vallarta
• 'Kukur Tihar' - A Celebration of Dogs at Puerto de Luna