Puerto Vallarta, Mexico - I am writing a series of brief articles about life in a cabin development called Tierra Alta near the small mountain town of El Tuito, one hour south of Vallarta. My wife and I are in the process of moving full time into what had been a weekend getaway cabin and a welcome source of rental income since its construction four years ago.
The Vast Gringo Migrations
Well, the migration is on. Each year, as the temperature drops in the north, millions of Americans and Canadians make their way to Mexico: more than 33 million foreign travelers come to Mexico and 3 million to Vallarta each year. There's no mystery to this. It's cold up there. And, Puerto Vallarta is a very beautiful place with a moderate cost of living and an excellent, welcoming service culture for both residents and vacationers.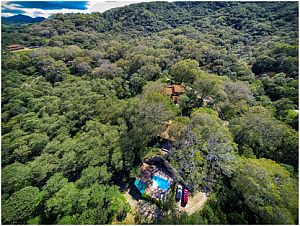 The migration, of course, is driven in part by the weather but also by the inevitable demographics of the retirement cycle. Of the thousands of tourists who pour into the Puerto Vallarta Airport each day in high season, some are too young to be thinking about retirement. But many of the older ones have the determined look of people on a mission: the hunt for retirement living space in a beautiful but crowded tourist city. It's as if there were a unique species of handsome, grey haired seniors rising up like wildebeest to join the long march to greener pastures in the south.
Nobody knows how many Americans and Canadians now live part- or full- time in Mexico. But the best guess is that it's well over a million. For those who are looking to make a move, their first step on arrival is to begin the comparative house shopping that traditionally includes defining the value of a house or condo by its relationship to the water (obviously there are many other criteria). Such measures include proximity to the Bay, quality of the water view, etc. Of course, there is the inevitable question about whether or not any given view will still be there next year, after the next round of high rise condominiums are built.
The Traffic Dilemma
Now there is another important criterion for condo or house selections in Puerto Vallarta: the traffic. Where does the condo or house lie in relation to the major thoroughfares and their predictable blockages. A "traffic strategy" should now be a part of every check list review of property candidates.
The yearly, migratory ritual of gringos arriving in Vallarta is of course welcomed each year, but as an unintended consequence, Vallarta's infrastructure is hard pressed. Traffic in some parts of the city now closely resembles the congested highways we thought we had left back home.
Still lacking a real bypass route, Vallarta is now divided into two basic destinations: North and South. They are two very distinct worlds. Walmart vs. Basilio Badillo. If you travel frequently from one area to the other, you can easily imagine that even the closest personal relationships have ended with disputes over whose turn it was to traverse the dreaded intersection of Francisco Villa Blvd and the Tunnel Road. Or the turnoff to Fluvial from Boulevard Francisco Medina Ascencio in front of the new La Isla Shopping center.
A Contrarian Alternative: A Deluxe Mountain Cabin
People have a way of finding their niches - their own solutions. Our mountain cabin project, called Tierra Alta, near El Tuito, is one such option. It is located just an hour from the south side of Puerto Vallarta.
The drive itself is beautiful. There is no traffic in El Tuito. And, according to one friend, the one hour drive time is really a minimum for any property to be used as an effective retreat. From his point of view, any shorter distance will not allow you to instinctively disconnect from your home base. You'll be too close to really get away.
Developing a Protocol for Internet Use on
Vacations or in Retirement
Having come to Vallarta to live "semi-retired," my friend Jim decided to contract to build a mountain cabin at Tierra Alta in the foothills of the Sierra Madre mountains.
He soon found that internet technology was everything he had hoped for. It allowed him immediate access to his business in the US. However, he also discovered that this same technology was all too effective at keeping him linked in to his home base, day or night. The technology that made it possible for him to escape to a cabin in the woods was also so powerful that he began to regress into his workaholic habits.
Now he has formalized his escape from work through the internet by going to his cabin regularly but also by keeping the cabin internet turned off for at least two or three days during each of his one-week cabin stays. Solitude can sometimes be just that simple.
Cabin Connectivity with Luxury Amenities
High speed internet is now available in many remote locations throughout Mexico. Internet service in El Tuito is now faster and has better quality than in Puerto Vallarta. And cell calls between Vallarta and El Tuito are at relatively low cost. By contrast, longtime Mexico hands like me remember the monthly shock and horror of opening our monthly phone bills to find a number that seemed like a mistake. There was always an extra zero on the wrong side of the decimal point.
As is so often the case, technology has made it possible to leapfrog over very recent phone systems. Fiber optics lines are now being installed in the Vallarta area.
This is all the more remarkable when it is remembered that within the living memory of many El Tuito natives, "long distance" was "pre-tech" and pre-telephonic. It was defined simply by the clarity and strength of a strong man's (or woman's) shout in an open field.
Today, billions of data bytes can circle the globe almost instantaneously. Cell calls from El Tuito to Canada or to almost anywhere else in the world are made with hardly an afterthought about cost. The contrast is striking when we remember that less than 20 years ago, a long distance call required a trip to the Telefonos office on the plaza, a long wait for a phone, a doubtful connection and a substantial bill at the end of your call.
Today, contemporary retirees and local residents can choose to divide their time between a mountain retreat and a condo in Vallarta without much concern about staying in touch with anyone with the basic requirements for high speed service. They can choose to rent out their cabins in a surprisingly lively market for rental guests in search of an authentic but "connected" Mexican experience in a very beautiful part of the world.
With the high speed internet, you can be as accessible as you want to be, even if you choose to live in a luxury cabin in an oak forest near El Tuito.
David and Xochitl Kimball own Tierra Alta, an ecological cabin development one mile from El Tuito in the foothills of the Sierra Madres. The cabins are for rent or sale. Of the 20 lots for sale, eight have been sold. For more information, you can reach Xochitl on her cell phone at 322-109-0903.
---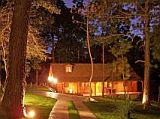 Set on 7 hectares of rolling hillsides, Tierra Alta is an Ecological Development selling lots for cabins in the oak forested foothills near El Tuito just one hour from Puerto Vallarta. If you would like to see what the Tierra Alta lifestyle offers you, please call David Kimball on his cell at 322-294-2141 or home office at (322) 222-9180. To enjoy an out-of-the-ordinary Mexico vacation and breathe the fresh mountain air of El Tuito, call 322-103-0901 for rental information. To learn more about Tierra Alta
Click HERE,
email
info(at)tierraaltatuito.com,
or visit
TierraAltaTuito.com.