Puerto Vallarta, Mexico - There's always so much going on in Puerto Vallarta and around Banderas Bay it can be difficult to keep up with it all. Here's a look at some of this week's Vallarta-Nayarit news headlines, community announcements and a couple of upcoming events that you won't want to miss.
Fuel Spill Causes Flight Delays at Puerto Vallarta International Airport
Services at the Puerto Vallarta International Airport were temporarily suspended yesterday in order to clean up a jet fuel spill caused by a driver under the influence breaching security and colliding with a fuel truck. "An unidentified man entered a restricted area at the Lic. Gustavo Díaz Ordaz International Airport (PVR) and had a collision with a fuel vehicle, causing a spill of jet fuel," explained Grupo Aeroportuario del Pacífico (GAP) in a statement. According to reports, the event occurred at 10:00 am on Thursday, January 5 and operations were restored a few hours later at 12:15 pm. According to GAP, there were no injuries or damages caused by the incident. "The driver, presumably under the influence of narcotics, is in detention, but it will be up to the relevant authorities to determine his status," the statement said.
Vallarta Cup Race Series on Saturdays in January
2017 is here and the Vallarta Yacht Club (VYC) is kicking off the Vallarta-Nayarit sailing season with the traditional Vallarta Cup Race Series. This series, which has been held every year since 2005, runs four Saturdays in January. The Vallarta Cup features boats from 23 to 50 feet, and includes race courses that cover Banderas Bay from as far south as Puerto Vallarta to as far north as La Cruz and the surrounding areas. Races start at noon every Saturday on January 7, 14, 21 and 28. Because this is a friendly competition, the boats can participate in one or all of the races. Entry fees: All Races - 500 members / 700 pesos non-members • Individual Races - 150 / 200 pesos. Racers and VYC members enjoy after-race parties at VYC every Saturday night of the event, including rock, blues, reggae, and even Caribbean Soul. Sailing during the day, party at night! For registration and more information, please
click HERE
or contact the VYC at 01 (322) 297-2222 or by email at
office(at)vallartayachtclub.org.
The Vallarta Yacht Club is located in the Paradise Village Marina at Paseo de los Cocoteros No. 001, Interior 20 in Nuevo Vallarta.
Saturday Walking Tour of Real Estate Projects in La Zona Romantica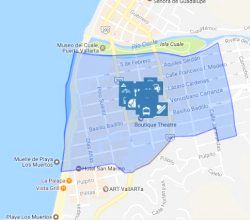 So many projects, so little time. Join The JG Group's Vallarta Real Estate Advisors Julie Guerrero & Dean McConkey any Saturday in January and kick off 2017 with the information you need to know about the new real estate projects in La Zona Romantica. Leaving Dee's Coffee Company on Francisca Rodriguez (on the Pier street right off the corner of Olas Altas) at 11:00 am, they will host a fun-spirited 2-hour walking tour to some of the newest and most interesting real estate projects in La Zona. There is no cost for this event that provides a great opportunity to ask everything you ever wanted to know about buying your second home or investment property in Puerto Vallarta. Please plan on arriving by 10:45 am to check in and grab your coffee so we can leave promptly at 11:00 am. Put on your most comfy walking shoes and get ready for a discovery walk through one of the fastest growing areas of Puerto Vallarta. See models and floor plans, meet other people from the community, and hear insights on the latest trends for 2017 in La Zona Romantica affecting your real estate investments.
Click HERE
to reserve your space, and don't forget to indicate the date of the Walking Tour you wish to join. January 7, 14, 21 or 28.
Weekend Events in Puerto Vallarta and Around Banderas Bay
Click on titles for more information
• Daiquiri Dick's Special 'Flavors of The World' Menu
• New Bohemia Viva Show Opens at The Palm Puerto Vallarta
• Fun Saturday Shopping at Tianguis Lo De Marcos
• Alfred Hitchcock's 'The 39 Steps' Opens at Act II STAGES