Puerto Vallarta, Mexico - Last summer, the Mayors of Cabo Corrientes, Prisciliano Ramírez Gordián, and Puerto Vallarta, Arturo Dávalos Peña, appealed to the International Peace Garden Foundation (IPGF) for the Vallarta Botanical Garden to be selected for the honor of being designated the site of Mexico's International Peace Garden.
Shortly thereafter, the President of the International Peace Garden Foundation, Paula Savage, announced that the Garden had been selected for this special distinction. "Puerto Vallarta is a leading destination in Mexico when it comes to recognizing and respecting the diversity of cultures and human rights, which are among the International Peace Garden Foundation's (IPGF) many priorities," Savage said. "We hope to work side by side with Puerto Vallarta to promote world peace and friendship."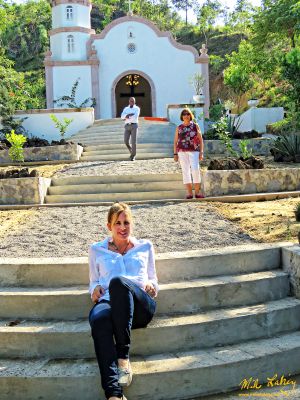 Lead patron and artist, Cheryl L. Wheeler
The grounds of the Vallarta Botanical Garden have always been a place of calm, solace, and healing of body, mind, and soul. But the addition of the Mexico's official International Peace Garden, which adorns the slope that rises toward the entrance to the recently completed
Nuestra Señora del Jardín
multi-faith chapel, adds a new element of spirituality to the garden experience.
Designed by Architects Nick DeLorenzo and Cesar Amezcua, the Peace Garden is a space of incredible beauty and purposeful function. Featuring plants of the Mediterranean and the Holy Land growing in harmony with Mexican wild flowers, this inviting space combines sun and shade to create an inviting place that will be usable throughout the year for all kinds of activities - from educational programming and family enjoyment to quiet meditation. The tiered benches may allow the space to later be used as theater seating for open-air concerts and performances. It will be a welcoming place for people of all backgrounds to come together in harmony with nature and focus on our collective power to make this world a better place.
On February 16th from 2:00 to 4:00 pm, the President of the Asociación Mexicana de Jardines Botánicos, Ing. Emiliano Sanchez Martínez, the mayors of Puerto Vallarta and Cabo Corrientes, and the project's lead patron, artist Cheryl L. Wheeler, will officially dedicate the Cheryl L. Wheeler International Peace Garden of Mexico at the Vallarta Botanical Garden.
Paula Savage and Michel Gauthier, executives of the IPGF, along with several other local community leaders and clergy members from a number of different faiths - Jewish, Roman Catholic, Wixarika (Huichol), and Zen Buddhism - will participate in the dedication ceremony, which will include a "Roll Call of Nations," highlighting the diversity of our Puerto Vallarta community representing the "corners of the earth."
To add to the festivities, two musical groups will be performing at the Garden on this day. The wonderfully entertaining, talented and very popular Moruno Gypsy Jazz Trio, whose unique and magical style has jazz connoisseurs in Puerto Vallarta buzzing, will take the stage first, followed by Chicago/Puerto Vallarta-based singer-songwriter, Rebecca 'Stolie' Stoelinga, who's new album, Follow Me, will be officially released on January 20.
"The public is especially welcome and encouraged to attend and celebrate this important event with us," said Vallarta Botanical Garden founder and curator, Bob Price. "Real and lasting peace is only possible if everyone works towards it, yet it only takes a few people of courage, boldness and vision to initiate the actions necessary for pursuing it. Participation is a step towards peace for our region and our world!"

Located 30 minutes south of Old Town at Km. 24 on Highway 200, Vallarta Botanical Gardens offer something to keep every age group happy; from a Rose Garden for the romantic to jungle trails for the adventurous and a Carnivorous Plants area for the younger generation! The Botanical Gardens' vibrant and elegant settings also offer the perfect venue for weddings and special occasions. For more information, call (322) 223-6182 or visit vbgardens.org.
Click HERE to learn more about Vallarta Botanical Gardens.