Puerto Vallarta, Jalisco, Mexico - Democrats Abroad Costa Banderas will hold their annual meeting on Monday, March 20, 2017 from 5:00 to 7:00 pm on the upstairs terrace at No Way José! Restaurant - Bar.
The agenda for the event will include a report on recent activity, establishing priorities for the coming year, election of officers for the next two-year term, and a fun and challenging Trivia Contest where tables will compete against each other for prizes and recognition.
The annual meeting will cost members 100 pesos for one drink and hors d' oeuvres. The chapter will subsidize another 100 pesos per person.
Outgoing Chair, Tobe Jensen will share this year's results and facilitate a discussion of upcoming priorities. The nominating committee, chaired by John Wilson-Bugbee and including Ken Cado and Raachel Steele, will put forward a slate of board members for the 2017-2019 term. Nominations can also be received from the floor during the meeting.
To reserve your place, please write pvdemocrats2win(at)gmail.com citing the number of people who will attend in your party so that food planning may be confirmed.

With country committees and local chapters in over 80 countries around the world, Democrats Abroad is the official Democratic Party organization for the millions of Americans living outside the United States. For more information about the Costa Banderas Chapter of Democrats Abroad, click HERE. For local assistance, contact Tobe Jensen, Chair, at tjensen1942(at)hotmail.com.
---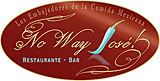 No Way José! is located on the south side of downtown at 5 de Febrero 260, just over the Vallarta street bridge on your left heading south from the Malecón. Open daily from 3 pm to 11:00 pm. Reservations are recommended and available by calling (322) 223-2853 or online at NoWayJoseMx.com. For more information, visit NoWayJoseMx.com, or join us on Facebook for real-time updates and special offers.

Click HERE to learn more about No Way José!