Puerto Vallarta, Mexico - Here's the latest news from Purr Project, a non-profit, no-kill feline shelter located just north of Puerto Vallarta, Mexico, that provides homeless cats and kittens a recuperative stay with the ultimate goal of adopting them out to loving homes sterilized, vaccinated and disease free.
September is Virtual Adoption Month
September is the month we celebrate our Virtual Adoption cats. These are usually older cats who have little hope of finding a Forever Home. Many are very people-friendly and would make great companions. Others are feral or have a disability, such as one eye, or are deaf. You can "Virtually Adopt" one of these felines for yourself or as a gift to a feline-loving friend for $120 a year (or $10 a month) and help us continue to give these adult cats a safe home and medical care for life. You can learn how to virtually adopt and also meet all the candidates on the
Purr Project website
or by writing us at
adopt(at)purrproject.com
Featured Feline: Sahara
This beautiful lady with the big blue eyes was abandoned by her family when they moved from their condo. Because she was declawed and could not defend herself, she suffered some serious injuries. Under Dra. Eva's care she is completely healed and now lives in the Senior Center with Simona and Caliope... but we hold out hope that she will one day find her Forever Home! Contact Linda at adopt(at)purrproject.com if you are interested in adopting or Virtually Adopting one of our senior felines.
2018 Purr Project Calendar
The 2018 calendar is hot off the press and we are ready to take orders for mailing. The donation is $20 dollars plus postage. Calendars will be mailed from the USA by volunteers who are there in October and November. To order yours or get more information, please contact Bama at
info(at)purrproject.com
This year it's the Kitten Edition and the cover features Mía Flora (My Flower) which is appropriate as it is filled with beautiful flowers... and kittens! It makes a Purr-fect holiday gift for your cat-loving friends and family, so don't wait to order. If you are in Vallarta, you can get yours at our Saturday Adoption Booth at Daiquiri Dick's starting in November.
Isla Cuale Free Clinic
PuRR Project will be sponsoring the monthly FREE Spay Neuter Clinic on Sunday, October 1st. Sponsored by different animal organizations and individuals, an average of 75 dogs and cats are spayed each month, saving thousands of unwanted births each year. It's a lot of work and very satisfying! If you are interested in volunteering your time, materials or pesos, contact Glenda at gbland101(at)gmail.com for information. We always need animals carriers for the day plus cardboard boxes, dog collars & leashes, bottled water, snacks, hand sanitizer or soap & paper towels.
Upcoming Events
GARAGE SALE:
Our 4th Annual Garage Sale is going to be on Saturday/Sunday, November 11 & 12 in the Marina. This is a BIG one and an important fundraiser to refill the "kitty" after a long, hot summer! If you have items to donate, contact Marilyn at
exkhan(at)usfamily.net
to arrange drop-off or pick up. Gently used clothing, artwork, household appliances, electronics, tools, games, bedding, jewelry, books... just about anything you can no longer use will be someone else's treasure!
KITTY BINGO: Purr Project Kitty BINGO will return to Margarita Grill in Old Town on Wednesday, November 15 at 5:00 pm and continue every-other Wednesday through March (Nov. 15 & 29, Dec. 13 & 27, Jan. 10 & 24, Feb. 07 & 21, Mar. 07 & 21). If you are planning to be in Vallarta this year, mark your calendar and come join us for a couple of hours of fun, prizes and GREAT margaritas!
SHELTER TOURS: Escorted tours to the PuRR Project Shelter will begin on Wednesday, November 22 and continue every-other Wednesday through March. The schedule will soon be posted on our website where you can get all the information on times and Shelter Tour pick-up points... and also make your reservation and pay through PayPal!
MASCOTA-TALPA TOUR: The December 15 tour of Mascota and Talpa has already SOLD OUT! Roberta Valdez, owner of Alegre Tours, plans to organize another one for later in the season so stay tuned for more info. A portion of each registration benefits PuRR Project.
Gracias! Thanks! Merci! Danke! Arigato!
Jill Goldstein, founder of Pause 4 Paws in Minnesota, visited the PuRR shelter last month along with her friends Laura Uecker, Andrea Burch Taryn Fischbach, Kathy Mollers and Suzanna Persa. They toured the ranch and met all the cats & kittens in the clinic, the Senior Center, Nursery and other casitas. All were impressed with the improvements to the casitas and the living conditions of the cats fortunate enough to be housed in them.
But they were really drawn to some of the older cats living in the yard and surprised us when they decided to take 5 of them back to Minnesota. Four will go to the Angel of Hope Animal Rescue, which found homes for over 1,100 felines last year. The fifth, Max, was adopted on the spot by Taryn. (Pause 4 Paws is the group that transported and re-homed 76 Vallarta cats last Spring with their "Gotta Getta Gato" campaign. WOW and MEOW!)
If you would like to make a *donation to Purr Project, Click HERE. *Donations 501(c)(3) tax-deductible in the United States.
---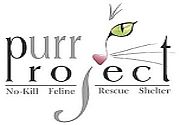 PuRR Project is a Non-Profit shelter in Puerto Vallarta, Mexico that provides homeless cats and kittens a recuperative stay with the ultimate goal to adopt them out to loving homes. All of our residents have been sterilized, vaccinated and are disease free. We accomplish this through our own efforts as well as collaboratively with other animal welfare organizations. Both monetary donations as well as donations of dry cat food are most welcome – and much appreciated. For more information, visit PuRRProject.com or send an email to info(at)PurrProject.com.