Puerto Vallarta, Mexico - Here's the latest news from Purr Project, a non-profit, no-kill feline shelter located just north of Puerto Vallarta, Mexico, that provides homeless cats and kittens a recuperative stay with the ultimate goal of adopting them out to loving homes sterilized, vaccinated and disease free.
Shelter Update: The Flood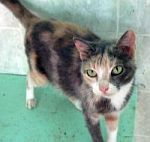 Featured Feline: Tracie
If you follow us on
Facebook,
then you already know about the torrential rain one night in September that caused the canals on three sides of the property to overflow and resulted in about a foot of water in the casitas and ranch house. Fortunately, all the cats & kittens found high perches and were not harmed. We lost some food and three of our new cat trees, and José and Carlos were left with a muddy mess to clean up. Our contractor has already completed some innovations to the casitas to prevent water coming in the doorways in a similar situation, but fingers crossed it will never happen again! Thank you to Trisha Aljoe for donating funds for this and to Heather Sullivan, Marc Serrano, Steve Owen, Christine Salidivar & John Roberts for offering to buy new cat trees!
Featured Felines: Tracie & Tina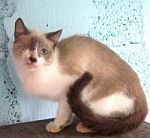 Featured Feline: Tina
These girls were both left together at the shelter gate in a box so we assume they came from the same home. Tracie is about four years old and a "soft" calico with a very sweet nature and would make a great adoption choice for someone who wants an older kitty. She is currently in our Acclimation Casita but will be released to the yard if not adopted soon.
Tina has typical Siamese features and is around 7 months old, but very shy and needs some patience from a loving human. Someone must have once cared for her since she had one eye removed as a kitten. Dra. Eva has spayed both of them and they have received all their vaccinations and are ready for a real Forever Home! If you are interested in giving Tracie or Tina or any of our deserving adult cats a second chance in life, contact Linda at adopt(at)purrproject.com for more info.
Sahara/Frida's Journey:
In last month's newsletter we featured Sahara, a beautiful blue-eyed Siamese type who had languished at the shelter for almost a year after being declawed and then abandoned by her owners. Pat Brumfield read the article and immediately fell in love with her and decided it was time to bring a new furry companion into her life... and already had a new name picked out... Frida! She just needed to get her to the San Diego area. As it happened, Purr volunteer Bama Brasseal was flying to Los Angeles and Pat agreed to drive there and meet them both at the airport. Pat reports that Frida adapted quickly and loves sleeping in a real bed with her human.
Upcoming Events: Garage Sale
Our 4th Annual Garage Sale is going to be on Saturday/Sunday, November 11 & 12 at Gaviotas 143 in Marina Vallarta. It's the first fundraiser of the year and always an exciting event with lots and lots of goodies at bargain prices! Doors open at 8:00 am on Saturday, so come early for the best selection of clothing, kitchen appliances, household décor, paintings, books, lamps, Christmas trees and mucho más! If YOU have items to donate, contact Marilyn at exkhan(at)usfamily.net for info. (Please make sure all electronics are in working order and clothing is clean.)
The Purr Nursery:
Yes, the nursery is still full of beautiful, playful kittens! It seems "kitten season" is year-round here in the tropics! Dra. Eva has her hands full keeping track of all of them and their various schedules of meds and vaccinations... plus spaying and neutering. Please come see us any Friday at Plaza Marina from 11:00 am to 2:00 pm to meet some of these adorable kittens who are ready for their
Furr-ever Homes.
(And we'll be back at
Daiquiri Dick's
on Saturdays starting in November.)
Donating: Amazon Smile
PuRR Project is solely funded by donations so your support is always appreciated! When shopping for the upcoming Holiday Season, remember that you can now support PuRR Project every time you shop on Amazon!! Just log in at smile.amazon.com, and they will ask you to pick a charity before you shop. Enter PURR PROJECT USA, Milton DE, and a percentage of all your purchases will be donated to PuRR. It's that simple... and every little bit helps support our shelter kitties!
If you would like to make a *donation to Purr Project Today, Click HERE. *Donations 501(c)(3) tax-deductible in the United States.
---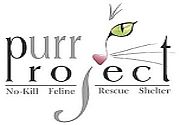 PuRR Project is a Non-Profit shelter in Puerto Vallarta, Mexico that provides homeless cats and kittens a recuperative stay with the ultimate goal to adopt them out to loving homes. All of our residents have been sterilized, vaccinated and are disease free. We accomplish this through our own efforts as well as collaboratively with other animal welfare organizations. Both monetary donations as well as donations of dry cat food are most welcome – and much appreciated. For more information, visit PuRRProject.com or send an email to info(at)PurrProject.com.