Puerto Vallarta, Mexico - The Costa Banderas Chapter of Democrats Abroad Mexico invites you to come to No Way José! Restaurant - Bar on December 12, 2017 to meet with the like-minded people who will be in Puerto Vallarta on a cruise sponsored by The Nation, a liberal political journal.
Join this limited-seating reception on Tuesday, December 12, 2017 from 2:00 to 4:00 pm and enjoy a presentation by Markos Moukitsas, a political commentator and publisher of
The Daily Kos,
the largest liberal community blog in the U.S. with more than 20 million visitors per month. This news organization also serves as a community and activist hub. Markos has also written
The Resistance Handbook: 45 Ways to Fight Trump.
After his presentation, local members of Democrats Abroad Mexico will share news about the Costas Banderas chapter and the 2018 elections.
The price of admission is $500 pesos per person, and includes one cocktail and a festive botanas plate provided by No Way José! Tickets are now on sale at this award-winning Mexican contemporary restaurant located at 5 de Febrero #260 in the Col. Emiliano Zapata. Profits from the reception will be donated to a local children's charity for the holidays.
After the reception, guests are encouraged to experience the last day of the peregrinaciones (pilgrimages) to Our Lady of Guadalupe through the streets of El Centro to the picturesque church in the Plaza de Armas, an iconic emblem of Puerto Vallarta.
The peregrinaciones take place the first 12 days of December. December 12 marks the last day of the pilgrimages and includes fantastic opportunities to experience the beauty of the Mexican culture in the streets of Puerto Vallarta. Devotees make their offerings to our Lady of Guadalupe, the primary object of worship in these pilgrimages honoring the "dark virgin" of Mexico.
The peregrinaciones have become a celebration of friendship between Puerto Vallarta and its visitors. A verbena is set up in the plaza where you will find typical snacks such as elotes, enchiladas, pozole and churros.
With country committees and local chapters in over 80 countries around the world, Democrats Abroad is the official Democratic Party organization for the millions of Americans living outside the United States. For more information about the Costa Banderas Chapter of Democrats Abroad, click HERE.
---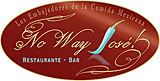 No Way José! welcomes you to La Zona Romantica on the south side of Vallarta at 5 de Febrero 260, just over the Vallarta street bridge on your left heading south from the Malecón. Open Tuesday-Sunday from 4:00 pm to 11:00 pm. Reservations are recommended and available by calling (322) 223-2853 or online at NoWayJoseMx.com. For more information, visit NoWayJoseMx.com, or join us on Facebook for real-time updates and special offers.

Click HERE to learn more about No Way José!